While the hallmark symptom or sign of fibromyalgia is chronic widespread body pain, that is not the only symptom of fibromyalgia. Nor does simply saying widespread body pain really express what that means.
The same is true with the other standard symptom of fibromyalgia – chronic fatigue. The problem is that both widespread chronic pain and chronic fatigue are not just symptoms or signs of fibromyalgia, but they are also symptoms of many other illnesses.
The Common Symptoms of Fibromyalgia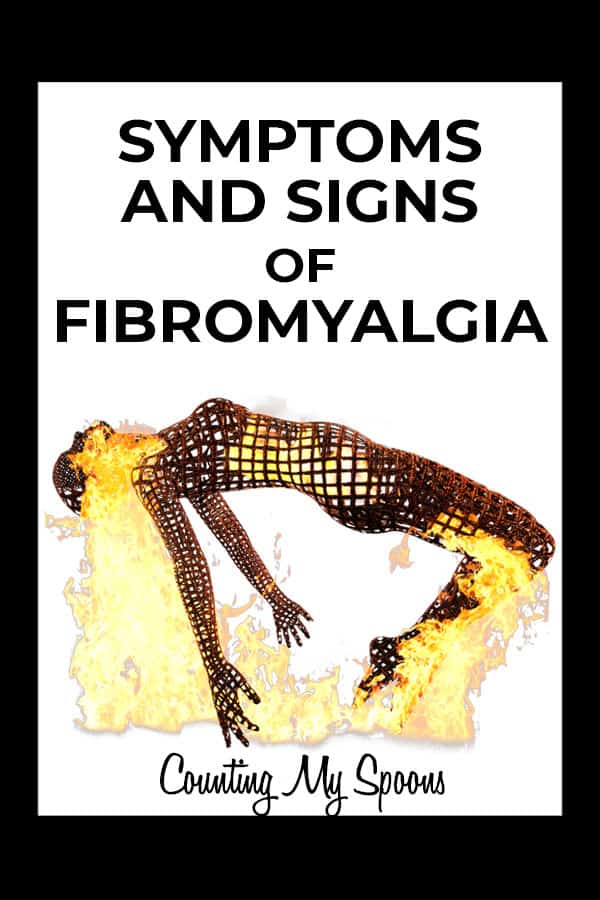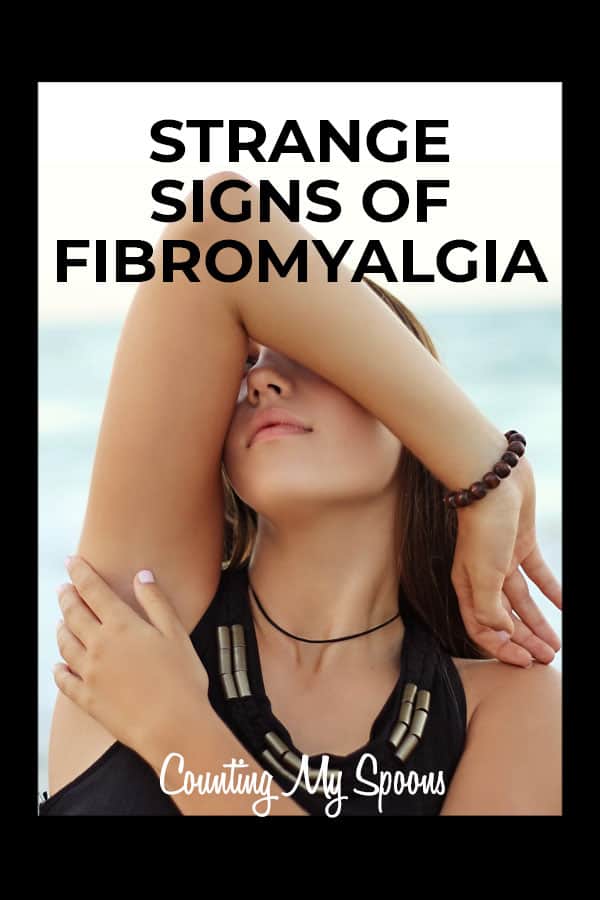 Strange Signs and Symptoms of Fibromyalgia
For those of us who have lived with fibromyalgia for a while these symptoms may not seems so strange. For those who are new to the illness, you may think these symptoms are perfectly normal parts of life – they aren't.
1. Allodynia – This funny sounding word, just means it hurts to be touched. Sometimes it hurts to be touched by something as light as clothing or a sheet… or something as wonderful as a hug. Long before I was diagnosed I would sometimes feel like it hurt to even sit next to someone so that our legs were touching.
2. Sensitivity to Fragrance – For some reason it seems that many of us with fibromyalgia have heightened senses of smell, even for something light, but definitely for chemical scents like perfume. There have been many times when I've smelled someone entering a room and felt like I needed to stop breathing before it stopped me from breathing.
3. Paresthesia – This is commonly known as numbness and tingling. You may experience this anywhere on your body, but it seems most common in the extremities (hands and feet). This symptom was actually my first and the one that started me down the road of a million tests leading to the Fibro diagnosis.
4. Lipomas – These are fatty tumors. You can have these anywhere on your body. They aren't really dangerous but can leave you wondering if you should be worried. You should get them checked out just to be sure.
5. Excessive Sweating – Excessive sweating may be a symptom or sign of fibromyalgia, but it's also a common side effect of many of the medications that we take for fibromyalgia.
6. Sensitivity to Light and Sound – Those with fibromyalgia often have a difficult time in crowded or noisy environments. Not only is the risk of a painful touch higher, but bright lights and loud noises can activate the nervous system increasing other symptoms.
7. Swelling and redness – With fibromyalgia it's not uncommon to find that your fingers, feet, or ankles swell for no reason. You may also experience random redness and flushing in your hands and feet, or across your face or neck.
8. Neuropathy – Neuropathy is feeling of burning pain in your hands and feet. Small fiber neuropathy is a specific type of neuropathy that is common among those with fibromyalgia. This pain may be accompanied with swelling and redness.
So what do you think about these "strange" signs? Are they "strange" or completely normal for you?
Looking for more symptoms of fibromyalgia? Or, want to know what fibromyalgia feels like?
(Visited 5,444 time, 30 visit today)