While the hallmark symptom or sign of fibromyalgia is chronic widespread body pain, that is not the only symptom of fibromyalgia. Nor does simply saying widespread body pain really express what that means.
The same is true with the other standard symptom of fibromyalgia – chronic fatigue. The problem is that both widespread chronic pain and chronic fatigue are not just symptoms or signs of fibromyalgia, but they are also symptoms of many other illnesses.
The Common Symptoms of Fibromyalgia
Chronic Widespread body pain – there are two keys in this symptom. The first is that the pain is chronic, meaning that it has lasted typically longer than 6 months. Widespread means that the pain is located in a variety of areas across the body.

Doctors will generally test specific tender points by applying a slight amount of pressure. It's not so much pressure that it should hurt, but when you have fibromyalgia pressure on those tender points often does hurt.

There are also a lot of different types of pain that you may experience with fibromyalgia that are not common, these include allodynia and parasthesia.
Chronic Fatigue – The chronic fatigue that comes with fibromyalgia is not unlike what is experienced by those who are diagnosed with chronic fatigue syndrome, Epstein Barr, or who may be undergoing chemotherapy. This fatigue is over-arching and all-encompassing exhaustion. It's not something you can just get a good night's sleep to correct. You wake up tired and you go to bed tired. Napping may not help, if you can even manage one.
Sleep Problems – Despite how tired you are and have been all day, when you try to sleep you simply can't. You may struggle to fall asleep or stay asleep (or both). You may also wake too early and be unable to get back to sleep. Some theories believe that sleep problems may be at the heart of fibromyalgia
Fibro Fog – Mental fog is common with many illnesses and even as a long-term side effect of chemo drugs. But, you might have thought that foggy brain was just normal. It's not. Fibro fog often makes you feel like you can't remember basic words, and at times can make you wonder if you are actually dealing with Alzheimer's. This fog can also leave you feeling unable to concentrate on a task, whether it's remembering what you were doing, or simply re-reading the same line repeatedly.
Anxiety or Depression – It's not uncommon to experience anxiety or depression with fibromyalgia. Anxiety is understandable as you are living a life when you never know if you will be in pain or what pain may keep you from doing. Depression is common with fibromyalgia as well as this pain is keeping you from living a normal life. You have a right to be depressed.
Headaches – Headaches, of all kinds, are common among those living with fibromyalgia. There is some overlap between the symptoms of fibromyalgia and migraine, and the incidence of migraine among those with fibromyalgia is pretty high. Stress and anxiety related to dealing with other symptoms, as well as lack of sleep, can certainly exacerbate migraines, as well as cause stress headaches.
Urinary Problems – Those living with fibromyalgia may also have more urinary issues, including increased urinary tract infections, and problems with incontinence. Interstitial Cystitis is also very common among female fibromyalgia patients.
Increased menstrual pain – The symptoms of endometriosis and fibromyalgia overlap as well, and it's not uncommon for a woman who is diagnosed with one to eventually be diagnosed with both. Because endometriosis can only be properly diagnosed through surgery, it's possible that many woman are suffering from it without knowing, thinking that their PMS symptoms and painful periods are completely normal. They aren't.
Nerve Twitches and Muscle Spasms – Nerves misfire and muscles seem to want to tighten up and release at their own, often alarming, pace causing often painful muscle spasms. These twitches and spasms can be downright dangerous if they hit at the wrong time while walking or driving, or simply embarrassing as they cause you to drop things.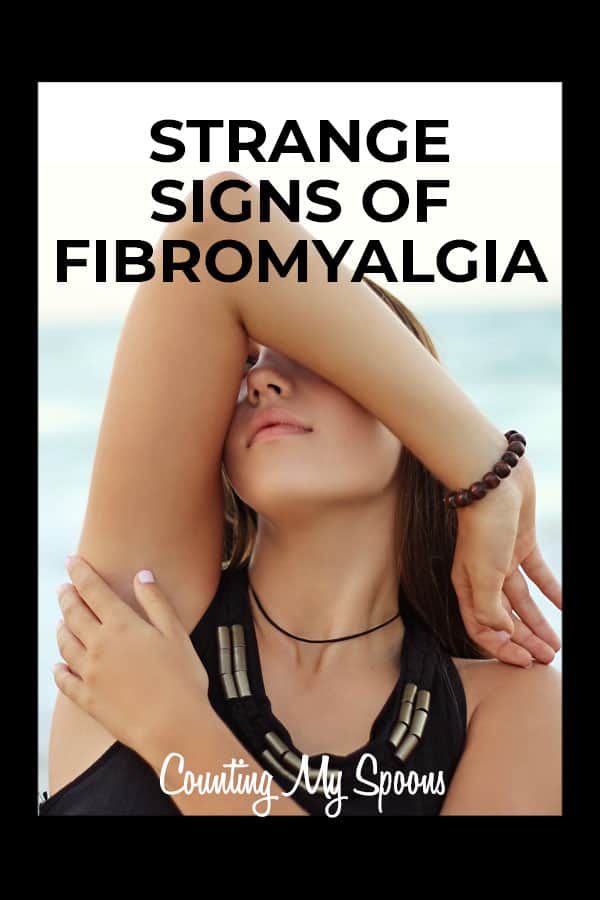 Strange Signs and Symptoms of Fibromyalgia
For those of us who have lived with fibromyalgia for a while these symptoms may not seems so strange. For those who are new to the illness, you may think these symptoms are perfectly normal parts of life – they aren't.
1. Allodynia – This funny sounding word, just means it hurts to be touched. Sometimes it hurts to be touched by something as light as clothing or a sheet… or something as wonderful as a hug. Long before I was diagnosed I would sometimes feel like it hurt to even sit next to someone so that our legs were touching.
2. Sensitivity to Fragrance – For some reason it seems that many of us with fibromyalgia have heightened senses of smell, even for something light, but definitely for chemical scents like perfume. There have been many times when I've smelled someone entering a room and felt like I needed to stop breathing before it stopped me from breathing.
3. Paresthesia – This is commonly known as numbness and tingling. You may experience this anywhere on your body, but it seems most common in the extremities (hands and feet). This symptom was actually my first and the one that started me down the road of a million tests leading to the Fibro diagnosis.
4. Lipomas – These are fatty tumors. You can have these anywhere on your body. They aren't really dangerous but can leave you wondering if you should be worried. You should get them checked out just to be sure.
5. Excessive Sweating – Excessive sweating may be a symptom or sign of fibromyalgia, but it's also a common side effect of many of the medications that we take for fibromyalgia.
6. Sensitivity to Light and Sound – Those with fibromyalgia often have a difficult time in crowded or noisy environments. Not only is the risk of a painful touch higher, but bright lights and loud noises can activate the nervous system increasing other symptoms.
7. Swelling and redness – With fibromyalgia it's not uncommon to find that your fingers, feet, or ankles swell for no reason. You may also experience random redness and flushing in your hands and feet, or across your face or neck.
8. Neuropathy – Neuropathy is feeling of burning pain in your hands and feet. Small fiber neuropathy is a specific type of neuropathy that is common among those with fibromyalgia. This pain may be accompanied with swelling and redness.
So what do you think about these "strange" signs? Are they "strange" or completely normal for you?
Looking for more symptoms of fibromyalgia? Or, want to know what fibromyalgia feels like?