I've come a long way since I started this blog in 2010. I spent years barely getting off the couch, wrapped in brain fog, pain, and fatigue. But, in 2012 that started to change. I'd had enough and finally decided I was willing to try anything.
I've found that there's not one single thing that has helped me, but there are many things that combined together and made a huge difference. I started off looking for a magic bullet, a pill, that could fix me. But, it just didn't exist. In the end, I had to be willing to look at everything, try everything, and realize that what was going to make a difference was a combination of many things.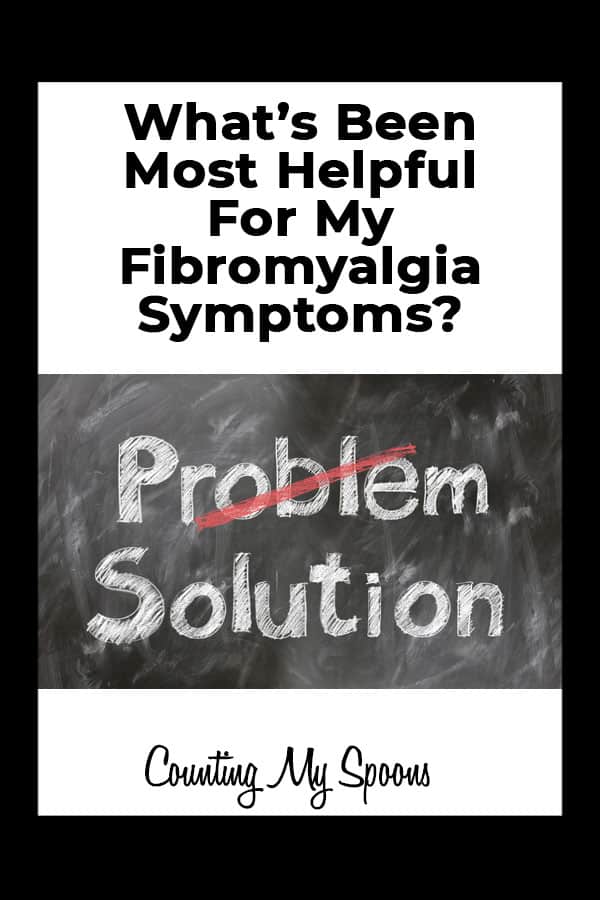 Changes That Have Helped Me Most
Diet change – This is what started it all for me. Diet change for me has meant fresh juice on a daily basis (green juice, not fruit juice). It's also meant discontinuing wheat/gluten, dairy, eggs, and yeast from my diet.
It wasn't easy, and it wasn't fun, but it's definitely been worth it. I found quickly that really cleaning up my diet and juicing gave me a lot of energy back, and really cut the pain I felt.
I continue to try to eat really clean, avoiding a lot of processed foods, but we do eat out a lot more than we did in those early days. When at home, my diet is green juice for breakfast, something random for lunch (if I eat lunch) and for dinner grilled meat and a salad.
Nightly Epsom Salt Bath – This is something I actually started very early in my illness and I stick with it. Not only do the epsom salts (and the essential oils that I add to them) help me relax at night, but it helps me establish a bedtime routine.
During my bath, I read with my Kindle set to white text on black background, and the lights out. This helps my eyes and mind adjust to the idea of going to bed. While reading I drink my Serenitea. I find that when I don't do this I have a much harder time falling asleep and tend to wake up more rigid.
Focus on Mindfulness – In January of 2017 I took a 9-week Mindfulness-Based Stress Reduction (MBSR) course. The course taught me about mindful movement, mindful eating, meditation, and body awareness.
While I've slipped and don't meditate daily as I should, I still hold on to many things I learned in that class and what it taught me about listening to my body and my heart.
Products That Have Helped Me Most
CBD Oil – The CBD oil was the first thing I found that really helped my sleep. Instead of laying in bed for hours reading while hoping to fall asleep. A dropper full of CBD oil under my tongue and I'm out within about 15 minutes. It takes me a lot longer to read a book now, but it's worth it.
CBD-based lotions and salves – In 2014 I did something to my shoulder.. we still don't know what. A year later, when The Fay Farm first sent me a sample of their Warming Muscle Rub I was still in pain. I'd tried a lot of things at that point and the Warming Muscle Rub was the only thing to that point that had helped.
These days I've switched to the Muscle & Joint Rub from Vital Plan Select. It comes in an easy to apply stick, so there's no mess and it works to relieve muscle pain and tightness almost instantly.
Following that introduction to cbd oil-based lotions and salves I've tried several others and I really enjoy the Qi of Calm from Resonant Botanicals. It's a light lavender-scented lotion that really calms the burning in my hands and feet that often pops up just before bedtime.
Oska Pulse – I was skeptical about this device when they sent it to me. When I received it I'd been dealing with the shoulder issue for almost three years. Physical therapy had relieved the pain to a degree, but I was still unable to do many things (write by hand, wear a bra, paint, work-out).
After several months of inconsistent use I saw a major improvement when I attended a conference and sat down and wrote for two days straight.
Oska Pulse uses Pulse Electro-magnetic Frequency to heal cells. It doesn't vibrate or make any noise and doesn't do anything to let you know it's working, until you suddenly realize it's worked. These days I'm doing all those things that I wasn't able to do, and without any added pain. The Oska Pulse also helped me heal faster after surgery. (Use code COUNTINGSPOONS when you order to save $55)
Vital Plan Restore Kit – The Restore Kit from Vital Plan is a huge protocol of herbal supplements. Dr. Bill Rawls, who also lives with CFS/ Fibro/ Lyme created this protocol while searching for answers to help himself recover.
I didn't really notice how much it was helping, until I had to stop taking it. Then I realized just how much more I'd been doing during the previous couple of months. It's amazing how you don't realize what you have until it's gone. It's a lot of pills to take, but it's worth it.
Supplements – In addition to the Vital Plan I take a lot of different supplements including curcumin, magnesium, Fish Oil, and Vitamin B.
I've been really happy with Fibro-Aid, a fibromyalgia-focused multi vitamin/supplement that contains all of these and a few more, cutting the number of pills I have to take every day down by several.
I also really like the Daily Herbal from Vital Plan. It offers five key ingredients for cellular restoration.
For energy and focus I've been using Lion's Mane, a mushroom extract that is amazing for focus. I've switched from drinking regular coffee to drinking Four Sigmatic Mushroom Coffee with Lion's Mane.
I've also been taking Brain Boost from Vital Plan, an herbal supplement that has four other herbs in addition to Lion's Mane to help promote memory and focus. However, I found that drinking the coffee and taking the Brain Boost together is a bit too much and leaves me feeling anxious, so I choose one or the other, or decrease the dosage of Brain Boost on days when I drink the Mushroom coffee.
To help with digestion and avoid some of the side effects when I do eat dairy or accidentally ingest gluten, I take Ultrazyme, the best digestive enzymes I've found.
All of these continue treatments continue to play a role in my daily healthcare plan, some more than others. Sometimes I slack off on my diet and I feel it later. Sometimes, I don't need to use OSKA and forget about it until my shoulder starts bothering me again, then I remember to turn it on every night.
I'm constantly trying new products and treatments in an on-going effort to feel the best I can. Sometimes they work, sometimes they don't. If they don't you probably won't hear me talk about them, but when they do work I scream about it from the rooftops. There are other products that I use but these are all treatments that I've continued using for quite a while and have continued to find helpful. If you'd like, you can take a look at some of the other products I enjoy here.
Related Posts: