Overlap in Fibromyalgia and Celiac Disease Symptoms
Fibromyalgia isn't considered an intestinal illness, although many with fibromyalgia do also have digestive symptoms or irritable bowel syndrome and some have been diagnosed with other digestive disorders. However, the overlaop in fibromyalgia and celiac disease symptoms goes way beyond just gastro-intestinal symptoms.
A July, 2014 by García‑Leiva, Carrasco, Slim, and Calandre shows an overlap in Fibromyalgia and Celiac disease symptoms. While Irritable Bowel Syndrome (IBS) is a co-morbid disorder with Fibromyalgia, and the gastrointestinal (GI) symptoms of IBS do overlap those of Celiac, this study looked at more than just the GI symptoms.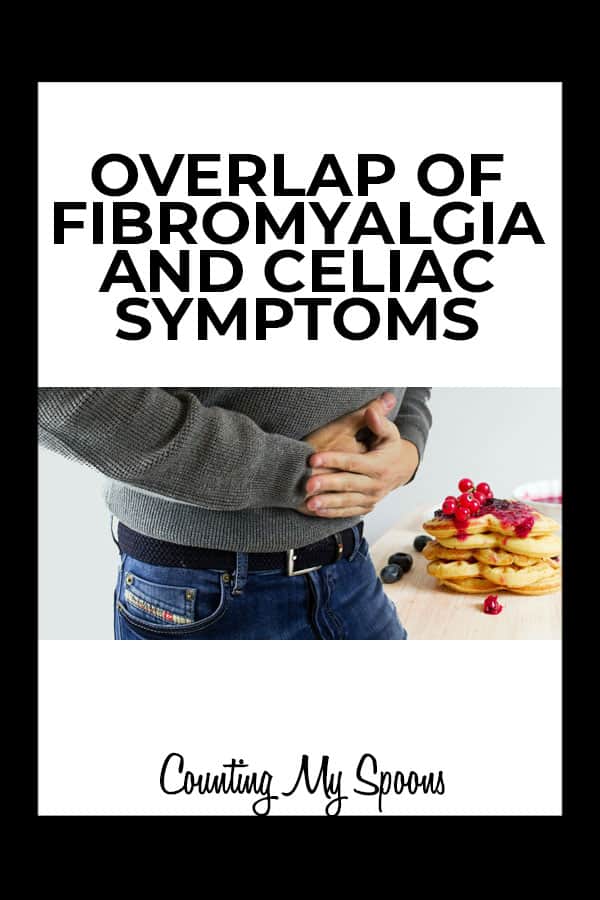 Not all symptoms of Celiac disease are digestive
While Celiac disease typically presents in childhood with GI symptoms, it often present in adulthood with many non-GI symptoms, including mental fog, skin rash, joint/muscle pain, headache, fatigue, and behavior changes. Many of these symptoms are also typical of Fibromyalgia (and many other disorders).
To look at this overlap the researchers compared a group of 178 Fibromyalgia patients to a control group of 131 healthy participants. The data from the Fibromyalgia group was then compared to data in the literature about Celiac patients. The Fibromyalgia group was also compared to reported data for patients with non-Celiac gluten-sensitivity.
Celiac Symptoms
The following symptoms of Celiac were assessed: Tiredness/fatigue, Depression, Anxiety, Sleep problems, Memory loss, Abdominal pain, Bloating, Diarrhea/constipation, Weight loss or gain, Lactose intolerance, Nausea and/or vomiting, indigestion, Alteration in the liver function, heartburn, fatty stools, Paresthesias, Cutaneous lesions, Ankle swelling, and Reproductive disorders (PMS, sexual disorders, excessive menstrual bleeding).
Overlap Between Fibromyalgia and Celiac
The comparison showed that those with Fibromyalgia do have a higher incidence of fatigue, depression, and memory loss (typical symptoms of Fibromyalgia), as well as cutaneous lesions, than has been shown for Celiac patients. However, there was little difference in the other symptoms, between the Celiac patients and Fibromyalgia. The only exception being anemia, which is higher in Celiac. The differences between Fibromyalgia and non-Celiac gluten sensitivity were similar. However, Fibromyalgia patients exhibited more GI symptoms, with the exception of abdominal pain, and there was no difference in anemia levels between groups. When compared to the control group, Fibromyalgia patients exhibited every symptom at a significantly higher level, with the exception of anemia.
So, basically, while a few of the symptoms are typical Fibro symptoms (fatigue, memory issues, depression), and many of the symptoms are typical IBS symptoms (which is a common co-morbid condition with Fibromyalgia), some of these symptoms are not typical of either, but are typical of a food sensitivity / allergy. This suggests that such a food sensitivity may be a cause or contributing factor to a large portion of the symptoms associated with Fibromyalgia.
Recent study suggests food intolerance could be a primary cause of Fibromyalgia
Click To Tweet
From my experience I have found that removing gluten has greatly improved my Fibromyalgia symptoms (fatigue, chronic pain).
However, it has not really altered the symptoms commonly associated with IBS, Celiac, or non-Celiac gluten sensitivity. I continue to suffer from a great amount of constipation / diarrhea, abdominal pain, indigestion, nausea, heartburn, and fatty stools. I also suffer from "reproductive disorders" but I believe those can be attributed to Endometriosis.
The incidence of Endometriosis in Fibromyalgia (or the overlap in symptoms) is another topic worth looking at closer. I personally believe that a large portion of female Fibromyalgia patients likely suffer from Endometriosis (often undiagnosed).
What are your thoughts? How many of these Celiac symptoms do you suffer from along with fibromyalgia? Have you been attributing them (or has your doctor) to "just Fibro"? Have you tried removing gluten from your diet and seen any improvement? Share your thoughts in the comments.
Related Posts:
Reference:
García-Leiva, J., Carrasco, J., Slim, M., & Calandre, E. (2014). Celiac symptoms in patients with fibromyalgia: a cross-sectional study. Rheumatology International.