Many of us with fibromyalgia rely on napping to give us a little extra energy to get through the day. Personally, I'm one of those that can't nap. It's a rare day that I manage to fall asleep during the daytime. I won't say it never happens, but it's not a common occurrence and most of the time when I try to take a nap I can't.
The important question is are those naps even beneficial? Do naps help fibromyalgia symptoms? Or does it just make them worse?
Does napping actually replenish the energy we are lacking? or does it leave us feeling even more fatigued?
For me, it varies. There are times when I can lay down and just rest my eyes for 15-20 minutes and that will often leave me refreshed. But, other times when I just can't seem to keep my eyes open and I crash out for anywhere from a few minutes to an hour or more and I wake up feeling like I'm still half asleep. I call this SANS (Sunday Afternoon Nap Syndrome) because it's how I always felt when I'd take a nap between church services on Sunday.
Does napping help you feel better? Does it improve your energy or just leave you feeling more fatigued? #fibromyalgia #chronicillness Click To Tweet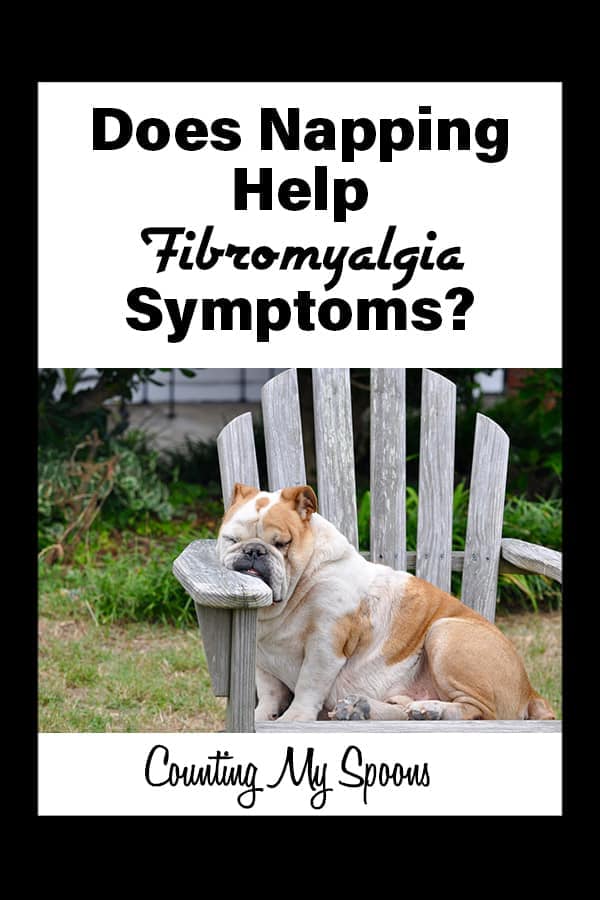 Past studies have indicated that there are beneficial effects of napping for healthy people. Naps less than 30 minutes help replenish lost sleep and provide renewed energy. However, as we all know what works for healthy people doesn't always work for those with Fibromyalgia.
This 2015 study by Theadom, Cropley, & Kantermann looked at 1044 Fibromyalgia patients and asked them to complete a questionnaire about their napping habits, sleep quality, and their symptom severity. The purpose was to answer the question does napping help Fibromyalgia symptoms? or make them worse?
Participants were asked questions about how often they nap, how long they nap, whether their naps were planned, reasons for napping, and the time of day they typically napped.
A Sleep Quality questionnaire was used to assess their night time sleep quality. Fatigue was also assessed using a Fatigue Severity Scale. Levels of subjective pain were assessed using the McGill Short Form Pain Questionnaire. Memory was also assessed using the Everyday Memory Questionnaire-Revised. Finally, mood was assessed using the Hospital Anxiety and Depression Scale.
As would be expected about 92% of those surveyed were women. All 1044 were diagnosed with Fibromyalgia. Many of those surveyed also had co-morbid conditions including arthritis, IBS, and asthma. Over 50% of those surveyed had at least one co-morbid diagnosis, with 11% suffering from depression.
Younger adults were more likely than older adults (older than 60) to take daily naps. Of those that reported taking daily naps 86.5% reported that they often napped without intending to do so. 75% reported that they nap for longer than 30 minutes (compared to 41% of the general population).
Younger people were more likely to take a nap because they felt bad, where older people were more likely to report that they napped to feel revitalized.
Unfortunately, it would be really difficult to do a scientific study to determine the effects of napping on Fibromyalgia symptoms so the researchers are forced to rely on correlations, and if you've ever taken a science class you've probably been reminded that correlation is not causation. In other words, there's no way to know for sure which came first.
The researchers in this study found that there was a significant correlation between daytime napping and the number of co-morbid disorders. Daytime napping was also significantly correlated with the use of antidepressants, gabapentin, Lyrica, and opiods (maybe because fatigue is a side effect?).
Participants that napped regularly were not only more likely to have other co-morbid disorders, they were also more likely to have higher levels of pain, fatigue, memory difficulties, sleep problems, anxiety, & depression (you know all the symptoms that come with Fibromyalgia). Gee, I wonder why they nap more?
Of those that napped regularly, the nappers who slept for more than 30 minutes were typically younger, parents of young children, with higher levels of depression and pain than those who napped for less than 30 minutes. (Maybe because they are more exhausted from taking care of children?) Those who napped unintentionally also had higher levels of pain and depression.
Basically, napping is a coping strategy used by those with Fibromyalgia to deal with increased symptom severity. Those who feel worse tend to nap more in order to feel better.
Does napping work? It's hard to say. All we really know for sure is that those who feel worse nap more and those who feel better nap less.
So, are you a daily napper? Do you plan your naps or do you just fall into them? Do you believe that naps help your symptoms?
Related Posts:
Reference:
Theadom, A., Cropley, M., & Kantermann, T. (2015). Daytime napping associated with increased symptom severity in fibromyalgia syndrome. BMC musculoskeletal disorders, 16(1), 13.