What Does Fibromyalgia Feel Like?
What does Fibromyalgia feel like? is a question that those of us with fibromyalgia are often asked. It's something that those who love us and live with us can't help but wonder.
Reading about the signs and symptoms of fibromyalgia is one thing, but really feeling them is quite another experience.
Some days you have to laugh at the pain because it's all you can do, either that or take a gun out back and put yourself out of your misery. Those without Fibro can't really understand what it's like, but I thought I'd share some descriptors that I personally use (and that I've heard some of my Fibro friends use on a regular basis).
What does #Fibro feel like? Pain a whole lot of pain.
Click To Tweet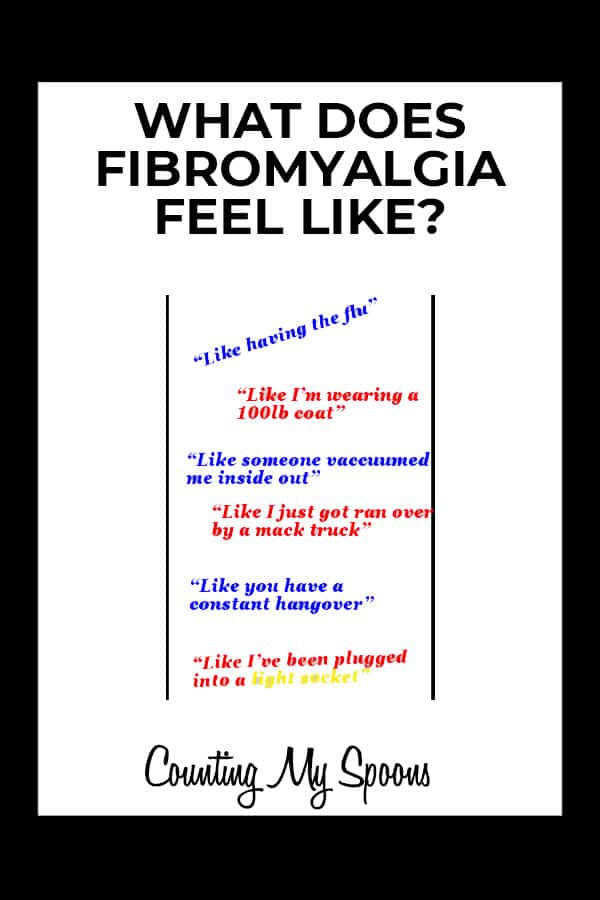 What Does Fibromyalgia Feel Like?
-It feels like you were in a car accident and were left bruised from head to toe.
–It's like having the flu CONSTANTLY – that same run down, dragged out feeling you get with the flu, where every single bit of your body aches. It feels like that, except it doesn't go away.
– It's like someone vacuumed me, I think of the old cartoons where you'd see a character getting sucked into a vacuum and the vacum is so strong that it turns them inside out…that's what it feels like,
– Like I'm inside out.
– Like I'm wearing a 100lb coat – you see this all the time on work out shows like Biggest Loser where they have the person put on a backpack or a coat that weighs as much as the weight they lost. Well, I didn't lose the weight, but I often feel like I'm wearing the coat.
– Like I'm wearing lead boots – often I'm wearing the lead boots and the 100lb coat together. They are a matched set.
– Like I had the workout from the Biggest Loser yesterday and I'd never worked out before that. Except that yesterday I did good to get out of bed.
– Like I've been plugged into a light socket – luckily I've found meds that seem to help with this one.
– Like I got hit by a truck – actually it's more like you got hit by a mack truck and then after it ran you over it just stopped and you had no way to get out from under it.
– Like I've been mummified – head to toe, there are mornings where moving anything just isn't an option.
– Like someone beat the crap out of me in my sleep
– Like I haven't slept in a year
– Like you have a constant hangover – not so much the headache but that drugged out feeling and sensory overload.
– Speaking of Sensory Overload – that one is always fun. Trying to be in anything crowded, loud, noisy pretty much overloads you to the point that all you can do is shut down.
– Like I'm brain dead – again that staring at paint dry
– Like I'm playing a constant game of "Password" – my husband thought I was just being funny when I asked him what the name of that room where we sleep was. It wasn't until I finally sat him down and explained, I really have issues remembering basic words. Now, he's used to it, but my friends still look at me like I'm crazy on occasion for the words I can't come up with.
– Like razor blades are ripping through my body
– temperature – this is a hard one to explain. If I get cold it HURTS, when the A/C is blowing directly on me it feels like pain is being blown onto me. I'm the only person I know who will happily go outside in 100 degree weather to "warm up". Yet, at the same time I can't stand to be too hot. I get over-heated easily and then…
– the sweating – yep, just hanging out with friends, and sometime just taking a shower will overwork and overheat me to the point where I can't stop sweating. There have been times I've taken a shower because I've sweated so much only to get out of the shower and find I'm still sweating.
– All the energy has been drained from my body – everything we do is a drain on our supply of energy (see the Spoon Theory). It's not that we don't want to do certain things, like hang out with our friends or clean the house, but we have to pick and choose our battles. Sometimes one big thing means we do nothing for a week. Other times, several small things will add up and zap all our energy without us even realizing it.
– It feels Foggy – some days it really is like looking at the world through a fog or haze. Nothing is clear.
– Like you are being crushed – sometimes it feels like the air around me is so heavy that it's going to crush me.
– Like I'm on Fire – sometimes different areas of my body will suddenly feel like it's on fire, similar to the feeling you have when you have a really bad sunburn, but moreso.
–Like I could jump out of my skin – it's not always physical pain, sometimes it's emotional. Sometimes, any little thing will just set us off. Jumpy doesn't even begin to describe it. A sudden noise would send us over the moon.
– Like "What's the Point?" – sometimes it gets so overwhelming that depression is added and we can't help but wonder what's the point of living if I have to live like this.
– It hurts in places you didn't know you could hurt – your face hurts, your eyelids hurt, you name it it will hurt at some point.
– You wonder if you have Parkinsons – with the twitches and involuntary muscle movements we get, you have to wonder. My grandmother had been diagnosed with Parkinsons many years before she died, and had been being treated for it. About 5 years before she died she had to switch neurologists and the new one said there was no way she had it. Looking back at her life and the pain she suffered, we are now almost sure that she had Fibro. We get twitches and shakes that range from being really uncomfortable to making it impossible to hold a fork or walk.
– You feel like the weakest person in the room – "here open this for me" becomes a mantra that you can't live without.
– You wonder if it's all in your head, but you know it's not – I can't speak for the number of times I've wondered if I'm just some crazy hypochondriac, but I don't think anyone could imagine the kind of pain we deal with to create it in their mind. It's real.
–Clothing hurts – just that little bit of something touching you can hurt. A sheet running across you in bed, a skirt swishing.
– Can't stand to be touched – the lightest touch from you, feels like a squeeze to me. Or worse, when that "plugged into a light socket" feeling is going on, being just inches from another person will feel like I'm being zapped by their energy, and by "zapped" I mean electrocuted.
–Like There is NOT enough coffee in the world – the fatigue is endless. It's there when we wake up and yet we can't go to sleep.
– It is getting a mile down the road and forgetting where you were going
– It is knowing there were 3 more of these you thought of, but by the time you got back to the computer they were gone.
It's feeling lucky when you get 6 straight hours of sleep or actually wake up feeling like you've slept. Sleep is a rarity even with sleeping pills, good quality sleep is pretty much non-existent, so we take what we can get.
Like you can't leave the house without a list – you are doing good if you make it to your first destination and remember why you are there, God forbid you have multiple things to do while you are out.
IBS (Irritable Bowel Syndrome) – the feeling of "I shouldn't have eaten that" takes on a whole new meaning.
Headaches – Migraines and other headaches typically go hand in hand with Fibro. I was dealing with migraines LONG before I had to deal with other issues related to Fibro.

From my Fibro Friend Katie:
"It feels like a monster is in your body. IT is searing pain, it is like a rubber band wrapped so tight and just gets tighter. IT is like someone is peeling your skin off your body. It is so many things. It will not kill you, but it certainly makes you wish at times that you would just die."
From my Fibro Friend Angela: It's like…your brain has turned to mush. You try to read a book (or a paragraph, or even a sentence or two), and your brain refuses to process it. Frequently, you must re-read things over and over. Sometimes, it's too frustrating to read, because you aren't processing or even absorbing anything. You begin to question if you have dementia.
It's like…you need to go back to pre-school. You can't even calculate the simplest math. First graders know more than you do. You are thankful most people use electronic gadgets for everything, so it may not be so obvious when you use your iPhone to calculate 9+5=?
GhettoGirl's description of her Fibromyalgia
Ok, my Fibro Friends, I'd love for you to share your other thoughts and descriptions for how Fibro feels to you. How do you describe your symptoms and pains?
How do you describe what #fibromyalgia feels like?
Click To Tweet
Related: