Fibromyalgia and Sense of Smell
A study out of Tel Aviv indicates that those with fibromyalgia suffer from a diminished sense of smell. To me this seems to go against everything that I know about our overactive heightened senses in many areas, including, for me at least, smell.
Other reports seem to indicate that I'm not alone in feeling that I have a heightened sense of smell with fibromyalgia.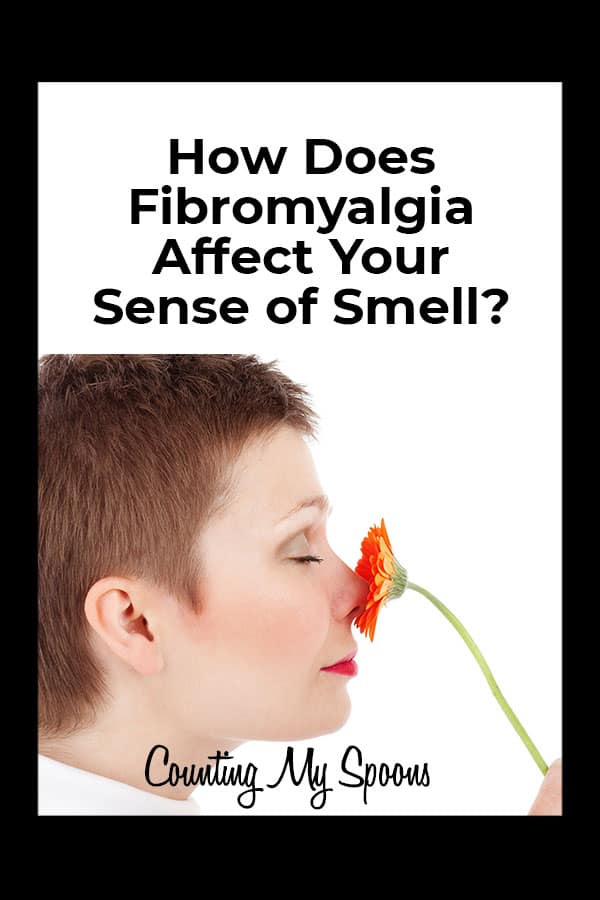 Click To Tweet
In this study the researchers compared sense of smell in 24 Fibromyalgia patients to 20 patients with Systemic Sclerosis (SSc) as well as to 21 healthy controls. The patients were tested using the Sniffin' Sticks kit which presents odors via a pen-like device.
The first stage  established a threshold, three sticks were presented and the participants had to identify which of the three contained the odor. Of the three sticks, one was odor-less, while the other two contained varying levels of the odor.
The second stage gauged participants ability to distinguish between odors by presenting three sticks in random order; two contained the same odor and the third with a different odor. In stage 3 participants were asked to identify an odor out of four pens.
A maximum score of 48 could be obtained through the three test stages combined. A score greater than 30 is considered a normal sense of smell. Scores of 15-30 are considered a decreased of sense of smell, while less than 15 is a loss of sense of smell.
The Fibromyalgia group had an average score of 29.3 +/- 5.4, while the SSc group had an average score of 32.1 +/- 4.2. The control group had an average score of 34.6 +/- 2.5. These differences were statistically significant at this level; however, when you look at the individual breakdowns (threshold, ability to distinguish, and identification) there were no statistical differences.
Both the Fibro group and the SSc group had lower overall scores than the control group.
A large percentage (42%) of the Fibro patients displayed decreased sense of smell (hyposmia). Only 15%of those with SSc and 2% of the healthy controls showed decreased sense of smell.
The researchers were unable to make any connection between decreased sense of smell and reported levels of Fibromyalgia severity.
I see a few problems with this study, one is the typically small number of participants. This is a problem in many of the studies related to Fibromyalgia. It's very difficult to get an accurate picture of anything when your sample size is small.
The second is that they don't explain the third stage at all, so I'm unclear on what that stage involved. Did the four different pens each have a different odor? Did only one pen have an odor?
Do you think #Fibro has affected your sense of smell?
Click To Tweet
It seems like most people I hear from feel that, if anything, fibromyalgia has made them more sensitive to smells. That has always seemed to be the case for me.
References:
Amital, H., Agmon-Levin, N., Shoenfeld, N., Arnson, Y., Amital, D., Langevitz, P., & … Shoenfeld, Y. (2014). Olfactory impairment in patients with the fibromyalgia syndrome and systemic sclerosis. Immunologic Research.
Similar Posts:
(Visited 6,665 time, 7 visit today)