The Importance of Support Groups for Chronic Illness
It's so important for us to have strong social support, but too often that may not be available from our immediate family or friends. The importance of support groups for those of us living with chronic conditions of any kind can not be over-rated.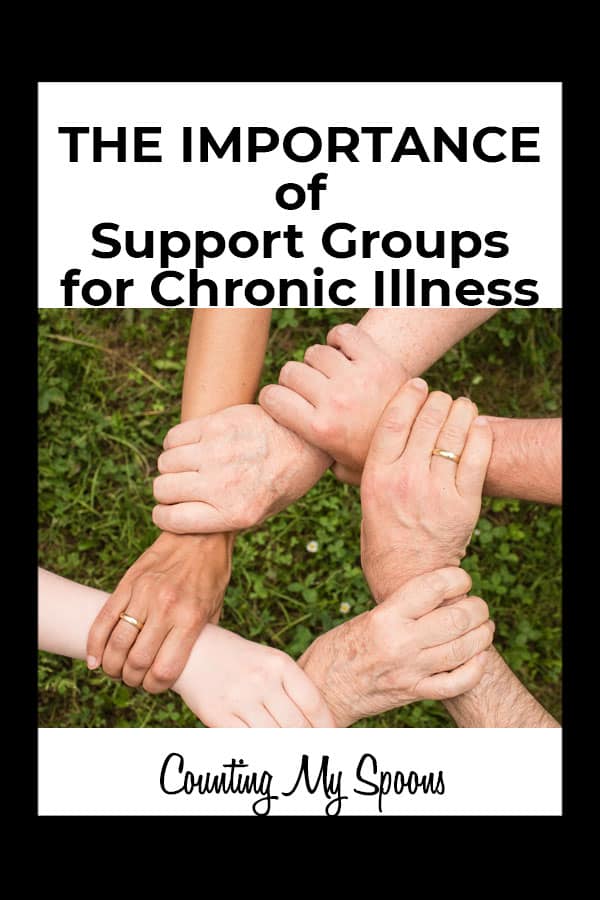 Benefits of in-person support groups
The primary advantage of local support groups is the personal interaction. The chance to get out and actually talk to others face-to-face. This is something that most of us who are dealing with chronic pain and fatigue are lacking. Mostly we are too tired or in too much pain to maintain their social life.
Loneliness can be a huge issue when you live with the chronic pain and fatigue of Fibromyalgia (or other illnesses), but it doesn't have to be.
Isolation can lead to depression and support groups are one way to avoid feeling isolated. Support groups also help you learn coping skills and how to better manage your symptoms.
Meeting in-person provides visual cues which make communication easier, especially when dealing with fibro fog
Local support groups also provide a sense of belonging that online groups don't match, as well as an opportunity to voice your questions and concerns and be heard.
How to find a local fibromyalgia support group
There are a few ways to find a local support group.
First, ask your rheumatologist if they know of any local groups. They may have a card on hand of someone you can contact to learn more.
If you won't be seeing your rheumatologist any time soon (or don't have one), check your local newspaper (print or online) as they usually offer lists of upcoming support groups in the area.
If that doesn't turn up anything try Google – "diagnosis city support groups" (obviously replace diagnosis with your specific illness and city with your city). You can also check out MyFibroTeam.com where you can search for others with Fibro by city or zip code.
You may also have some luck finding a support group on Facebook as many have set up Facebook groups for their support group. If you don't find a local support group you'll at least find some online support groups through this process.
I was really lucky when I was first diagnosed with Fibromyalgia that a good friend was also the facilitator for our local Fibromyalgia support group. It was actually be relationship with her that helped me get diagnosed as fast as I did.
Because I knew her and knew about her support group I felt comfortable joining that group at an early stage (even before my diagnosis was official). Over time I found that attending the meetings wasn't the best fit for me but I stayed involved with the group online and often found having that group very beneficial.
Disadvantages of in-person support groups
The biggest disadvantage of in-person support groups is the lack of them. Unfortunately, they are typically started and run by one of us (another person dealing with the same illness) and as such, are prone to ebbs and flows as that person deals with their illness and may not feel well enough to keep it going.
In-person groups are typically only held about once a month and depending on the size of the group the time provided may not be enough for everyone to feel heard or feel they've gotten the support they came for.
In-person support groups aren't ideal for many of us for a lot of reasons. It takes a lot of energy to get dressed and get out in public and you may already be worn out before it's time to go. If you work you have even less energy to get out and about. The time of the meetings might not coordinate with your schedule, or you might just be an introvert that doesn't really enjoy groups of people.
Related: Fibromyalgia and personality
Even if in-person groups aren't for you, there are still ways to get the support you need. Most in-person groups also have an online presence that you are welcome to join even if you don't attend meetings. If you don't have a local group there are tons of online support options to help you connect with others who can relate to what you are going through.

Benefits to Online Support Groups for Fibromyalgia
No matter what your personality or your schedule you can find support when you need it thanks to the internet.
Online support groups allow you to get support at the moment you need it, rather than waiting for a meeting. You are also able to get that support without having to use your limited energy to get dressed and go out. You can remain physically comfortable while getting support from your recliner.
Online support groups allow you to get support right when you need it, and from the comfort of your pajamas.
Click To Tweet
I've found Twitter to be a really great place to find support when I need it, and there are some great closed Facebook groups that really monitor what is posted (to avoid spam as well as really bad advice). A couple that I would suggest are:
Keep in mind the group doesn't have to be specific to your illness, so long as you are finding the support and community that you need.
Whether you choose an in-person support group or an online one, you will benefit if you find the right group for you. That said, don't get discouraged if the first group you interact with isn't a perfect fit. Allow yourself some time to rest and then try a different one and hopefully you'll find a support group that gives you just what you need when you need it.
Do you have a local or online support group that you are part of? Have you considered starting one in your area? Share your thoughts and experiences in the comments below.
Related:
(Visited 1,570 time, 1 visit today)