4 Challenges of Being an Introvert with Chronic Illness
Guest post by Kami Lingren
Navigating the changes that have come with a not-so-normal immune system have been, well, interesting. And throwing in my introverted personality? Now, that's come with it's own set of "fun". Ahem, like every social sensitivity I've ever had, dialed up to 15 on a 1 to 10 scale. How polite of chronic illness, right?

Along with the adjustment to a new normal that we all experience as the chronically ill, there are a few things that have been more challenging for me than others.
RSVP, With Regrets.
Attending events with more than a handful of people is most definitely NOT on an introvert's wishlist. Yet even with the anxiety and discomfort that would come from attending group gatherings or events before becoming chronically ill, I would still make an effort to go.
But after sickness hit it became incredibly difficult to make it to…just about anything. Lights? Sounds? Smells? They're an added layer of "no thank you" to an already overwhelmed body when you're an introvert with chronic illness.

It's taken me time to be okay with saying "no" when it means protecting my health. (And I still have room to grow, FYI). So if the event falls close to an important doctor's appointment or a visit from family or friends, than you'll most likely be getting a decline from me. I am learning more about myself and my body's limits, while also reminding myself "no" doesn't have to mean "never".
No doesn't have to mean never, it just means you can't right now.
Click To Tweet
Lonely, party of one?
Based on that last point alone, community can be tough to maintain, can't it? Us introverts tend to crave the one-on-one connections rather than feeling lost in a room of strangers, sweating like a cold can of soda on a hot summer day.
Nuh-uh, no thanks.
But when you're an introvert with chronically illness this sometimes means your ability to pursue those more intimate connections with friends get hijacked by something called 'an inability to drive yourself'. Or 'exist in rooms cleaned with chemicals'.

When I can handle a few hours outside of the house, I'll escape with a safe person. Someone who is aware of my illnesses, knows of signs to watch for in case I need assistance or need to go home, and a person I'm comfortable with. And on other days, I've invited friends to come spend time on my couch. Netflix, tea and girl talk when I'm up for it can be just what the doctor ordered!
Fibromyalgia and Loneliness (a study)
Choose to spend time with friends who understand and can help.
Click To Tweet
Doctor Drain
Doctor's appointments were never fun for me, even before chronic illness. They meant small talk, sterile rooms and crowded waiting areas. Now getting into the doctor and making it through a visit feels like a marathon you haven't trained for. Oh – and you have clouds for a brain for extra fun. "What was I just in the middle of saying…? Wait, what's my name again?"

With heightened social anxiety, it's been important for me to listen to those signals of distress and find ways I can support my body instead of adding further strain. I like to have Trevin with me on appointments, if possible, but if not it's helped to at least have someone else with me or in the waiting room. When you're diving into symptom lists and treatment plans, it can be exhausting on our systems and having that extra pair of listening ears can be helpful.
Bring an extra pair of ears with you to the Dr., a trusted friend or family member who can help you remember what is discussed and keep you focused.
Click To Tweet
Dysfunctional Batteries
As an introvert with chronic illness, my batteries start to run down the longer I go without downtime or some time to myself. I need that space to recharge, reflect, and give my brain a rest. Since I became sick, my energy tank seems to have had an encounter with a machine gun.
Even a short conversation with someone I'm comfortable with leaves me feeling exhausted within minutes. A few steps can feel like a hike sometimes.
Since no one else can see that I'm struggling until an hour or two goes by (my droopy eyes are always the dead giveaway) it's up to me to excuse myself or call it a night when it's time. Or, if I have a visitor staying with us, I've also scheduled rest breaks throughout the day. My phone will sound an alarm with a message "rest break" or "detox session" and I'll excuse myself to do either. It helps me do both as best I can: engage with someone for a bit and take care of myself.
It's up to me to say goodnight when my battery is drained.
Click To Tweet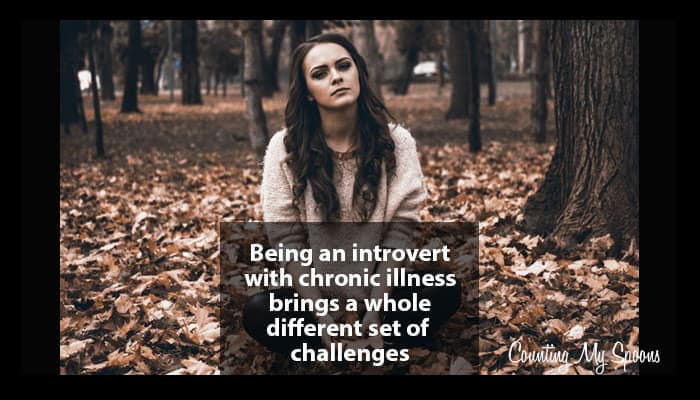 Learning to be okay
Being an introvert doesn't mean I "opt-out" of life. But it does mean my approach to living life in spite of chronic illness needs to look different than the outgoing extrovert. It has shaped struggles, but it's also shaped boundaries which have been good and healthy for me to learn.
So to all you other introverts with chronic illness out there – I see you, navigating small talk and doctor's visits like CHAMPS. And to those who used to be an extrovert and somehow illness transported you to Introvert Land: I'm not sure if "welcome" is the appropriate response, so I'll just say "you're invited to hang here with us."
Can you relate to any of these challenges? How have you learned to function in your new norm of chronic illness?
Being an introvert with chronic illness doesn't mean I "opt-out" of life. How have you learned to function in this new normal? #chronicillness #spoonielife
Click To Tweet
---
Kami Lingren is a writer, blogger, cloud-obsessed-legging-wearing wife and pup mama living in the beautiful valley of southern Oregon. 4 years ago she found herself disabled with multiple chronic illnesses and has since made it her mission to support other spoonies. Check out her blog where you can download a free resource to help you own your worth in spite of illness.
---
Related Posts: