One of the questions it seems like we all ask if what leads to what? Does lack of sleep cause the pain? Or does pain cause the lack of sleep? Does depression cause it all? Or does the combined lack of sleep and pain cause depression?
Pain, Depression, Sleep Issues : Which Comes First?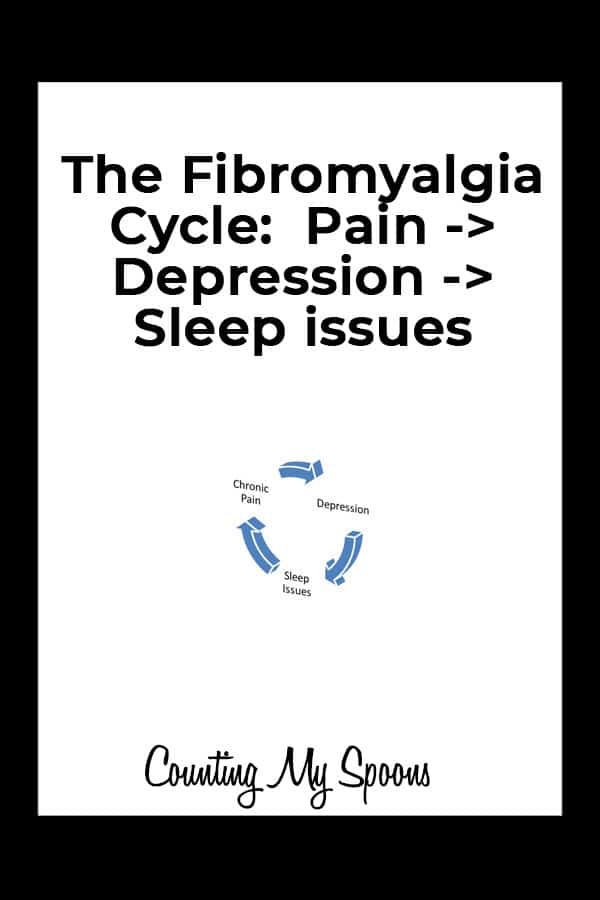 Depression -> Sleep issues" width="600″ height="900″>
This is just my opinion. As if 99% of what I post here isn't just my opinion, sometimes educated, sometimes not so much.
Here's my thoughts (based on how my situation developed)…
1. Pain –
I've had various types of chronic pain over the last 4 or 5 years, and there were times where that pain kept me awake at night or woke me up. BUT, it was never like it's been the last year.
I KNOW that my pain is much worse on a day after I haven't slept well. If I'm up all night, I hurt worse the next day. If I'm tired and worn out, I feel the pain deeper. So, personally, I believe that the lack of sleep causes the pain.
2. Depression –
My mood overall is pretty good, but the longer I go not feeling well or in pain, the worse my mood gets and the more depressed I get. The depression, for me, is more of a side effect of not being able to do all the things I'm used to doing and want to do.
It's depressing to be stuck and feel like you can't do anything, can't go anywhere, can't enjoy life. It's depressing to have to cancel plans at the last minute, to feel like your friends think you are a total flake because you can't make plans to start with. So, in my opinion, the pain causes the depression.
3. Lack of Sleep –
Sleep is the one I can't figure out. I can't figure out what causes it, but I've read enough to know that there may well be a neurological /physical cause for the lack of sleep. From there it only makes sense that lack of sleep would aggravate chronic pain and leave you feeling lifeless and unhappy.
It doesn't matter who you are, if you go without sleep long enough you get cranky, so it's understandable that we'd not be feeling great.In the end, I think it's all a bit cyclical – much like the chicken and the egg. One thing had to start it all, and I just keep hoping that eventually they figure out what that one thing is.
Update: I originally wrote this post in 2010, back at the beginning of my journey with fibromyalgia. I continued to struggle with pain,
sleep issues
, and
depression
for the next few years. Then in 2013 I made major diet and lifestyle changes that greatly reduced the chronic pain. Changing meds and reducing the chronic pain helped me get the depression under control. That just left sleep issues, which continued to plague me until early 2017.In early 2017 I began taking
CBD oil for the sleep issues
. Taking it nightly caused a drastic change in my sleep patterns and I finally began falling asleep and sleeping through the night on a regular basis.
Perhaps, that was the answer all along. A chemical imbalance that could easily be corrected with natural CBD oil?
I still have occasional bad nights, and occasional bad days. But, overall, the pain and sleep issues are much better controlled now and I'm able to live much better. If you suffer from these ailments, please keep looking for answers. Keep trying things till you find what works for you.