Reviewing Every Day Optimal CBD Oil for Sleep
I never really would have thought about taking CBD oil for sleep, but after finally trying it a year ago I found that CBD oil has helped me sleep better than anything else I've tried.
I had tried a variety of prescription meds, made sure my sleep hygiene was awesome, and anything else I could but nothing really ever did much for my sleep long-term.
Related: Are sleep issues at the root of many fibromyalgia symptoms?
It seemed like some things would help for a little while but it wouldn't last… until I tried CBD oil about a year and a half ago and I've slept pretty much great ever since.
But, not all CBD oils are created equally. I've tried a few different ones and found that some don't work as well as others. As a result I've continued to go back to that first brand of CBD oil that I tried. However, I finally found another one that works as well.
What is CBD Oil?
CBD Oil is short for Cannabidiol oil, one of the two main ingredients in cannabis (marijuana) Unlike THC, which is the ingredient that gives you the high feeling; CBD  does not create any high feelings, but it does directly activate the endocannabinoid system.
The endocannabinoid system is one of the groups of regulatory molecules in our brains responsible for homeostasis, it affects appetite, mood, memory, and pain-sensation.
CBD acts as an anti-inflammatory, and pain reliever, while also improving symptoms of anxiety and depression. CBD actually counter-acts many of the effects of THC (eg. sleepiness, memory issues, and paranoia).
CBD oil (if produced from hemp plants) is THC-free and legal in all 50 states (even most counties in Alabama).
Last month I was sent a bottle of Every Day Optimal CBD Tincture. After a couple of other failed attempts at trying different CBD oils I really wasn't expecting much. However, this one surprised me.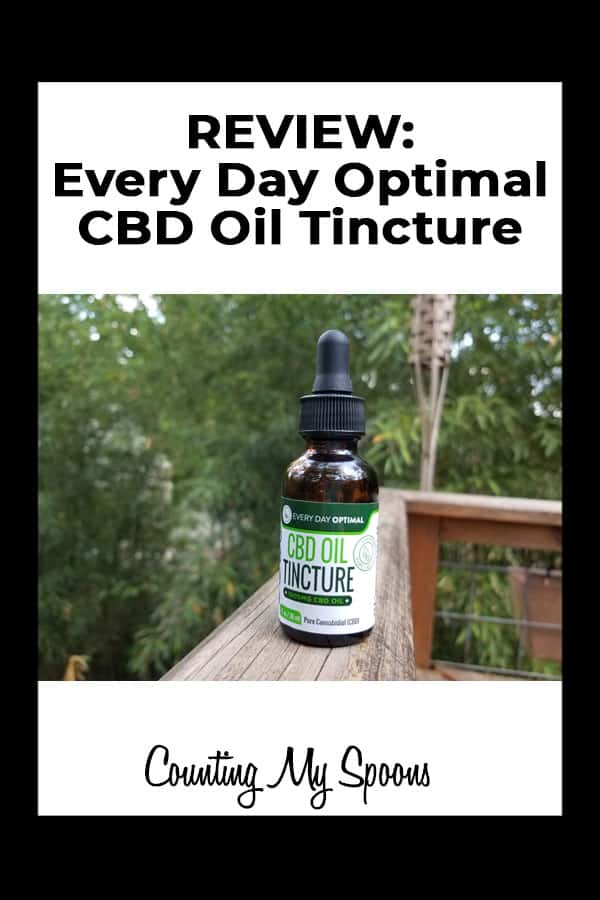 Every Day Optimal CBD tincture can be dropped under the tongue (which is how I use it), or you can add it to your favorite food or drink. While you can use CBD oil throughout the day to help relieve anxiety and calm pain, I generally only use it at bedtime to help me with sleep and it's worked wonders there.
The Every Day Optimal CBD tincture comes in a glass bottle with a dropper. This has pros and cons. The pro is that it's really easy to use. There's no questioning the dosage.
The con is that there's no easy way to adjust the dosage either.
The CBD oil I've used for a while offers either a pump or the dropper and I prefer the pump as I can use more or less as needed (generally, I've needed less than the recommended dosage).
So, because of this difference I've not been able to play with the dosage to determine if a lower dosage would work just as well as the dosage I've been taking.
A single bottle contains about 60 doses, which means that for me a single bottle will last about two months.
Good high quality CBD oil isn't cheap. As with any supplement, quality matters, and quality tends to cost more.
The 1000mg CBD tincture that I tried is for sale on their website for $99. This is a little more expensive than some other good brands.
The biggest difference I notice between this and other CBD oils is the taste. It has a pretty strong peppermint taste. Luckily, I like peppermint and find this a plus. However, if you don't like the flavor of peppermint this might not be the right product for you.
All in all, it's a great product. However, for the price I would not be likely to continue using it over using another CBD oil product.
I noticed the biggest effect after I finished off the bottle and went back to my previous brand. My previous brand no longer seemed to work as well.
Actually, it no longer seemed to work at all. Suddenly, I stopped falling asleep easily or staying asleep. I was struggling again and as a result feeling more fatigued.
As a result, I ended up ordering more of the 1000 mg CBD tincture from Every Day Optimal. Once again I was sleeping easily and well.
Other Every Day Optimal CBD Products
Every Day Optimal has a lot of other products as well, including gummies, chewing gum, vape juice, and topical products.
They also have some blended products for specific uses, including
a Sleep blend capsule, which contains 25mg of CBD combined with 7 other sleep promoting vitamins;
a Stress blend capsule, which contains 25 mg of CBD combined with 6 vitamins that promote stress relief; and
a Fibromyalgia Relief capsule, which is a pretty complete Fibro multi-vitamin that also contains 25mg of CBD.
I had the opportunity to try a sample of their stress blend on a particularly stressful day. I can say that I did feel some relief from the stress and anxiety I was feeling and I would take it again.
I'm definitely interested in trying more products from Every Day Optimal.
Related: