Recently, I have the opportunity to try a type of product that is totally new to me. The Oska Pulse is a wearable pain relief device that uses Pulse Electro-Magnetic Frequency to reduce, and even eliminate, pain.
Back in June of 2016 a guy named Steve contacted me about his device, the Oska Pulse.
Steve had read my review about the Quell device and felt I provide honest reviews so he wanted me to try out his device and see if it might help me more than other devices had in the past.
We discussed my various pains, specifically this undiagnosed shoulder pain that I've been dealing with for the last 3 years (I can't believe it's been 3 years…but it really has been). Steve felt that because no structural issue had been found in my shoulder that his device, the Oska Pulse might help me.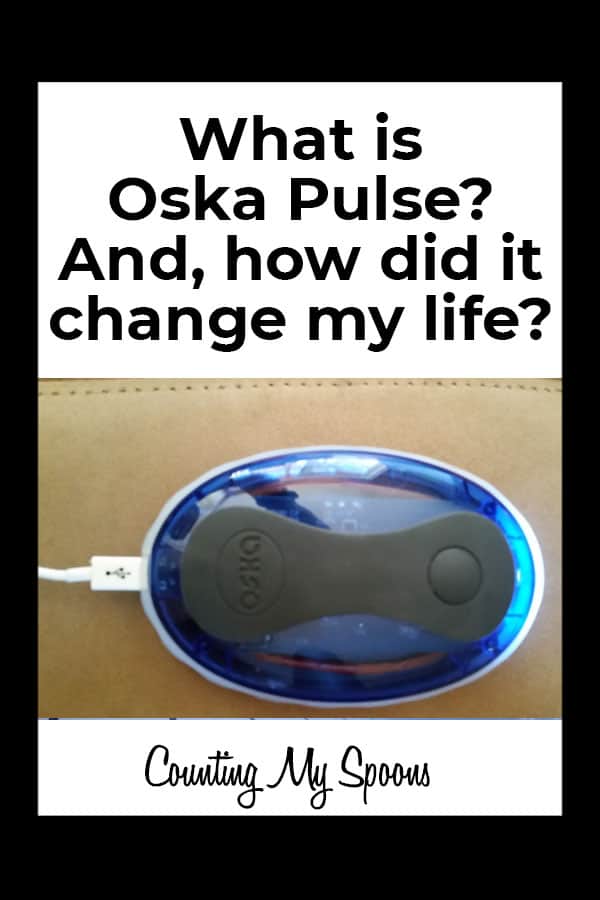 Now, to be honest the Oska Pulse sounded hokey. It doesn't really look or feel like it's doing anything except pulsing a blue light off and on.
It doesn't even have to be in direct contact with your body to work (just within about a foot or so).
Inflammation is a primary cause of chronic pain, and short of a mechanical problem being found I can pretty much assume that the issue in my shoulder is inflammation related (as evidenced by the fact that not taking an anti-inflammatory daily increases the pain).
How does the Oska Pulse Work?
So, how does the Oska Pulse work? The Oska Pulse works using Pulsed Electromagnetic Frequency (PEMF) to mimic the electrical currents our body produces naturally.
PEMF signals pass through bone and all other tissue virtually unaltered, opening cells to receive more nutrients and oxygen, more effectively removing waste products." – from OskaWellness.com
What does electricity have to do with inflammation?
The body is made up of electricity (atoms, ions, and molecules).
Inflammation is basically an electron-deficit state. Too many negative ions push the positive ions out of balance so we need to re-balance the electrical state of the body.
There are a handful of ways that you can do this including just walking barefoot outside and spending more time in clean air environments (like near water and in the forest).
Some people even use magnets to attempt to re-balance their electrical state.
The OSKA Pulse is another option. A high powered option.
But isn't Electromagnetic Frequency (EMF) bad for us?
Yes, and no. It really depends on what level and amount of EMF we are talking about.
While ionizing radiation from alternating current (AC) fields (eg. power lines, electrical wiring, etc) breaks the electron bonds that hold molecules (DNA) together, non-ionizing radiation isn't strong enough to break those bonds.
It's all about the frequency and amplitude. At the right amplitude and frequency EMF has been found to increase natural killer cells to help fight viruses and cancer, modulate traumatic brain injury, and reduce inflammatory responses.
PEMF has been studied A LOT. In fact, a search on Google Scholar returns over 735 results just within the last two years, covering everything from how it helps heal lung tissue to how it helps modulate cytokines in wound healing.
While the concept may be new to most of us, and seems like science fiction, the reality is that it's been used for years in athletics and hospitals alike.
There are special therapeutic devices specifically to help speed up the healing of broken bones.
After telling my mom about this product I found out that she'd actually used a PEMF device following a cervical fusion. It was huge and clunky and cost a TON. And, it was also completely useless after she was recovered because it was designed specifically for use on the neck.
This is the norm. These devices are typically pretty huge and often require office visits to use, but science is great and the people at Oska Wellness have managed to pack the power of a huge device into something the size of my cell phone.
A 2004 pilot study found that PEMF reduces neuropathic pain in 50% of cases.
Related: PEMF for Fibromyalgia
The first PEMF device was approved by the FDA in 1982 specifically for bone repair.
A 2013 review of literature on EMF devices found that EMF is used to successfully treat Alzheimers, arthritis, back pain, Fibromyalgia, bacterial infection, and even cancer (among many others).
Different frequencies and amplitudes may be needed to treat different types of issues, but the key is that it works.
The OSKA Pulse is calibrated for four specific frequencies related to bone repair, cartilage repair, increased blood flow, and pain reduction. They aren't claiming it will cure cancer, but they have found that in over 80% of cases it dramatically reduces pain and inflammation.
Related: Got Urinary Incontinence? Get PEMF
But, does the OSKA Pulse work?
So, I'd read all that stuff above. I read through their website and through some studies and I decided that it certainly wouldn't hurt to give it a try.
I was cautiously optimistic and a little lazy. When you turn the OSKA Pulse on it runs for 30 minutes. It will beep to let you know it's turned off and you need to hit the button again.
The longer you've had pain (or the worse the pain is) the more you may have to use it before you see results.
Steve also told me to sleep with it. The problem is that the flashing blue light (which exists primarily so that you know it's running). It's bright. So, I didn't do it.
Steve said "get a sock" and stick the device in the sock to block the light. I still didn't do it.
Admittedly, the first few weeks I used it when I remembered it was there which wasn't terribly often.
The OSKA Pulse sits on the back of the chair where I work. It lives there like a little blue bird. When I'm in that chair working I try to remember to turn it on (repeatedly).
I might turn it on once or twice a day. If I was really thinking about it I might turn it on three or four times in a day.
About four weeks in Steve emailed to ask how things were going. I was honest. It hadn't really made a difference but I was also honest enough to admit that it may well have been that I wasn't using it enough.
I decided to continue using it and try to use it more often. Which I did over the next couple of months.
I also continued to read more about the science and I knew it COULD work.
Still, when Steve checked in again a month or so later I was a little pessimistic that I didn't feel like it had worked yet. I still had shoulder pain. I still couldn't really write without pain and I couldn't wear a bra without pain. He encouraged me to keep going and so I did.
It wasn't until the first week of November that I really saw that it had helped and only then because I was forced to do something I avoided as much as possible – write.
The first week of November I went to a conference where I took copious notes. I mean pages and pages of writing over the course of two days.
Not only did my shoulder NOT lock up after a few lines, I was able to take notes for two days straight without any issues. There was still a mild pain and there still is a mild pain in my shoulder, but I was writing (and my writing didn't turn into an illegible squiggle after two lines).
When I came home after the weekend away I took things a step further I put on a bra. I wore a bra for several hours and it didn't cause massive spasms in my shoulder.
To say I was amazed is an understatement. That Monday I even did a Facebook Live video about my excitement and joy at finally being able to do things I've avoided for three years!
And, yes I've been using the OSKA Pulse more than ever since I returned home. I even sleep with it now (I tuck it under my pillow so the light doesn't get out – I have a different pillow now so I don't feel it).
One of the things I've hated the most about this shoulder pain was having to avoid something I really love to do – painting.
I love the paint & sip classes and I love to paint and create on my own. I've not done either for way too long because of the pain in my shoulder.
This past week I got the nerve up to give it a try and went to a class. No pain! And, none the following day.
I was so happy that I booked another class before I even left and decided that that was going to be how I'd celebrate my birthday.
I'm curious to see if sleeping with it will eventually help improve my sleep and if using it more might eventually help reduce other Fibromyalgia-related pain.
The Downsides to Oska Pulse
There's always a downside. OSKA Pulse should not be used if your are pregnant, breastfeeding, if you have an implant made from magnetic materials at the site of your pain, or if you are currently being treated with chemotherapy.
In addition to the fact that it may take many uses to see results (depending on your issue), OSKA Pulse is a little expensive ($399) but in the scheme of things and considering how many things I've tried that haven't worked it's actually pretty reasonable. Although, you can save $55 by purchasing through my links here in this post.
Hopefully, it will eventually be covered by insurance and may already be covered by your FSA or HSA.
OSKA offers a 30-day money back guarantee so there's really no risk to you. If you get it and it doesn't work just send it back.
Overall, however, I'd say that the pros definitely outweigh the cons. I was skeptical, so I was actually really surprised when I realized it had actually worked.
Finding that it had worked just makes me want to use it more and see it work more.
If you can afford it I'd definitely suggest you try it. If you can't afford it, ask Santa. (You can also opt to pay through Paypal which offers a 90-day same as cash option).
I literally went from using it just a couple of times a day the first couple of months to using it constantly once I realized that it had actually worked. I really could kick myself for not using it more in the beginning.
Learn more about the OSKA Pulse
References:
Ross, C. L. (2013). The use of magnetic field for the reduction of inflammation: a review of the history and therapeutic results. Alternative therapies in health and medicine, 19(2), 47.
Sutbeyaz, S. T., Sezer, N., Koseoglu, F., & Kibar, S. (2009). Low-frequency pulsed electromagnetic field therapy in fibromyalgia: a randomized, double-blind, sham-controlled clinical study. The Clinical journal of pain, 25(8), 722-728.
Weintraub, M. I., & Cole, S. P. (2004). Pulsed magnetic field therapy in refractory neuropathic pain secondary to peripheral neuropathy: electrodiagnostic parameters—pilot study. Neurorehabilitation and Neural Repair, 18(1), 42-46.