In talking to my favorite therapist at the Chiropractor office shortly after I was diagnosed with fibromyalgia, I found out that she also has Fibromyalgia. She told me that what she's found helps her the most is a nightly Epson Salt
baths.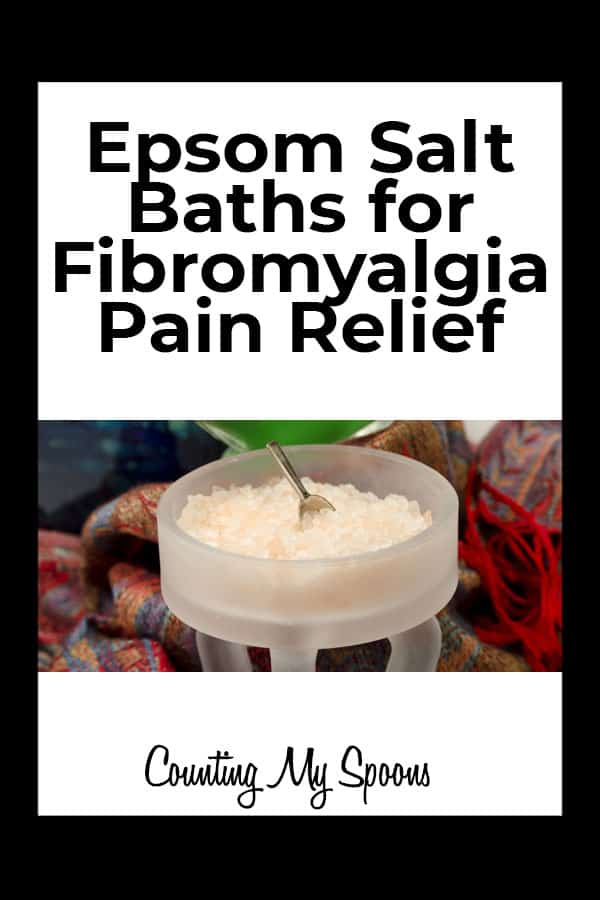 Epson salts are an extra source of Magnesium, soaking in Epson salt baths allows your body to absorb the magnesium through your skin. This is great for muscle cramps and tightness, and allows your body to reabsorb the magnesium that it uses during the day.
Magnesium has been the one supplement I've taken daily- morning and night. In addition to taking magnesium orally, I soak in Epson salt baths nightly and I've found that doing so improves my sleep and reduces my pains.
Plus, a half hour or so to myself relaxing in a warm bath with a good book is a great way to unwind at the end of the day.
I make taking a bath at night a ritual, something that provides a little "me time" and also sets my mind so that it's ready for bedtime.
It's hard to shut down sometimes when I've been going all day. I can't just flip a switch when I climb in bed and go into shutdown or sleep mode like a computer. Taking the time to take a relaxing bath, allows for an easier transition. I begin relaxing in the bath. The hot water also raises my body temperature so that I find it easier to sleep. I can't get to sleep if I'm cold, but I like to sleep in a cold room. So, being warmer when I climb in bed helps.
Magnesium reduces muscle tenderness, decreases spasms, and just generally calms the muscles making it easier to sleep at night. You can also use magnesium oil or lotion and apply it directly to your skin. If you are using the oil you don't want to put it on freshly bathed/showered skin, but the lotion seems to be fine even after a shower. You can apply it just to the areas that are bothering you or all over to help you relax. You may also find that applying the oil or lotion and then using heat on affected areas increases the positive effects.
I suggest doing a combination approach, taking magnesium orally, taking nightly epsom salt baths for fibromyalgia, and also using magnesium lotion on painful areas and spasming muscles.
Related:

(Visited 932 time, 5 visit today)