Could high altitude increase symptoms of fibromyalgia?
Our journey across the country in our RV has brought us back to Colorado. I've been here a few times in the past to visit family and once again I'm reminded that this may not be the best place for me.
Our first stop has us near Denver to take care of some things. I was fully aware as we headed into Colorado, that the combination of having to deal with city traffic while trying to solve an issue would likely increase stress and anxiety. I was prepared for that.
What I'd forgotten about was the fact that simply being at these higher altitudes can also increase anxiety and other fibromyalgia symptoms.
The relationship between oxygen levels and fibromyalgia symptoms
After my first visit to the mountains following being diagnosed with fibromyalgia, I had a chat with my rheumatologist. We were talking about my general anxiety level in relation to fibromyalgia. He brought up how anxiety can be caused by a lack of oxygen, which is why some people hyperventilate when having a panic attack.
I also mentioned that my migraine med (Relpax) when taken for a migraine will also help my fibro pains. He explained that it's because migraine medications increase blood flow, and blood flow increases oxygen. Evidently, a large portion of our fibromyalgia pains are caused by lack of oxygen.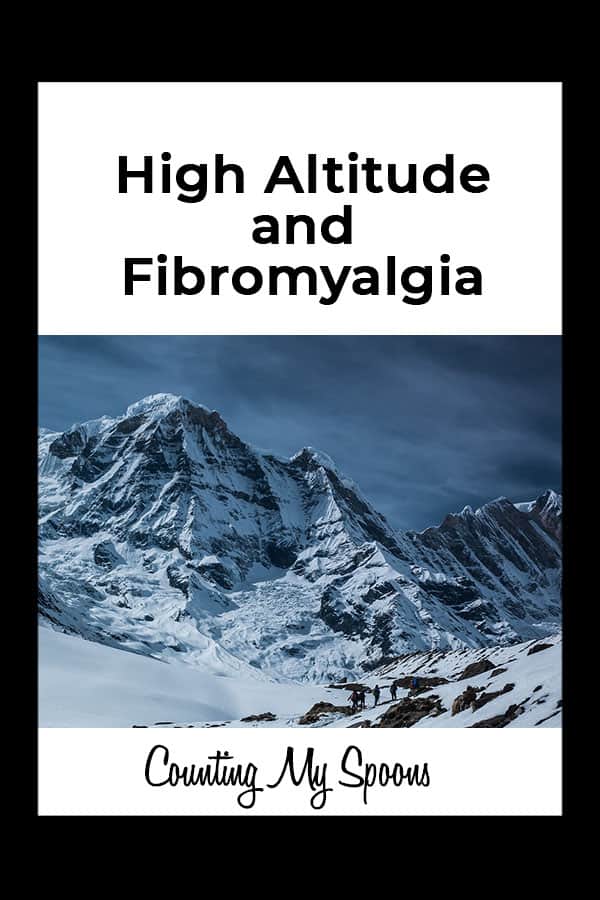 "So, the fact that I just took my vacation in Colorado Springs, might not have helped matters, eh?". "Not so much, especially if you went up to Pikes Peak". Yeah, that explains a lot. Evidently high altitude and fibromyalgia don't mix well.
Higher Altitude= Less Oxygen = Higher Anxiety
Higher Altitude= Less Oxygen = More Pain = Higher Anxiety = Tension = More Pain…. it's a vicious cycle.
There are even some theories that say that poorly metabolized oxygen is the root cause of Fibromyalgia.
Muscular fatigue and decreased tolerance to exercise are common in fibromyalgia. One theory even directly relates fibromyalgia to acute mountain sickness. The hyperventilation involved in anxiety and in altitude sickness can also affect levels of vitamin D (which is also considerably lower in those with fibromyalgia).
There are two takeaways here.
Those living with fibromyalgia may feel better in lower altitudes.
This is the reason why exercise may help improve fibromyalgia symptoms – because it helps improve oxygenation in the body.
It's been interesting to see the different environmental affects on how I feel, whether it's just sinus congestion, feeling more anxious, different sleeping patterns, or changes in how I feel overall. Altitude, local plants, the ease of access to nature, and even weather make a difference.
What's been your experience? Do you find that altitude affects how you feel? Do you generally feel worse at higher altitude?
Related Posts:
Related Posts:
Lewis, J. M., Fontrier, T. H., & Coley, J. L. (2017). Respiratory alkalosis may impair the production of vitamin D and lead to significant morbidity, including the fibromyalgia syndrome. Medical Hypotheses, 102, 99-101.
Shang, Y., Gurley, K., Symons, B., Long, D., Srikuea, R., Crofford, L. J., … & Yu, G. (2012). Noninvasive optical characterization of muscle blood flow, oxygenation, and metabolism in women with fibromyalgia. Arthritis research & therapy, 14(6), 1-12.