I have a confession. I've not been exercising like I should. And, now my body is starting to let me know. It's beginning to remind me just why exercise is so important, especially when you have fibromyalgia.
Instead of planned regular exercise, I've been over-doing it in other ways. I've been spending a couple of days a week doing manual labor (mostly painting) to get my house ready to sell. This is still exercise, just not really a good kind that is helpful. Instead, I'm over-doing it on one day resulting in being too fatigued to do what my body needs regularly.
I pushed too hard and worked two days in a row a couple of weekends only to find I was worthless for the next week. Through trial and error I've found I can work two days a week, but I need to separate those by several days, and I also need to be very careful to listen to my body and stop before I'm worn out.
I've been doing things that I could not have done at all several years ago. I'm thankful for that. But, I need to be mindful that I still have limitations.
If you've been diagnosed with fibromyalgia, you probably walked out of the doctor's office with instructions to exercise, but likely no explanation as to why. Like me, you probably left feeling as if you'd just been told you're a lazy SOB, and fibromyalgia is all your fault for not exercising enough (no matter how much you were exercising before).
Newsflash: You're not lazy. But, exercise is important and there's good reasons it's often one of the first things doctor's suggest (unfortunately, they don't go about this conversation the right way most of the time).
Exercise can help improve symptoms of fibromyalgia. But, if you struggle to exercise with #fibromyalgia that doesn't mean you are lazy. You have to start slow. Moderation is important.
Click To Tweet
I have found that I need to two do things regularly, I need to stretch and I need to walk. Not fast. I don't do speed-walking. Just a casual, gentle pace. And, the stretching, I'm not talking about intense yoga or pilates. Although, if that's your jam, go for it. I'm just talking about gentle stretches to keep my muscles loose.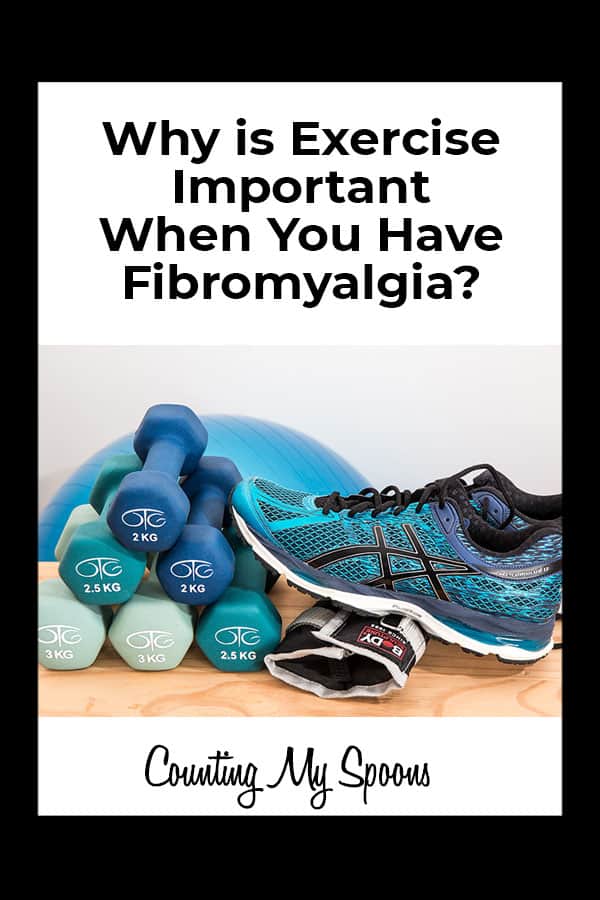 But, why is exercise important when you have fibromyalgia?
There has probably been more research on exercise for fibromyalgia than just about any other treatment. A 2011 review looked at the many studies that had come before finding that low-to-moderate planned exercise was beneficial for reducing fibromyalgia symptoms.
The type of exercise rarely seems to matter, as everything from strength training to yoga, water aerobics to tai chi has been studied with much the same results.
Exercise can improve overall sense of well-being, improve sleep, and even decrease overall pain experience.
But, how does exercise help fibromyalgia symptoms?
Exercise improves many of the symptoms related to fibromyalgia, although it's not always clear how it does so. Improved blood flow and oxygen circulation can decrease pain and fatigue. But, exercising also increases neurotransmitters and hormones in the body that can decrease fatigue and pain, while also improving sleep.
Why is exercise important for fibromyalgia?
Click To Tweet
While the studies show benefits from all types of exercise. The 2011 review broke down the different types of exercise to show which ones helped in what ways.
Pain was reduced most by combination exercise (any combination of strength, aerobic, and flexibility).
Overall health was improved most through strength training.
Physical function was most improved via strength training, aquatic exercise, and mixed programs.
Depression was improved most via strength training and aquatic exercise
Fatigue showed only a small improvement through aerobic exercise.
When it comes down to it, the type and duration of exercise that will be beneficial depends on many factors that are as individual as the person doing the exercise. You've got to find what works for you based on how you are doing at that point.
If you are a newly diagnosed fibromyalgia patient that struggles just to walk from the car to the house, walking a mile a day or doing any serious aerobic exercise isn't going to be beneficial.
I recall when I was first diagnosed, pulling up a a building to walk into a class and thinking that there was no way I could make that walk. If I didn't have to do it, it wasn't going to happen. There were times I drove somewhere only to get there and leave without going in, because I just couldn't make the walk.
I had to start small. For me, small meant light stretching. And, eventually, I worked my way up to walking for 5 minutes at a time. At a snail's pace.
Unfortunately, too often when we hear the doctor say that we need to exercise more, what we picture is a full workout routine, power-walking, running, spending an hour at the gym, or something else that is just beyond what we can reasonably expect to do.
That image makes us feel even worse mentally and emotionally. But, there are more options.
Unfortunately, when the doctor says that we need to exercise more, what we picture is a full workout routine, power-walking, running, spending an hour at the gym, or something else that is just beyond what we can reasonably expect to…
Click To Tweet
Best Exercises for Fibromyalgia
There is no ONE best exercise for fibromyalgia. The best exercise for fibromyalgia will be the one you feel most comfortable and confident doing. Bonus if you can have fun doing it. It may take some trial and error. But, always start small with just a few minutes of exercise followed by rest. Increase your time slowly over days or weeks.
There are a few exercises that will be easier to start with.
Stretching – Simple stretching goes a long way. If you are struggling to even get out of bed, you can stretch without leaving the bed. You can stretch on the couch. You can stretch anywhere. I put together a list of stretches that you can do while in bed.
I have a list of stretches I used on a regular basis when I couldn't do anything else (I need to start doing these again because my hips are tightening up).
Walking – Walking is an aerobic exercise. It gets the heart pumping and blood flowing. It increases oxygen flow throughout the body. It also helps to keep your joints, muscles, tendons, etc moving, avoiding increased tightness which can increase pain. When walking is a struggle you can only do what you can. That may mean you start with just walking to the mailbox. It may mean that you start with just walking from the bedroom to the kitchen.
Water exercise – If you have access to a pool (or any body of water) you may find exercising in water easier than exercising on land. Water reduces the impact of exercise on your joints. You feel lighter and can often move easier as a result. This can allow you to get more of a workout with less overall fatigue (both muscle and otherwise).
Yoga – There are so many types of yoga, including very gentle forms specifically for those with chronic pain. The hardest part might be finding the type of yoga you prefer.
Yoga, at it's core, is simply stretching in very specific ways. Both yoga and Tai Chi combine movement with meditation. This can have positive mental effects, as well as physical.
Tai Chi – Tai Chi is one of my favorite types of exercise for dealing with chronic pain. I think of it as standing yoga with movement. It's about moving through specific poses in a gentle way. You stretch to the level you are comfortable and move as you are comfortable. It can be performed by anyone, anywhere.
I prefer Tai Chi over yoga because it feels as though it puts less stress on my joints, nor does it require me to stretch as deeply as yoga. However, I feel that my overall flexibility improves more and I generally feel better after I'm done.
There's no bad choices for exercise. But, it's important not to over-do it, to work at the level that is comfortable for you in your current state. Trying to do too much too fast will likely mean a setback that results in not being able to do anything.
Start small and do what works best for you.
Related Posts: