A couple of months ago I began experiencing some severe exertion headaches that were definitely not migraines. A month of tests resulted in the usual outcome – doctors having no idea what's going on and dismissing me.
This year was a busy one. I'd been spending the weekends overworking myself, trying to get my house ready to sell. I was later reminded by my TMJ specialist that I was doing things I definitely shouldn't have been attempting (including overhead scraping and painting) with TMJ. I typically found myself wiped out on Mondays following these weekends, but I expected it because I knew I was doing a lot. So, when just a little exercise left me fatigued, I chalked it up to still recovering.
However, the next day when in the middle of sex I got hit with the most massive splitting headache, I had to question if something else was going on. It felt like the most extreme ice cream headache but on the top of my head and lasted for a couple of hours. This had never happened before. But, after resting it eventually died down and I continued with my day.
Then it happened again, and instead of just going away I was left with a feeling of massive pressure in my head. It felt a bit like massive sinus pressure but without the sinus pain. Additionally, that splitting headache would return anytime I exerted myself (bending over, straining in the bathroom, etc). So, I called the doctor.
My general practitioner was able to get me in pretty quickly, scheduling me before my neurologists office even called me back. They ordered up an MRI (and when my neuro called back they added in an MRA). Those tests showed no abnormalities. This was a good thing, as that ruled out the most awful potentials (stroke, aneurysm).
I was now a couple of weeks into this massive pressure, the splitting head pain continued with exertion (so I avoided exertion as much as possible), a constant feeling of hearing a wooshing in my head, fatigue, visual issues, nausea, and feeling light-headed. I finally got in to see my neurologist and his thoughts veered in the direction my research had lead me (so nice when those align) – Idiopathic Intercranial Hypertension (IIH).
What is Idiopathic Intercranial Hypertension?
Idiopathic Intercranial Hypertension (IIH) is high fluid pressure in your skull. The fluid in question is cerebral spinal fluid (CSF). IIH is primary, idiopathic means they don't know what causes it. Alternatively, secondary intercranial hypertension has a known cause (medication, disease, malformation in the brain). These can be easily ruled out, and in my case had been.
Primary symptoms of IIH is the unbearable head pain/pressure (often included exertion headaches), visual disturbances, nausea, vomiting, light-headedness. Additional symptoms may include hearing a wooshing in your head, vision changes with movement, stiff neck, pain behind the eyes, exercise intolerance, and memory/concentration issues. If not treated, IIH can cause blindness as the pressure affects the optic nerves.
Diagnosing IIH requires a lumbar puncture to checked the pressure of your cerebral spinal fluid. Lumbar punctures are typically performed by a radiologist in an outpatient setting. You're brought into a procedure room and they have you lie on either your stomach or your side and insert a pretty large needle into your spine to withdraw some of the cerebral spinal fluid. They send the fluid off for various tests but check your pressure during the puncture.
Following the test you are instructed to lay flat as much as possible for the next 24 hours. Moving around or sitting up too much can cause a massive low pressure headache. They also suggest drinking caffeine to help rebuild the pressure (as the removal of some CSF will reduce your CSF pressure). Of course, if you have high pressure you might not want to rebuild that pressure.
Is there a connection between IIH and fibromyalgia?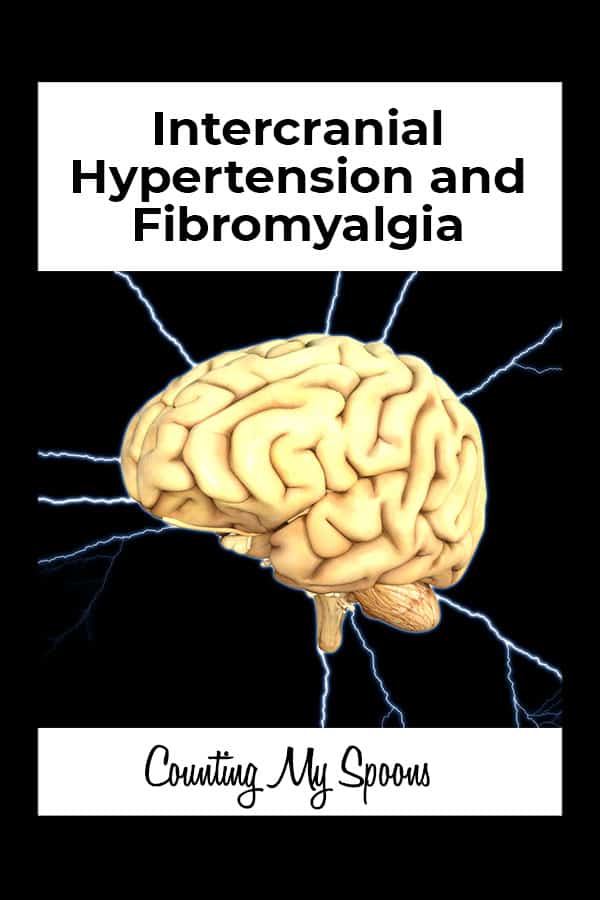 During my attempts to figure out what was going on with me, I attempted to research IIH a bit and stumbled upon a recent research article that hypothesized high CSF pressure as a potential link between IIH, fibromyalgia, and CSF/ME.
They pointed out the many overlapping symptoms of fibromyalgia, CSF/ME, and IIH, including neck and back pain (often radiating into the arms and legs), numbness/tingling, headaches, fatigue, and cognitive impairment.
The researchers point out several studies indicating that these symptoms are caused by CSF pressure on the nerve roots, compressing the nerves. Their suggestion is that slightly elevated CSF may be expressed as fibromyalgia.
This is strictly a hypothesis argument based on overlapping symptoms. The tables examining the overlap of symptoms are interesting and worth a look.
Could high CSF pressure be a factor in #fibromyalgia ? #IIH
Click To Tweet
But, where does this leave me?
I left the lumbar puncture with mixed signals. The radiologist told me that my pressure was actually a bit high. Great! That's the answer. However, the number he gave me (18) was lower than what is generally considered high (20-25). I was confused… was he using a different measurement system? I had no idea so I had to just wait until I heard from my neurologist.
In the meantime, I spent the next 24 hours on my back… and that 24 turned into about 4 days when after I finally started trying to sit up I'd encounter a new massive headache. This happens sometimes and while it often resolves on its own, it can require a blood patch to correct. Crap. Of course, my neurologist was out of town!
By the time my neurologist finally returned that new headache had cleared up and so had the pressure I'd experienced prior to the lumbar puncture. Hmmm… that would seem to indicate that the amount of fluid/pressure that was removed was enough to reduce the pressure to an acceptable (to my body) level… seeming to indicate that it was IIH.
Except that when my neurologist finally returned I got a call from his nurse that my CSF pressure was NOT high. His suggestion, it's probably just a new form of migraine. Up your gabapentin and continue on.
For what it's worth, according to the research article linking IIH and fibromyalgia, there is some debate over the cut-off value for high CSF. There's also some discussion that CSF pressure may fluctuate, such that while it may be high one day it may be lower the next (perhaps mine was measured on a low day).
Since then I've had the pressure return about once a week, but overall I've been feeling better and better. Of course, that wasn't the end… why would it be?
The pressure was gone, but every time I'd attempt to stand up for any length of time it felt like my heart was going nuts and I felt light-headed. Generally, I'd also noticed that my blood pressure overall had been low throughout this craziness (and my heart rate had been running high). My GP referred me to a heart specialist and so far it's looking like all is clear there as well.
Thankfully, that also finally seems to be calming down and I'm getting back to normal levels of activity (most of the time).
Through the first 4-6 weeks of this I really wasn't able to work. I could barely sit up, let alone focus on the computer most days. When I finally started feeling better I had a ton of work to catch up on and I'm finally getting there.
The above was written in April of 2019. Since the spinal tap I've had a few pressure headaches, but none as not had a recurrence of the IIH headaches. Although, I've had some pressure headaches that got me a bit worried and one recurrence of the activity-related headaches, but nothing that lasted (thankfully).
Related Posts: