Long before Fibromyalgia became obvious, my chronic pain journey began in 2008 when I was diagnosed with TMJ disorder. During the Spring I had' been fitted for orthodontic braces and the pain began before the braces went on.
The pain began immediately after the spacers were installed to make room for the brackets and continued to worsen over the next few months. I reached a point where I could barely get off the couch and only did so to go to the chiropractor.
It was during one of those visits (which was one of the few things that helped at all) that he mentioned he thought I might have TMJ disorder and that may be causing the pain. I began to research it and found a wonderful doctor in Nashville who confirmed that that was likely the cause of my pain.
After having the wires removed from my braces the pain diminished greatly. But, it was another two years of treatment before I would say I was 90% improved. And, I will wear a night splint (night guard) forever to prevent my jaw from returning to the incorrect position.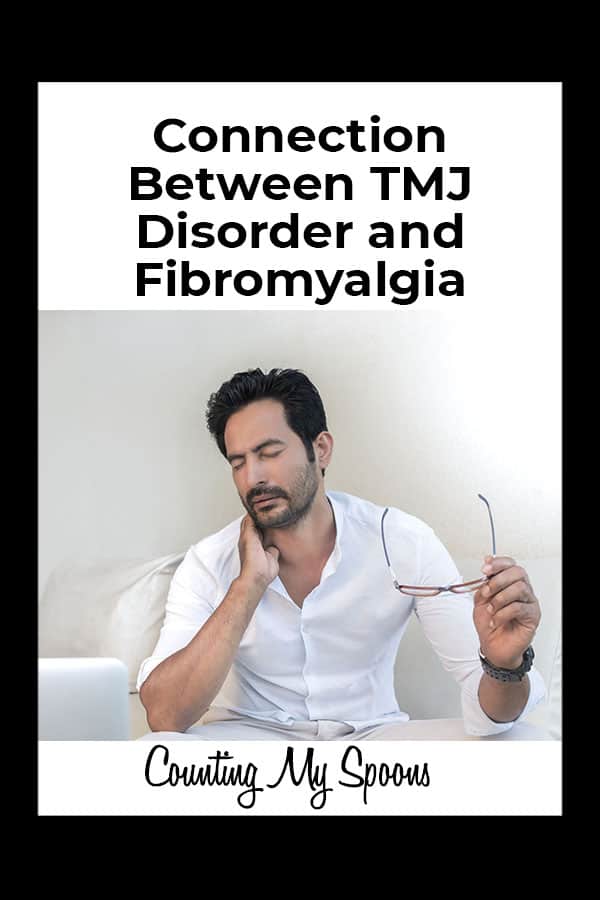 There are many symptoms associated with TMJ disorder that would surprise most people. And, almost all of them overlap with symptoms of fibromyalgia.
Just a few, according to TMJ.org:
pain in the jaw muscles
pain in the neck and shoulders
chronic headaches
jaw muscle stiffness
limited movement or locking of the jaw
ear pain, pressure, fullness, ringing in the ears (tinnitus)
painful clicking, popping or grating in the jaw joint when opening or closing the mouth
a bite that feels "off"
dizziness
vision problems
My primary symptoms of TMJ disorder were extreme pain in the head, neck, and shoulders, tinnitus, and fatigue. Much like fibromyalgia, TMJ disorder has a much higher predominance among females than males.
A
2011 study published in the Journal of Pain
found that those suffering form TMJ disorder have a much higher incidence than those without of a number of co-morbid conditions including:
fibromyalgia
sleep apnea
auto-immune disorders
gastrointestinal complaints
headaches
fatigue
endometriosis
allergies
Most of these were more likely (by 6 times) to appear AFTER they were diagnosed with TMJ disorder. All of these co-morbid issues are also common co-morbid conditions with fibromyalgia.
When fibromyalgia entered the picture for me (about 2 years after my TMJ disorder diagnosis) my TMJ doctor told me that he felt they were connected. In fact, he believes my fibromyalgia is actually TMJ disorder.
I believe they may be connected (perhaps the TMJ disorder was the trauma that sparked fibromyalgia), but separate entities. However, a 2017 study examined the prevelance of TMJ disorder in fibromyalgia patients, including those who had not been previously diagnosed with TMJ disorder.
This study looked at both subjective symptoms, clinical diagnosis, and ultrasonographic evidence of TMJ disorder. They found that TMJ muscular disorders were present in most of the fibromyalgia patients. Evidence of degenerative TMJ disorder was present in the ultrasonographic studies of ALL of the fibromyalgia patients in this study.
Related Posts: