My past will not change, but I control my future.
My past will never change and I'm OK with that.
*A version of this article was originally published in the ProHealth inspiration corner.
My past will not change but I control my future.
Click To Tweet
"If you could change anything about your past, what would it be?"
I can't tell you how many times I've heard and answered that question.
My answer is always the same. While there are many things I look back on in my life with distaste, there is nothing I would change. All the things that have occurred in my life are what brought me to where I am today, and today I am happy with who and where I am.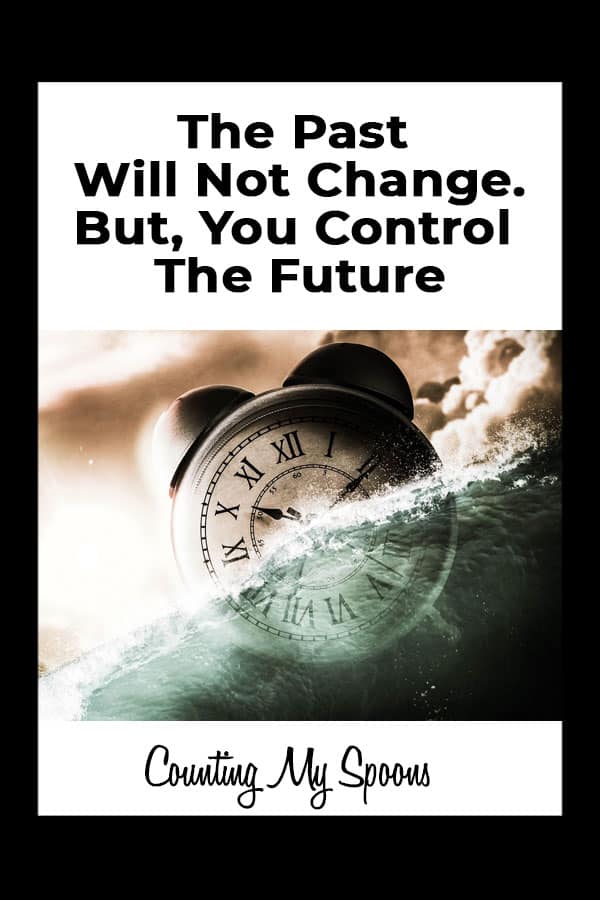 This last year has been a big one for me, a year of self-examination and growth.
I began 2017 by taking a course in Mindfulness-Based Stress Relief (MBSR). MBRS helps those of us who live with mental and physical illnesses decrease pain (Majeed, Ali & Sudak, 2018) anxiety, and depression; increase function and mental focus; and overall improve their quality of life (Nathan et al, 2017).
Jon Kabat-Zinn developed this program combining meditation, body scanning, and yoga back in the 1970's at the University of Massachusett's Medical Center and it has since been scientifically evaluated for the treatment of many illnesses. (Janssen et al, 2018)
Meditation helps me calm my body while at the same time I'm able to use it to really focus my thoughts and emotions.
When I'm having a hard time with anxiety I use it to help me pinpoint what it is that I'm anxious about, which often is enough to allow me to release that feeling.
Body scanning has allowed me to take the time to really feel my body. Often when we live with chronic illness we get hyper-focused on the areas that hurt, but body scanning allows me to focus my thoughts on areas that are not in pain, and also to better understand the pain I'm feeling.
I've used yoga since the early days of my illness to stretch my body and release the tightness that contributes to my pain.
MBSR helped me the most this year by allowing me to take the time to assess what I really need and want.
In doing so, I realized that I wasn't happy and hadn't been for some time. While I didn't realize it, the stress of being unhappy was only adding to my mental and physical ailments.
Through MBSR, I was able to finally stop and get out of my logical head. I'd been in so much emotional pain for so many years that I'd honestly stopped allowing myself to feel. Instead, I constantly focused on logic. Rather than think about what I really wanted, I'd focus on what I thought I needed or should do.
I spent most of the previous few years trying to control things I couldn't control. Often, all I could do was complacently accept those things, and doing so left me very unhappy.
I controlled what I could, making many changes that did improve my health, and did my best to focus on the positive, but I never really considered how I actually felt emotionally, instead I buried those emotions.
MBSR was only the first of several things that occurred in the first quarter of last year that lead me to consider my happiness.
I also had the opportunity to travel and engage with people and situations that I never would have imagined. Throughout those encounters my eyes were opened to just how unhappy I had been.
By May, I knew that I had to make a major change. That change resulted in the end of my 10-year marriage. I was fearful of the future, of not knowing what might come. But, I was also hopeful that my life would improve.
It's been about a year now and things are very different in my life. I can honestly say that I'm happy. I've finally released the pain by releasing myself from the binds of "I should".
My stress levels are so much lower. I no longer dread tomorrow but look forward to it. I was only hurting myself by holding onto and burying emotional pain. I was living an unhappy, and therefore unhealthy, life.
By choosing to move on, I created positive change in my life. One change lead to another and to another and many changes are yet to come.
I have joy in small changes in life (like rearranging my living room) and hope of larger changes over time. I'm not looking to a person to bring me joy. At the same time, I no longer feel that I'm responsible for someone else's joy in life.
We are each responsible for our own joy.
In the last year I've watched not only my stress reduce, but my pain as well. I've felt better than I have in years. I still take a ton of supplements (and they do make a difference), a few medications, and I still follow a very strict diet.
What has changed is that I no longer feel I have to take an hour-long bath each night. I realized I was doing that not for physical health but to provide stress relief by escaping. I'm also sleeping better and feel that I have more energy to get out and enjoy life.
I'm looking forward to the many new opportunities that await me in life. I don't know what's to come for me, but I'm ready. I'm ready for new adventures, new opportunities, and new relationships. I'm ready to learn and to grow. I'm ready to move on.
This past year has been full of very big changes and challenges, and I'm sure more are to come. But, in this last year I've also learned a lot about myself and (just as importantly) learned some great skills that will help me continue to grow.
My past will never change and I'm OK with that, because I control the future. Click To Tweet
Related Posts:
References:
Janssen M, Heerkens Y, Kuijer W, van der Heijden B, Engels J. Effects of Mindfulness-Based Stress Reduction on employees' mental health: A systematic review. PLoS One. 2018 Jan 24;13(1):e0191332. doi: 10.1371/journal.pone.0191332. eCollection 2018. Review. PubMed PMID: 29364935; PubMed Central PMCID: PMC5783379.
Majeed MH, Ali AA, Sudak DM. Mindfulness-based interventions for chronic pain: Evidence and applications. Asian J Psychiatr. 2018 Feb;32:79-83. doi: 10.1016/j.ajp.2017.11.025. Epub 2017 Dec 5. Review. PubMed PMID: 29220782.
Nathan HJ, Poulin P, Wozny D, Taljaard M, Smyth C, Gilron I, Sorisky A, Lochnan H, Shergill Y. Randomized Trial of the Effect of Mindfulness-Based Stress Reduction on Pain-Related Disability, Pain Intensity, Health-Related Quality of Life, and A1C in Patients With Painful Diabetic Peripheral Neuropathy. Clin Diabetes. 2017 Dec;35(5):294-304. doi: 10.2337/cd17-0077. PubMed PMID: 29263572; PubMed Central PMCID: PMC5734176