There are many misconceptions about chronic illness, things we hear and know that others think. The worst part is that often we think these same things about ourselves.
I have to say I've never seen a group of people talk so poorly about themselves, as those of us living with chronic illness often do. I don't know what it is about chronic illness/ chronic pain that seems to have such a huge effect on our self-esteem, but I think that's exactly what it is. We hurt so much that over time we begin to think that the misconceptions the outside world has about us are true.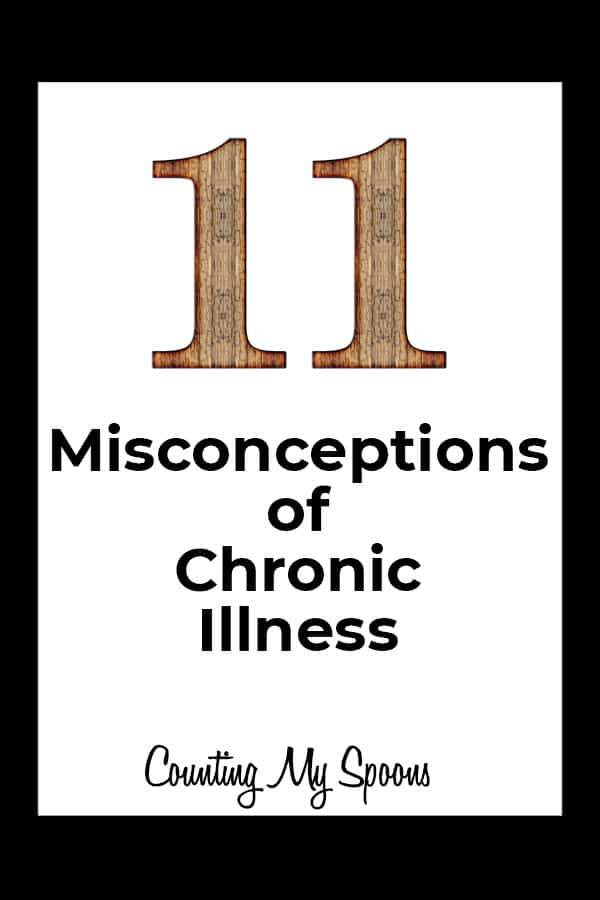 Below are 11 misconceptions of chronic illness that I've noticed myself making (and have heard from others through social media); misconceptions that others make and misconceptions that we often make about ourselves.
1 – We are no longer the spouse, partner, parent that we should be. – We may no longer be exactly the spouse, partner, or parent that we were when we were healthy, but that's ok. Even if we were healthy we would not be the same person we were years ago. We all change, chronic illness just leads to a different kind of change and it's not all bad.
2 – We are unreliable flakes – I'll be honest some of my friends thought I was an unreliable flake before I got sick, and I was. The truth is that being sick doesn't make us flakes or unreliable. Yes, it makes it difficult to make plans, but that's just the way it is, it doesn't mean you are flaky. You just need to take precautions to not commit yourself to plans you may not be able to keep. Ask your friends to "pencil it in" and not agree outright.
3 – We have to apologize for our pain – we are not responsible for our pain. It's that simple. You don't owe anyone any apologies.
#Spoonie You are not responsible for your pain, you don't need to apologize for it.
Click To Tweet
4 – We have to apologize for who we are – Again, stop apologizing. The funny thing is that I know healthy people who constantly feel the need to apologize, too. No one should feel they have to apologize for who they are. Own yourself, be yourself.
5 – We are responsible for our illness – I don't know how many times I've felt this way and heard others express the same. It seems like every one of us goes through a stage at some point (or repeatedly) where we try to figure out what we did in our past that earned us this pain. We list out all the bad choices we've made in life and some how conclude that because of those bad choices we deserve the pain we now live with. No one deserves this pain and we are not responsible for our illness.
No one deserves this pain and we are not responsible for our illness.
Click To Tweet
6 – We Feel like no one cares – How many times have I said this to myself, that no one cares about me or about how I feel. It's often my reason for not talking about how I feel openly and honestly. I open my mouth to share and I feel like whoever I'm talking to isn't' really listening or doesn't really care what I have to say, so I shut my mouth. But, people do care. If nothing else the amazing online community of #spoonies cares, and what's better is that they understand.
7 – We have to make others understand – Speaking of understanding, why do we have this unending need to make everyone understand our illness and how we feel? The truth is that not only doesn't everyone need to understand, they can't understand. Living with a chronic illness is one of those things that no one can really comprehend unless they live it.
You can't really ever understand chronic illness until you live it
Click To Tweet
8 – We are failing at life – Chronic illness seems to make us all think we are failures when the reality is that we have just ended up on different paths than we originally planned. If there's one thing I've learned in life it's that the life you plan rarely occurs, things happen and I don't necessarily mean bad things that change our course in life. You are not failing at life you are just on your way to discovering a new plan.
You are not failing at life you are just on your way to discovering a new plan.
Click To Tweet
9 – We are lazy and unproductive – We hear others say it and eventually we start to believe it. We look around at the things we feel we 'should' be doing and we convince ourselves that because we aren't doing those things it's a choice and that we are lazy. We berate ourselves for not being as productive as we would like. The truth is that often if we really paid attention to what we do during the course of our day we'd be amazed at how much we do.
If we really paid attention to what we do we'd be amazed at how much we do.
Click To Tweet
10 – We have to fake it – We convince ourselves that the only way we can get through life is to fake it. To pretend to be normal and not in pain, to pretend we have the energy that we are lacking. We present ourselves to the outside world as if all is well and we are feeling great, when the truth is we feel awful. All we want to do is go home and lay down. In faking it we are cheating ourselves and those we love out of the best parts of ourselves. We are present but we aren't really there. We show up but we have nothing to give, because there is nothing left.
11 – We are on the outside looking in – We often feel like we are on the other side of a glass window to the world. We can see all that is going on, the lives our family and friends are living. As one reader put it to me she no longer visits Facebook because she felt that the happy and positive version of life that everyone presented there was a facade and it was just making her feel worse. There's a lot of truth to that. The facade of social media – that everyone posts their best self only makes EVERYONE feel worse. Not just those of us with chronic illness, but everyone (there have been studies on this). The truth is that everyone feels like they are on the outside looking in at times.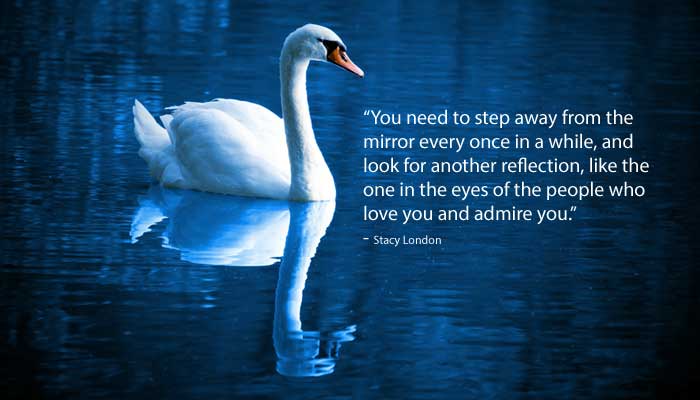 Why do we allow ourselves to speak and think so poorly of the person we should love most?
I think one important thing to remember is that many of these misconceptions are not just held by those with chronic illness, but by everyone. If we only knew what others were thinking, we'd realize just how alike we all are. We are not alone.
I need to start looking at myself in the mirror and seeing the awesome person I still am. I should be my #1 ally, my wing-woman, selling myself as the awesome person I am. Despite my chronic illness, I still have many skills and many positive attributes, so I need to focus on those and remember that chronic illness has not taken away who I am. I am still an amazing person and so are you.
chronic illness has not taken away who I am. I am still an amazing person and so are you. #spoonie
Click To Tweet
Related Posts: