What causes fibromyalgia? If we knew the answer to that we'd probably have a successful treatment that works for everyone. Unfortunately, There is no definite answer on what causes fibromyalgia, but there are plenty of theories.
Long ago it was considered a type of arthritis (meaning it's in our bones) and we were sent to the rheumatologist. Fibromyalgia is still most commonly treated by rheumatologists. More current research seems to indicate that it's more likely a nerve issue. And, more and more we are seeing fibromyalgia treated by neurologists.
Much of the current research indicates that we have some sort of issue in our brain with over-sensitization and an inability to process stimuli. It's as if our nerves get turned on but then never get turned off.
But, what causes this over-sensitization?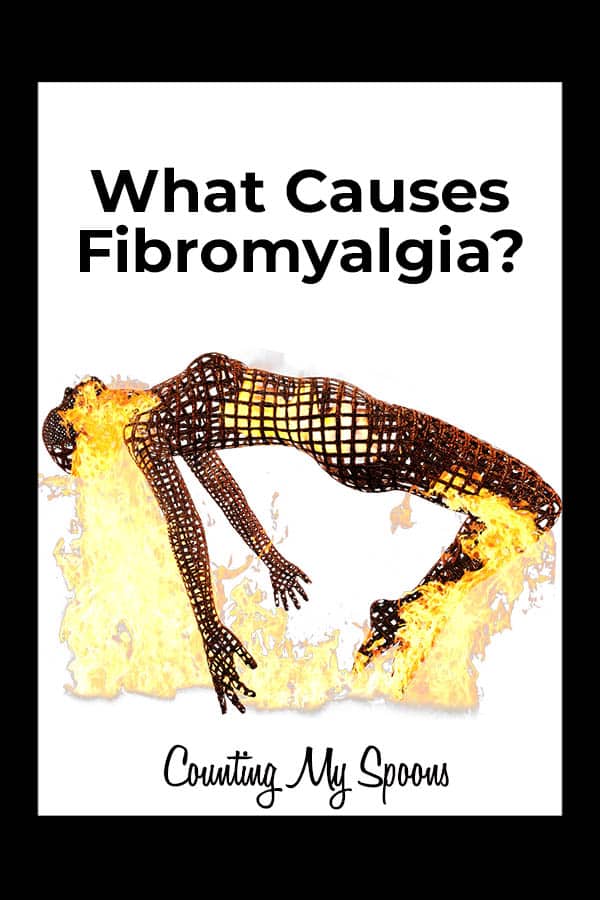 Here are just a few of the current theories about what causes fibromyalgia:
Dormant Herpes virus – Several theories have suggested that fibromyalgia may be caused by a dormant virus that reactivates.Researchers at the University of Alabama have found a high percentage of fibromyalgia patients have a specific type of herpes virus in their stomach lining. As such, they began treating these patients with a combination of anti-inflammatory and anti-viral, with strong success.
Small Fiber Polyneuropathy – SFPN is a disease that causes degeneration of certain nerves. This causes neuropathy (pain, numbness, and tingling). SFPN has been found in at least 50% of fibromyalgia patients in various studies.
Neurological differences – One study found that patients with fibromyalgia have a higher level of connection between the parts of the brain that process pain and the parts that process emotion. This may be a chicken and egg situation. In that we don't know if those connections formed because of the pain, or if those connections are part of what causes us to feel more pain.Another study found that fibromyalgia patients have increased brain responses to stimuli. A follow up study showed a definitive signature in the brain that they believe can allow them to diagnose fibromyalgia at a rate of 93%.
Genetics – Several studies have found that the risk of fibromyalgia is higher if someone in your immediate family also has fibromyalgia. This would seem to suggest that fibromyalgia is a genetic issue.
The vagus nerve hypothesis – The vagus nerve hypothesis suggests that fibromyalgia is caused by an infection directly on the vagus nerve. This could be a dormant herpes virus, or some other infection.
There are many more theories. As I've continued to read and research more and more about Fibromyalgia I've developed my theories (which may be right or wrong).
What do you believe causes #fibromyalgia ? #fibro
Click To Tweet
The potential for misdiagnosis of fibromyalgia
On top of these theories there are likely a high number of people who are misdiagnosed with fibromyalgia.
Here's where my comments may get dicey and I'm likely to have a few people disagree (keep in mind I'm not a Dr and this is just my opinion).
Fibromyalgia is considered a diagnosis of exclusion, meaning that if there is another diagnosis that can explain your pain, that diagnosis would be the diagnosis of choice.
More often we are seeing people who have illnesses that can explain their symptoms but they are getting a fibromyalgia diagnosis tacked on along with their primary diagnosis. Additionally, there are possible causes that don't get tested for (including sleep apnea and Lyme disease). As a result, many fibromyalgia patients are later diagnosed with another illness that also explains their symptoms.
My thought is based on the problem I see with the "normal" curve that is applied to testing. There's a "window" and if you fit in that window you are diagnosed with whatever. But, that assumes that the patient is "normal" that their blood levels, body, etc. are "normal", but not everyone is normal.
Many of us are outliers in one way or another (a normal temperature is 98.6 but mine is low –this is likely true for many of you as well), this can also be the case for our blood, the way we react to tests, or even the way our body is put together.
So, perhaps those of us who are often diagnosed with fibromyalgia just don't fit into the "normal" curve. Maybe we really have something else that is causing our symptoms but because we aren't normal we aren't being diagnosed properly.
So, that's one theory I have. However, I don't think that we are all misdiagnosed. I believe that fibromyalgia is real. and I believe that many of us who fit that diagnosis do so because of one of a couple of reasons.
My theory is that there are likely at least two main causes of fibromyalgia.
1 . Small Fiber Polyneuropathy –  They've found about 50% of fibromyalgia patients that have been tested for SFPN come back positive. My test returned with borderline results that caused my neurologist to say that I do have SFPN.
SFPN can affect a number of systems, from causing burning on your hands and feet, to digestion, sexual, and urinary symptoms (and who knows what else). This is a disorder that affects your small nerves and they are everywhere!
There also seems to be a genetic component to SFPN and I think they may find that if they start looking closer a large % of us who have seen a genetic link of fibromyalgia in our families likely have SFPN.
2 . Viral – The current research into the relationship between a herpes virus in the stomach and fibromyalgia is very promising and it makes a lot of sense. Herpes also affects the nerves so it could be that the virus is causing the SFPN. The incidence of herpes viruses is pretty high, it's more likely that you have a herpes virus than that you don't.
This could be combined with the Vagus Nerve Hypothesis, and it's possible that the herpes virus is lying dormant on the Vagus nerve causing fibromyalgia.
There's a lot of research yet to be done, and I'm glad to see so many researchers investigating fibromyalgia from so many directions. It really gives me hope that one day they will find an answer. Do you have a theory on what causes fibromyalgia? Share your thoughts in the comments below.
What's your theory on the cause of #Fibromyalgia?
Click To Tweet
Related Posts: