EpicGenetics  is looking at using the fibromyalgia blood test they've created to screen patients in hopes of developing a fibromyalgia vaccine (or more accurately a treatment for those with fibromyalgia that could reverse the symptoms).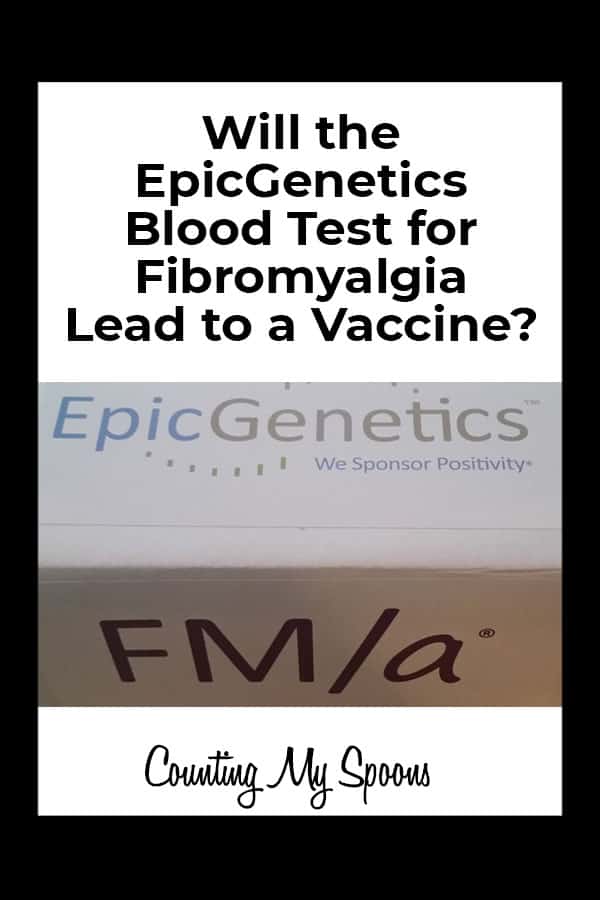 It's not a vaccine for fibromyalgia in the traditional sense that people would get it before they get ill, but rather it's the use of an existing vaccine (for tuberculosis) to treat those who already have fibromyalgia.
I posted previously about the FM/a® blood test for fibromyalgia, here and here. EpicGenetics, the company behind the blood test, has just released some really awesome news.
What is the FM/a® blood test?
The FM/a® Test is an FDA-compliant blood test that diagnoses fibromyalgia by identifying the presence of specific white blood cell abnormalities that have been documented to exist in these patients. The FM/a® Test accurately and objectively diagnoses this chronic disorder that afflicts millions of men, women and children.
As I posted previously, I've not had the FM/a® blood test for Fibromyalgia because I knew that having the test wouldn't change my treatment. However, their recent announcement means that I will be having the blood test.
Why am I finally having the Fibromyalgia blood test?
Because EpicGenetics just announced a huge study that will take things to the next level.
EpicGenetics will offer whole exome genetic surveys to FM/a® test-positive patients in a search for fibromyalgia-specific gene markers and mutations, analogous to the BRCA1/BRCA2 model for breast cancer. EpicGenetics' associated CAMPAIGN 250 seeks to accomplish these gene surveys in up to 250,000 FM/a® test-positive individuals. The fees for these genomic surveys will be paid by EpicGenetics.
They will be enrolling volunteers from those who have had the FM/a® test in a study to find genetic markers for Fibromyalgia (akin to the markers that have already been identified for certain types of cancer).
This information will be used to develop a vaccine and patients who have been positively identified with Fibromyalgia through the FM/a® test will be able to enroll in the vaccine trial once the study launches.
Can you imagine? A vaccine for Fibromyalgia? With the knowledge that we already have that there is  a genetic link can you imagine being able to vaccinate your children against this awful illness? For that matter, we might finally be able to classify it as a disease!
Update: I had the fibromyalgia blood test and this is what I found out.
Related: Common Questions About Fibromyalgia
More info: EpicGenetics Brochure_- FM/a Test and Campaign 250 [211kb]