When you live with chronic illness it's not always the physical actions that make you feel worse. It's not all about what you eat or don't eat, or whether you exercise, or take your meds. Often, the interactions and emotions you allow in your life can do just as much to leave you feeling just as bad as any physical illness. At minimum, these actions aren't helping you feel any better – but most likely these 10 actions are making you feel even worse.
1 . A negative attitude – It's easy to have a negative attitude when you feel like crap all the time. It's easy to let yourself get wrapped up in the pain and when that happens we often lose focus of what is good in life. When we are in a stressful situation and negatives are taking your focus (whether it's pain or a power outage) you go into survival mode. All you can see is what's right in front of you. You have to make an effort to find the positive things even in the worst days. It takes a effort though, effort that requires mental energy – and sometimes that's hard to come by.
2 . Letting energy vampires suck you dry– are you surrounded by negative people? Do your friends focus on drama rather than on lifting each other up? Do those in your household seem to want to tear you down and make you feel worse? Don't allow yourself to get caught up in the negativity of others. If you find that spending time with certain people leaves you feeling worse, you are better off away from them. If those people are in your household you may have to find ways to limit your interactions or even make a really difficult choice to find a way out of that household. It's crucial that you find ways to surround yourself with people who lift you up and leave you feeling energized rather than drained.
When you live with chronic illness, it's crucial that you surround yourself with people lift you up
Click To Tweet
3 . Focusing on the past – I admit it, I have a problem with thinking back over things that have happened and getting hung up on what I should have said or done. I should have been nicer, I shouldn't have said or done whatever it was I said or did. Don't punish yourself for things that are behind you, just try to do better next time.
Focusing on "shoulds" is a form of rumination. It's not healthy and only leaves you feeling worse. This was one of the primary negative thoughts I worked on with a therapist. When I began to pay attention to those thoughts I realized just how much they overwhelmed me and took my focus away from what really mattered. We can't change the past, we can only move forward with the future.
Don't punish yourself for things in your past. You can't change the past, you can only move forward into the future you desire.
Click To Tweet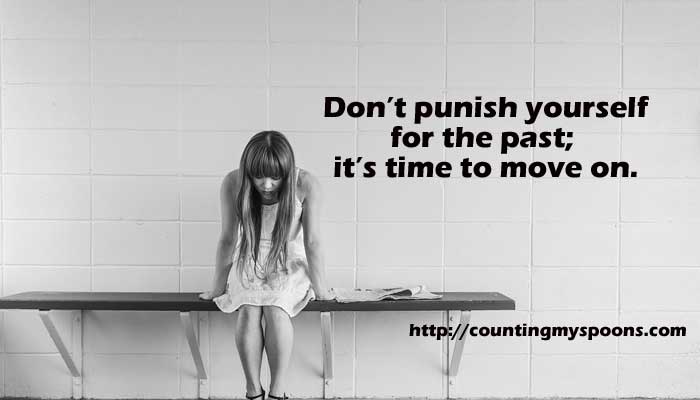 4 . Getting wrapped up in shoulds
– When we live with chronic illness we spend a lot of time
thinking about what we should do
and not nearly enough time thinking about what we need to do. The truth is we confuse the two. Just because you feel you should do something doesn't mean you actually need to do it. Even if it needs to be done, it doesn't necessarily have to be you that does it.
5 . Expecting too much of yourself – Do you set yourself up for failure by expecting only perfection of yourself? It's time to start setting realistic goals for yourself. No matter what you do or how much time you put into something, it will never be perfect. Mark Cuban says "Perfection is the enemy of success" and he's right. No one is perfect but we have this idealized view of other people because more often than not they only show us the best side of themselves. We watch others on social media who appear to have perfect health, perfect relationships, perfect jobs. We use this idea of them as the standard by which we judge ourselves. The truth is that we don't know what's going on in their lives. And, if we did we probably wouldn't set them as our standard.
Even if perfection isn't your goal, your standards may still be too high. I had to come to terms with this as we all do when chronic illness became a prominent feature in my life. Prior to getting ill I was able to do so much. I worked hard, I played hard, I was successful by my own standard and that of others. But, when I got sick I couldn't do as much. But, I still expected just as much. That was a hard lesson to learn. It's something I still have to deal with occasionally after over a decade. But, I've gotten better and I've learned that I have to adjust my expectations of myself to match reality – because I can't change reality.
Perfection is a goal that can't be reached. Set realistic goals.
Click To Tweet
6 . Lacking personal responsibility – Do you find a way to put the blame for everything on someone or something else? Are your failings somehow always because someone else didn't do their part? Do you refuse to make changes because "it won't work" rather than admitting that you just don't want to make the change? At some point you have to be willing to admit that you have a choice and you are responsible for your own actions and the outcomes of those actions.
Your illness is not your fault, but how you deal with it is entirely within your control. You can't sit around and wait for the doctors to find a cure, but you can find ways to manage and decrease your symptoms. You can find ways to cope.
7 . Letting Guilt take control
– Do you spend a lot of time
feeling guilty
for the things you that are unable to do? Do you somehow feel like you deserve to have health issues or that your health issues are some how your fault? Sometimes those around us can make us feel guilty for what we can't do, sometimes we do it to ourselves. Society plays a role in the guilt we feel as well – religion, for many of us, can leave us feeling that if bad things happen it's because we somehow deserve them or are paying for some past transgression. Guilt is a natural feeling, but you have to learn to
let go and forgive yourself
, understand that you do not deserve your health issues, and you have no reason to feel guilty.
8. Waiting for the future to be happy
– How much of your time to spend thinking "things will be better when…" – whether that when is when they find a cure or when the weekend comes. I spent too many years tying my general happiness to current events in my life and constantly looking to the future (the weekend, next month, vacation) – always hoping that when that time arrived I'd be happy. But, those times arrived and I wasn't happy. Maybe I was distracted for a moment but I wasn't really happy. It wasn't until I took control of my life and really focused on what I wanted in life and what really made me happy that I made changes that
allowed happiness
to become my reality instead of my dream. Being happy doesn't mean there aren't unhappy moments, it just means there are unhappy moments in a sea of happy ones – instead of happy moments in a sea of bad.
9. Defining yourself by your illness – In the early days of my illness when I could barely get off the couch, it was hard to see myself as anything other than a sick person. I no longer felt like a wife (because I didn't feel like I brought anything of value to the relationship), I wasn't a business person (because I couldn't work). I wasn't a student (because I had to drop all my classes). So who was I? I was still a woman who loved to read, who loved to learn, who loved my partner, a woman with a business, a woman who enjoys helping others. I was simply on a break. I was still a wife (I just needed a sabbatical). I still had a business (I was just on sick-leave), I was still a student (I just needed some time off). When we give ourselves permission to take a break, to rest, we can see that we are still the same person. But, even healthy people can't do anything full-throttle forever.
It's difficult to not get absorbed by chronic illness, to not let it become the entire focus of who we are. We have to find ways to continue to keep our identity. You are more than your illness, so stop letting your illness define you. Spend time everyday focusing on all that you are and who you want to be. Continue to find ways to stay connected (even in small ways) to the things (and people) that you love.
10 . Holding grudges – When someone hurts us it's easy to hold that hurt against them. It's a coping mechanism we use to avoid being hurt again. As long as we stay focused on that hurt, we aren't likely to allow them to hurt us again. But, holding a grudge only creates more negativity, something you simply don't have room for when you live with a chronic illness.
We have to learn to forgive, so that we can move on. Forgiveness doesn't mean you forget what was done to you or give that person a chance to do it again, it simply means that you move on and stop allowing that person or event to have a hold on you. It is no longer the focus of your attention, taking up energy that you really need for better things. Let it go.
Related Posts: