I've lived with IBS for years. Despite diet changes that sometimes help, despite probiotics that help somewhat, I still have stomach pain and alternating IBS-C and IBS-D. When the stomach pain (it feels like an ulcer) returned again this past fall I also returned to my GI doc. Initially, I thought it might be a new ulcer (possibly caused by a supplement I'd been taking). The doc did all the usual scans and found nothing. In the meantime, he put me back on prilosec which helped a little. After yet anther upper endoscopy showed no sign of ulcer or other problem, the doctor came in and told me he was putting me on amitriptyline as it had been shown to help IBS symptoms.
My first thought was crap here we go again. I was on this med back when I first got diagnosed with Fibromyalgia. My primary care doctor at the time had put me on a very low dose (10mg) for migraines. Around the time I was diagnosed with Fibromyalgia, my neurologist laughed and said that for it to help migraines I needed to be on a much higher dose (like 100mg) and proceeded to try to increase my dosage. I think we made it to 50mg before I just stopped completely. I'd turned into a zombie (major fatigue) that wanted to eat the house (I gained 20lbs in two weeks).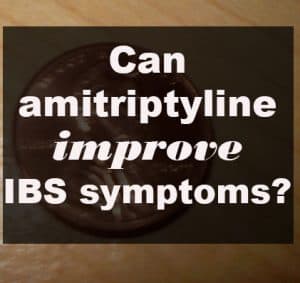 My second thought was maybe this will work and if so why didn't we try this three years ago? So, a month ago I started on 25mg of amitriptyline and yes it has helped my stomach pain. I know this because after several weeks on the med I realized that my fatigue levels had greatly increased to the point where I didn't want to get out of bed till after noon and even then the idea of exercise seemed crazy. So, I stopped taking it for a few days and voila my fatigue levels fell and the stomach pain came back. Go figure.
Somewhere in the midst of this I finally thought to actually look at the research on using amitriptyline for IBS. The research goes back to the early 1980's, with research using antidepressants for IBS going back into the 1970's.
Why were antidepressants used to treat IBS in the first place?
Multiple studies found that people with IBS tend to have higher anxiety- depression scores. Connecting the dots several researchers began to do studies to see how antidepressants might improve IBS symptoms.
A 2015 Meta-analysis of 12 randomized controlled trials using antidepressants to treat IBS found that tricyclic antidepressants (eg. amitriptyline) successfully treated IBS symptoms, where SSRIs did not. The meta analysis also looked at potential side effects and risks associated with using antidepressants for IBS treatment.
The analysis showed that while tricyclics had a high success rate of global symptom relief, they also have a higher rate of side effects. The studies also found that tricyclics did not show any improvement to quality of life. (My opinion is that this may be because you are trading one symptom for a new set of side effects.)
A 2015 study published in Gastroenterology looked specifically at the effects of amitriptyline on ulcer-like dyspepsia (characterized by upper abdominal symptoms). This would describe the symptoms I've had of late (heartburn, GERD, feeling of fullness, etc). Patients in this study were given either a placebo, 50mg of Amitriptyline, or 10mg of escitalopram (aka Lexapro). The patients taking the amitriptyline saw the greatest improvement (53%). Lexapro and placebo saw similar results at 40% and 38% respectively.
After the researchers adjusted all patients to baseline, subjects with ulcer-like functional dyspepsia were 3x more likely to see improvements on amitriptyline than on Lexapro or placebo. However, other forms of functional dyspepsia did not see the same level of improvement (if any).
I'll be honest I've tried a lot of different meds to treat my various IBS symptoms. This is the first one that I've felt like actually helped. Unfortunately, the side effects outweigh the usefulness as it left me feeling like a zombie. Thankfully, there are other options so my doctor switched me to a different med in the same class. It's too early to tell yet whether it will work as well, but at least I'm not a zombie anymore.
References:
Talley, N. J., Locke, G. R., Saito, Y. A., Almazar, A. E., Bouras, E. P., Howden, C. W., … & El-Serag, H. B. (2015). Effect of amitriptyline and escitalopram on functional dyspepsia: a multicenter, randomized controlled study. Gastroenterology, 149(2), 340-349.
Xie, C., Tang, Y., Wang, Y., Yu, T., Wang, Y., Jiang, L., & Lin, L. (2015). Efficacy and safety of antidepressants for the treatment of irritable bowel syndrome: a meta-analysis. PloS one, 10(8), e0127815.
(Visited 1,574 time, 10 visit today)