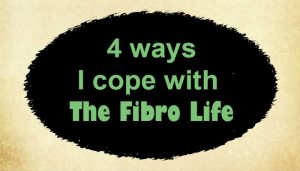 Fibro life can be a pain sometimes… OK, by definition it's a pain all the time (or at least most of the time). But, most of the time I can deal with it – at least these days. Most days I work (a lot), because I'm doing something I really love (writing, helping connect bloggers and businesses via Chronic Illness Bloggers).
Work is probably my favorite way to cope with Fibro. It distracts me from the pain and gives me a focus beyond myself. And since I'm able to do it from home (from my comfy chair) I can be comfortable and not wear myself out. Writing helps me not only distract myself but often it helps me untangle my thoughts about things. It helps me work through my struggles in a way that hopefully can help others. Someone asked me once how I can write about pain without being in more pain. It's a perfect question and it's the reason why I rarely really write about pain, at least not about my own. I choose not to focus on my pain. Of course, sometimes it gives me no choice – like today when I feel a migraine starting and every muscle in my body feels like it's in a knot.
There are days where I hit a wall in the afternoon and I just have to set it all aside and find something that takes zero brain. There are also days when I wake up and I know that the Fibro Fog is upon me and I'm not going to get anything done. These are the times and the days when I need another plan.
TV – We gave up cable a couple of years ago and haven't regretted it at all thanks to Hulu, Netflix & Amazon Prime. The type of TV I watch depends greatly on how I feel. The worse I feel the more likely I am to watch really crappy TV. When I don't feel well I watch TV that requires very little attention span (competition shows like Master Chef, or reality crud like "Are you the one?"). Although, sometimes I just can't take the yelling and screaming that goes on on those shows (calm down Gordon!) in which case I'll search out a new show to get comfy with. On bad painsomnia nights I've watched entire seasons of shows like DollHouse. Needing a distraction from colonoscopy prep is what got me hooked on both The Walking Dead and Breaking Bad.
Sometimes the pain is there but the fog isn't. I just don't feel like working but I need a good solid distraction and TV alone isn't going the job.
Games -When TV alone isn't distracting enough, I'll also play some online poker. I've tried a lot of different computer games and when the fog is really bad and I can't focus at all the random clicky games work best (bubble pop anyone?) but, when my brain is there and I want to make sure it's still working it's always Poker. Of course, we play a lot of poker anyway
When painsomnia strikes and keeps me awake but I don't have any desire to keep my eyes open and watch a TV show, there's still one more options left.
Audiobooks & Podcasts – It's the middle of the night and I can't sleep. But, I also can't keep my eyes open. I need to distract my mind from focusing on the pain and the fact that I can't sleep… so I pull out the other kind of book. I either turn on an audiobook or I put on a podcast or sometimes even a documentary on Netflix. Many times I can just listen to those and get enough – plus the voice of the guy who narrates 48 hours and so many of the shows on ID is perfect for putting me to sleep.
So, that's how I distract myself and cope with the pain and fog of Fibro life. What about you? What's your favorite way to cope with Fibro / spoonie life?
(Visited 1,774 time, 1 visit today)