Flares are rare for me, these days, and usually when they occur they don't last more than a day. I believe that has a lot to do with learning to accept the flares when they come, and give them room. When I'm in a flare, I don't leave my PJs, I don't shower and I don't work. I do, however, rest, relax, recover, and enjoy catching up on some TV or a good book. I keep my flare survival kit close at hand so that I have to do as little as possible and can recover as quickly as possible.
It seems like most often flares for me fall on a Monday. Usually, after a busy weekend I try to take it easy on Monday, but often even if I don't plan for an easy day, fibro gives me no choice.
When possible I try to take Sunday off to simply relax. There's a difference between a relax day and a flare day. Relax days are taken intentionally in hopes of avoiding flares. Flare days require a little more TLC, and a few special items.
My Flare Survival Kit includes:
Hot Tea – I love a good mint tea, or a ginger tea. My new favorite tea lately though is Numi Organics 3 Roots Tea, with ginger, turmeric, and licorice. It's soothing and tastes really good with a little honey added (I typically add a little honey to most teas).
Heating pad – Even though most of my flare days don't typically include excess pain, there are times when it does. The area that tends to bother me most is my neck and shoulders, so I've been using my Relax Wraps re-heatable hot/cold therapy pad a bit more.
A blanket – When I'm not feeling well I've got to have a comfy blanket to wrap up in. I've got several in the living room that I really like, a lighter one for when I'm not really cold just want to cover up, and heavier ones for when I need to warm up.
Fay Farms CBD Muscle Rub – When my shoulder or neck is acting up (or well anything hurts), I kind of live off of this stuff (or well I guess I live with this stuff on me). As I type this my shoulders are slathered in it.
Oska – It's a bit unfair to include this in my flare survival kit as it's really something I rely on daily. But, when pain flares up I do find that I turn it on a bit more often. Oska Pulse is an amazing product that reduces inflammation and improves blood flow – thus reducing pain. Take a look at my full review to learn more.
Netflix / Amazon /Hulu – (aka good TV) I don't know where I'd be without streaming television. I gave up cable a few years ago and it's been a really good choice. With the various streaming options there's always something good to watch.I try to find something funny that will keep me entertained. I enjoy light-hearted sitcoms as well as random competition shows like Cupcake Wars and, lately, Making It.
Tablet/ Kindle / Smartphone – When I'm not feeling great the last thing I want to do is look at my computer, but I can deal with my tablet. It's great for keeping up with social media, reading a book, playing poker, and checking my email. If I'm laying in bed and don't feel like dealing with the TV I can even watch streaming video on it.
Epsom salt baths – I take a bath with Epsom salts often before bed, but when I'm not feeling well I'm likely to climb in one in the middle of the day. It's relaxing and the salts help ease muscle tension.
Patience – I have to have patience with myself if I want to get through a flare. If I push myself too hard or I'm not willing to just ride it out, the flare will last longer. Resting isn't easy but as the meme that's been going around says I have to remember that when I'm resting I'm still doing something very important – I'm healing.
We must have patience with our bodies on flare days. Show them love and kindness.
Click To Tweet
Chocolate – What? Did you really think I'd leave off the most important thing? Seriously. Chocolate is my comfort food. I may have given up gluten, dairy, and eggs but you'll pry dark chocolate (usually in the form of Trader Joes Pound Plus with Almonds bar) from my cold dead hands.
Water – Hydration is one of the most important things I've found for keeping flares short. I've also found that not staying hydrated is often a culprit in landing me in a flare. So, when I wake up feeling bad I fill up my large water bottle and drink it down… then do it again.Recently, I've also learned that electrolytes make a big difference. Adding them to my water helps keep me hydrated and gets me hydrated faster. I really like the Ultima electrolytes because they don't have artificial sweeteners and other crud I try to avoid.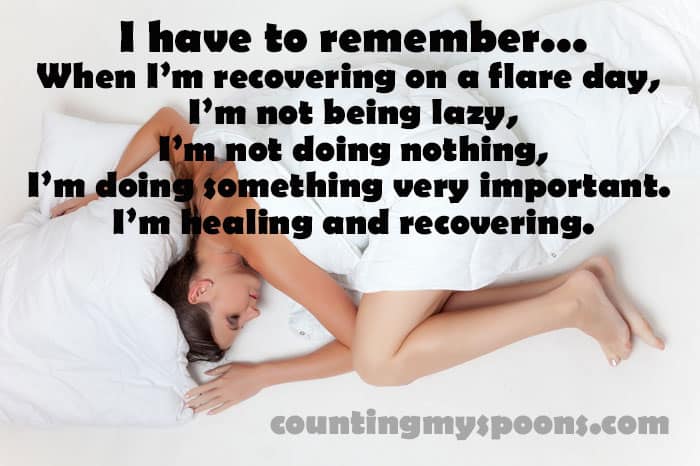 So, now that you know what's in my flare survival kit, leave a comment below and share what items you can't live without during a flare.
Never under-estimate the importance of rest ... and chocolate...to recover on a flare day.
Click To Tweet
Related Posts: