Making It Work:
Chronic Illness and Fashion
A defeatist voice whispers in my ear each and every evening. It tries to convince me that some aspect of my chronic illness is about to flare-up, that if I go out tomorrow, I'll get stuck somewhere awkward in miserable pain. The voice says, "Maybe it would be easier if you just stayed home…"
I counter my unfounded panic by flinging open my closet door and rummaging through my bureau drawers. The perfect outfit for tomorrow is in there. And, I'm going to find it because, armed with fashion I am able to picture myself having a pleasant and productive day instead of an awful one stuck in the bathroom or packed in ice like a fish at the market.
Mentally drowning out the panic gives tomorrow a fighting chance. Sure, it's distinctly possible some symptomatic crisis will occur, but it might not – and I'll never know if I don't try.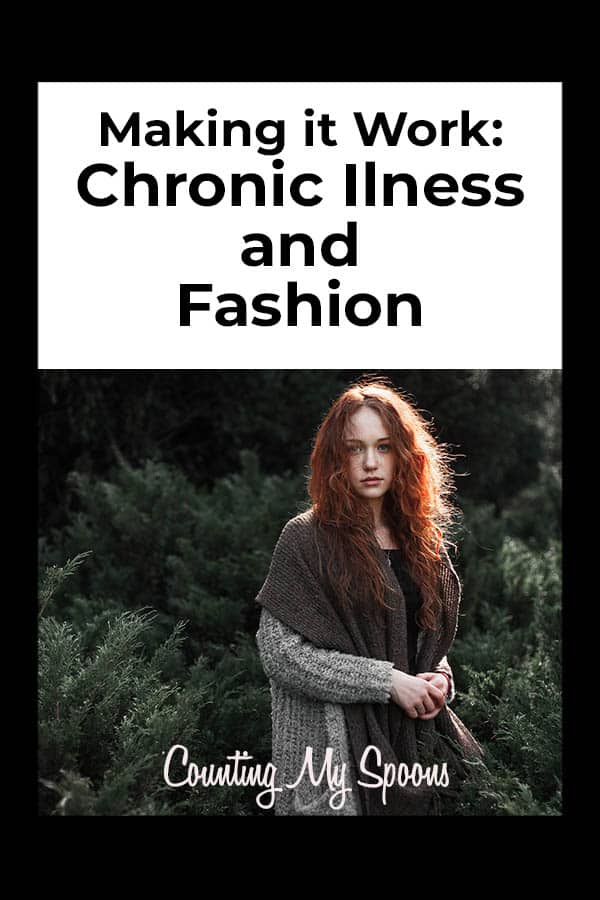 Armed with fashion I can face the day! via @LivingIncurably Click To Tweet
Of course a successful wardrobe for a chronic illness patient with a mind for style often requires problem-solving skills.
For starters, let's take bras. They have a ladylike purpose. Many are sexy. I hear the French ones are to die for. Nationality and functionality aside, bras torture me. If Project Runway had a challenge to design a piece of clothing that applied pressure to sensitive nerve endings, causing me the maximum amount of pain, the winning design walking down Heidi Klum's runway would be the typical bra you see in stores, French or otherwise.
A successful wardrobe for a #Spoonie requires problem solving skills via @LivingIncurably
Click To Tweet
In light of this painful predicament, most days I'm tempted to skip wearing a bra. But. My mama brought me up to be a lady and I can't be walking around with my…(ahem)…starts with an "n" and rhymes with 'ripples'…on display.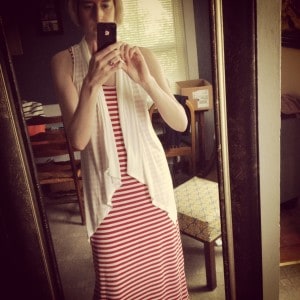 Lucky for me, but not my fiancé, I don't really have a support issue, so I discovered layering something like this $6 vest from Burlington Coat Factory solved my problem.
You can whip up a similar garment yourself with nothing but a large scarf and this 3 minute video. Here's my own scarf-turned-vest, freeing me to wear a tank top sans bra: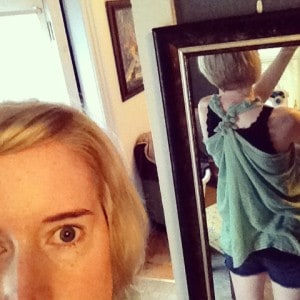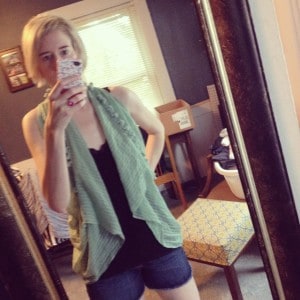 Now torture-by-bra is not a problem for every chronic illness patient, nor will my solution work for everyone it does afflict, but what I find encouraging is that there are creative solutions out there and others are more than happy to share their discoveries. See, cynics, social media isn't all bad! (Says the blogger who is obviously biased.)
Professor, author, fashion expert, and television star Tim Gunn (#PeopleIDesperatelyWantToBeFriendsWith) has coined the perfect phrase to describe such problem-solving, whether fashion related or not – "Making It Work." More often than not, Mr. Gunn is motivating a young designer contestant who is down to one piece of ripped material, three buttons, some purple dye, and has ninety minutes to produce a formal gown.
I suppose it's an appropriate metaphor for chronic illness – you're in a crappy situation, your resources are diminished, you could just give up – or you make it work. In the end, it's not your ideal ball gown, but at least your model isn't walking down the runway naked and you'll stay in the game at least one more week.
A great example of this is Brooke Brogdan's blog Fierce and Flared. Check out the section titled FashOstomy. It outlines logistical clothing concerns a person with an ostomy and JPouch copes with, all the while looking youthfully stylish.
So in the spirit of contributing to the Virtual Chronic Illness Solutions Huddle, or VCISH, as I've just decided to call it, here are a few more of my own obstacles and the corresponding solutions I've stumbled upon:
Sun. It makes me really sick. So sick I'm willing to sustain an intense level of severe paleness the whole year round. There are various ways to maintain this pasty and sallow complexion, some of which I really dislike.
There's not leaving the house, like ever. No good. Refer to paragraph one and fighting the defeatist voice whenever possible.
There's also wearing typical summer attire and drenching all that exposed skin with an SPF of 50 or higher. No good. Feels greasy, stains my clothes orange, and it's very easy to miss spots.
My personal preference this summer was: snug capris, a flowing, light, loose shirt size XXL off the Old Navy clearance rack, and a breathable hat that covered my face and neck but didn't stick out so far in the back that it can't be worn in the car.
Lastly, a parasol – I love mine and found it on amazon.com
. Get a good one, and under its protection you can where whatever the heck clothes you want!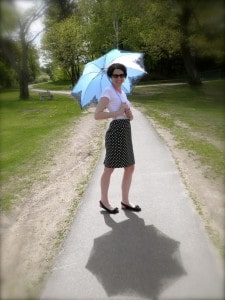 A floppy hat and a parasol make it easier for a #Spoonie to face the sun! via @LivingIncurably
Click To Tweet
Compression Stockings. I wear these because I have POTS and they minimize the wooziness I experience when I'm upright. I think you'll agree they look pretty much like tights, although I admit they're a tad more uncomfortable. But if you need them, they're worth it.
The pair shown here go all the way up to my waist (which, by the way, gets rather compressed as well) but I'm considering trying the thigh-high version which sounds a little naughty in a fun way but upon arrival will probably be as sexy as tube socks.
Available at medical supply stores, which if you're not familiar with are pretty much the opposite of a Victoria's Secret. Ask your doctor for a prescription and your insurance might pick up the cost.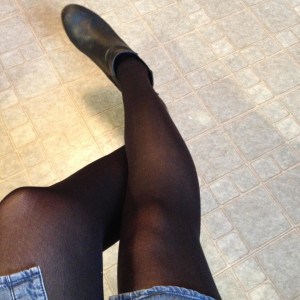 Related: Wearing Compression Socks to Reduce Chronic Pain and Inflammation
Even compression stockings can become a fashion statement when you live with chronic illness! @LivingIncurably
Click To Tweet
Being tired. Like always tired. I resist the urge to wear sweatpants/yoga pants EVERY day. I think avoiding regular grown-up clothes is bad for you mentally and socially. In the spirit of full disclosure, right now as I type this I'm wearing yoga pants but let me tell you I definitely have plans to put on some real clothes real soon. Or at least before everyone else in my household gets home from work and school. Better late than never.

Head scarves. Whether you have thin hair, no hair, religious requirements, or, like me, constantly dream about decades past and cities foreign, I think head wraps and scarves look truly fabulous. Here's a great blog I frequent by Andrea Grinberg. Her demonstration videos will teach you an abundance of ways to style a head scarf.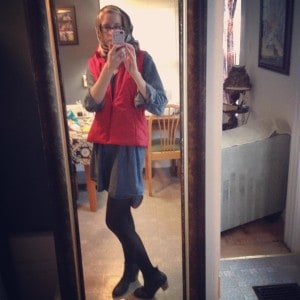 Being Broke. Whilst on a rather sparse budget, I like to buy many pieces of bargain-priced clothing so I have lots of options and styles in my closet. I shop the clearance rack at Old Navy, Target, and H&M, as well as a very handy local thrift store.
We all know you get what you pay for, so I preserve my low quality bargains as long as possible by washing them on a cold/delicate cycle and hanging them on a little wall rack instead of putting them in the dryer.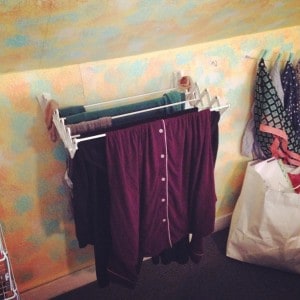 Related: Saving Money with Chronic Illness
Parting Thoughts.
I'm not going to deny that if I make it as far as St. Peter's gate, the first issue he'll be sure to take up with me will be vanity. Guilty as charged – it has become a fault of mine. At the same time, my interests in fashion and style have been my saving grace, in that they combat a decade's worth of chronic illness anxiety. Anxiety that suggests I should be constantly afraid of potential symptomatic days. Anxiety that whispers, "Maybe it would be easier if you just stayed home…"
Despite the exhausting chaos of chronic illness, I am determined to maintain a life that includes productivity, relationships, and interests – things that tend to get pushed aside when you're sick. I like to call it Living Incurably. (And here's hoping I always like it, because as you can see here, it's become a permanent accessory: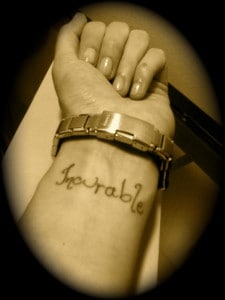 After experiencing symptomatic crises again and again over the years, I know it's very possible I will lose control over my plans for tomorrows, that's just how it goes. But I can stay strong for the mental battle by planning – and by that I mean dressing – for a great tomorrow regardless.
This has been a guest post from AshleyJane at Living Incurably with Chronic Illness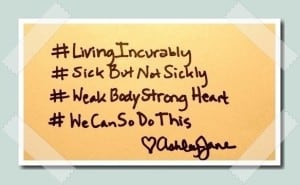 Related Posts: 
(Visited 4,178 time, 3 visit today)