Wearing Compression Socks to Reduce Chronic Pain
Guest Post by Sarah Jones
Compression socks are known to be worn by elderly, diabetics, or those who are pregnant. Yet, how do compression socks benefit those who suffer from chronic pain? Can compression socks assist any inflammation? We've found exactly how compression socks can help for a variety of conditions so you can decide if compression socks are right for you.
What do compression socks do?
When you wear compression socks, they will provide pressure throughout the feet, ankles, calves, and thighs. The added pressure assists with the overall blood flow in the legs as they promote more blood to circulate to the heart. Wearing compression socks can aid in the relief and/or prevention of several ailments or conditions.
Compression socks come in a variety of lengths and graduations of pressure depending on your personal needs. Many low graduated pressure compression socks can be purchased over the counter at a pharmacy. Prescription strength compression socks are also available, but they will need to be fitted by a professional.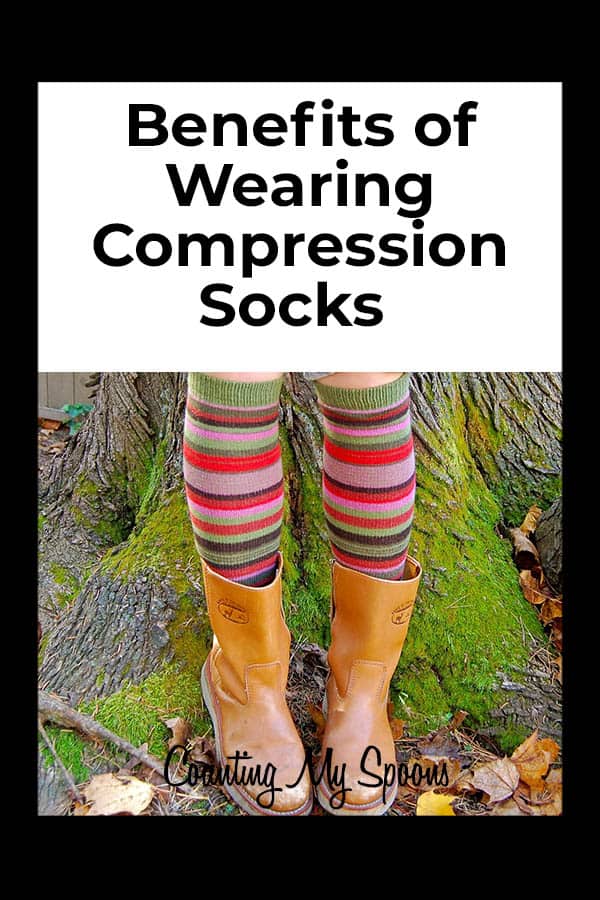 Benefits of compression socks
It is common to use compression socks to assist and/or prevent dangerous conditions. The benefits of wearing these types of socks include:
Prevention or aid of varicose veins
Increased blood flow
Healthier circulation
Prevention or aid with spider veins
Reduced swelling and inflammation
Reduced muscles aches and pain
In addition to varicose veins and other circulation issues, compression socks can be beneficial to those suffering from chronic pain with conditions such as Fibromyalgia. For those who suffer from Fibromyalgia, the trigger points in their legs or the tendons that feel tender or sensitive, can cause severe pain. According to Living Smarter with Fibromyalgia, when wearing compression socks, pain will ease in the affected areas, there will be less pain in the mornings, and improve the quality of overall circulation.
Comparatively, compression socks are being used more and more for inflammation, especially in those who suffer from chronic pain each and every day. For those looking for inflammation to be prevented or significantly reduced, they should wear compression socks.
As stated on rhematoidarthritis.net, compression socks can easily relieve joint pain and inflammation, which will allow for greater mobility, reduced pain levels, and more flexibility between joints and the blood flow.
Not to mention, the addition of greater mobility when wearing compression socks allows those who suffer from chronic pain to go through their days easier and end their days without feeling as exhausted. The added pressure from compression socks gives those with chronic pain an added comfort since they will experience lessened inflammation as they go about their day.
So whether you are someone who suffers from chronic pain like Fibromyalgia, inflammation, varicose veins, or you just want to find relief for some aches and pains, compression socks are the way to go. Wearing compression socks will greatly improve your blood circulation and therefore, your overall health and well-being. It will generally make life easier if you are suffering from chronic pain and inflammation.
You don't have to give up style to wear compression socks. They've come a long way since your grandpa's stodgy compression socks. Sites like CrazyCompression.com let you have your style and relieve your pain and inflammation at the same time.
Related Posts:
Bio:
Sarah is a health enthusiast and passionate blogger. She writes about the benefits of compression wear at Compression Info.
(Visited 10,202 time, 49 visit today)