When I was first diagnosed with fibromyalgia, one of the first questions I asked was about whether there were foods I should eat or avoid that would improve my symptoms.
The initial response from my doctor was not really, then that there were a few things that could help (avoiding sugar, caffeine, nightshades).
However, it was years of research on my own before I found that there are definitely foods that can make fibromyalgia worse (and foods that can help).
Food to Avoid with fibromyalgia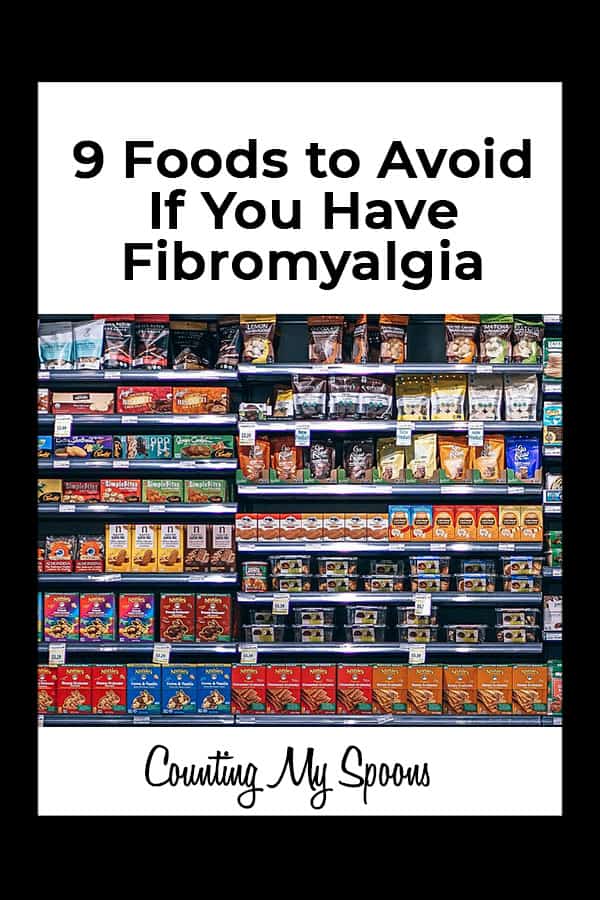 1. Gluten – I think that gluten is probably the primary cause for a lot of our health issues from the aches & pains to a lot of IBS symptoms.
Most doctors seem to be of the belief that as long as you don't test positive for Celiac or Chron's that you don't need to worry about changing your diet or removing gluten. However, you don't have an actual disease to be negatively affected by gluten.
It may not even show up on a food sensitivity panel, if you have it done (or, as was the case for me, it might show up but at such a low level that even the pharmacy or Dr who tested you says it's nothing). The only sure way to know if gluten is affecting you negatively is to remove it completely from your diet for several weeks. If you reintroduce it and your symptoms worsen then it's best to leave it out.
For me the test barely registered a sensitivity to gluten but it was enough. When I get "gluten-ed", I know it and I usually can feel it hit my stomach within minutes, but I really feel the effects the next day, when I feel like I've gotten hit with a full-on Fibro flare.
2. MSG – If it's processed it most likely has MSG in it. It probably has gluten, too…
MSG is on every list of foods to avoid with fibromyalgia and is known to be linked to a whole host of potential negative side effects – not the least of which is that it is designed to make you want to eat more (and you wondered why you were gaining weight!).
MSG (as well as many other food additives) is known to increase pain and inflammation. (note: MSG is rarely listed as MSG, it is most often listed as "spices" or "natural flavorings").
3. Aspartame – Found in diet drinks and "sugar-free foods".
Known to cause tremors, inflammation and pain. It stimulates your nerves (increasing the tingling). Also, the way our body processes it can make you want more sweet foods.
4. Processed Sugars – Avoid high fructose corn syrup and white processed sugars (may be listed as fructose, sucrose, or glucose.
Not only do they mess with your blood sugar, but processed sugar is known to increase pain. Instead opt for "raw sugar" or "coconut sugar". If you need an alternative Stevia is the best option.
5. Yeast – If you have IBS issues it may be due to an over-growth of yeast in your gut. Yeast feeds on sugars (another reason to avoid sugar). Avoid yeast as much as possible (cutting out breads and cakes is the fastest way to avoid).
6. NightShades – some people with Fibro have found that a group of plants known as nightshades (tomatoes, eggplant, peppers) increase inflammation and their pain.
7. Dairy – Many people are lactose intolerant and dairy can be a major source of IBS-related issues. The best thing to do is to remove it entirely. Replace butter with coconut oil based spreads and replace milk with almond or coconut milk.
Foods to Eat if you have fibromyalgia!
1. Stick to the basics! – Consider the Whole 30 as an entry way to eating better and to determining which foods affect you negatively.
The Whole 30 plan is a Paleo-based 30-day elimination diet that allows you to cut out all foods that might be harmful to your system and re-introduce them slowly, to find which ones are affecting you and how.
2. Protein – protein is our energy source, and it provides a basis for creating muscles.
3. Leafy Greens & Veggies – Veggies in general are an excellent source for your calorie needs but more importantly they provide many of the vitamin & minerals that we need to keep your body healthy.
Leafy greens, & broccoli are excellent sources of Vitamin C (to help boost immunity) as well as Magnesium and Calcium. Veggies in general are more filling (per calorie) than other items allowing you to feel full without eating too much. A good meal will consist of a small serving of protein and 2 larger servings of veggies (about twice as much veggies as meat).
4. Fruits – fruits are a great source of feeding your sweet tooth, but also full of great nutrients.
Note: Most folks know that I juice. When juicing it's better to juice veggies and eat fruit. The fiber in fruit helps balance the high amount of sugar and keeps your body from absorbing too much sugar too fast (upsetting your blood sugar levels).
Related: 8 Tips for beginning juicers
5. Good Fats – Avoid trans fats & fried foods. However, fat is not a bad thing.
You want to increase good fats as found in nuts, coconut oil, olive oil and even meat. Increase Omega 3, which can be found in Wild Caught Salmon, & walnuts,a s well as in Fish Oil supplements.
6. Boost Immunity: As mentioned leafy greens are full of Vitamin C, as are citrus fruit and pineapple.
When I feel like I'm coming down with something I increase these foods and head it off with what I call the "Get Well Juice" (1 Orange, 1/4 Pineapple, 1 chunk Ginger, 6 strawberries & 1 banana – juice everything but the banana, then put the juice and the banana in the blender, blend & drink. You can also hold out the strawberries and just add them at the blend stage).
7. Natural Anti-Inflammatories – Ginger, Tumeric & the core of the pineapple are all excellent natural anti-inflammatories.
Curcumin is found in Tumeric and can be purchased as a supplement for inflammation.
The core of the pineapple contains bromelaine, a natural anti-inflammatory. It's not easy to eat, but I always include it in my juice. Prickly Pears are also an excellent natural anti-inflammatory. They are hard to eat, so I stick to juicing them. How to eat an anti-inflammatory diet.
8. Heal the Gut – Ginger is excellent for all things gut related, whether it's nausea, indigestion or heartburn. Long-term use can cut down or eliminate acid reflux issues.
Aloe Juice works the same way: what it does for healing your body externally it can do internally. Mix with apple juice to make it easier to palate (I use a 1 part aloe, 3 part apple juice ratio).
Red cabbage is also excellent for helping to heal not only the gut but for liver detox (to help remove the toxins all those pharmaceuticals build up).
9. Probiotics also help us not only heal the gut but keep our entire system balanced. Probiotics are good bacteria found in supplements, fermented foods (kim chi, sour kraut), drinks (kombucha, kefir), and yogurt. It is believed that many of the gut issues we deal with are due to an overgrowth of yeast (which is caused by not having enough good bacteria in our system). Building up the colonies of good bacteria will eventually reverse this issue.
What foods have you found positively or negatively impact your #Fibro symptoms?
Click To Tweet
Any increase in the good foods and decrease in the bad foods is a move in the right direction, and not all of us will be affected the same way by the same foods. The best way to determine which foods have a negative effect on you is to do an elimination diet.
I did my own version of an elimination diet which included a 1 week juice fast followed by 3 more weeks of slowly re-introducing foods back into my system in a methodical way. It doesn't have to be that intense.
The Whole 30 is an excellent elimination diet that is fairly easy to follow. It's already mapped out and detailed in such a way that you can step through it and know that someone else has already figured it out for you. It's only 30 days so there's a light at the end of the tunnel. Once the 30 days are up you slowly introduce potentially bad foods to see what your body's reaction is.
Related Links and suggested reading:
Whole 30 Intro
It Starts With Food (the book that details the science behind and the how-to of the Whole 30).
Fat, Sick & Nearly Dead (documentary about one man's experience with juicing and how it reversed his auto-immune disease).