When you live with chronic illness, you find that advice comes at you from every direction. Everyone you speak to seems to know everything about your illness and exactly what you should do to feel better. All that advice is overwhelming…
Eat this
don't eat that!
Exercise more!
Don't exercise too much.
You just need to learn to relax….
You just need a hobby
Here, take this supplement
Have you tried a hot bath?
There's that new medication on tv…
Dr. Oz says….
You just need to get more sleep.
You sleep too much…
You've really just got to fight through it.
Just ignore the pain.
Have you tried pain medications?
You should meditate more.
Just pray and let God take care of it…
And the list goes on and on. No wonder we are stressed. We try everything because we really do want to feel better, and then we end up feeling guilty that we haven't done enough.
I've gone down ever rabbit trail that I've come across… well almost. Even I have limits. I exercise regularly. I've drastically overhauled my diet, removing gluten, as well as most processed foods, dairy, and eggs. I juice daily. I take several supplements, and a few medications. And yet I'm still sick. I feel better than I did three years ago, but I'm still sick. And any additional stress or changes to my "schedule" only aggravate the situation. Between one class and (what feels like) a dozen doctor appointments, throw in stormy weather and I'm just plum worn out. All I have energy for is a nap. Where I was knocking out my to-do list right and left, now it's just sitting there on hold while I study and sleep. Eat? Ain't nobody got time for that. Heck, I don't even have an appetite because when I think about eating all I think about is the incredible bloating, pain, and gas that will likely follow. So, I avoid eating which, of course, just makes me feel even worse.
So, yes, I'm fully aware that I'm making a bad situation worse and trust me there is no lack of guilt over it. In fact, guilt is my current top emotion. Guilt is like my new best friend. No matter what I'm doing at that moment, I'm also feeling guilty about something I'm not doing. See! I AM a multi-tasker!
I realize this post turned a bit into a rant, but I think those who are with me understand, and for those who may be a little confused, I'll leave you with a bit of advice. When you are considering giving health advice to your chronically ill friend, just don't. We love you and deep down we know that you you the best intentions at heart. But, really it's our body and don't you think we've likely tried it all? If you want to share something you saw, great just shoot us a quick note "hey, saw this and thought of you". Leave it at that. We'll likely take a look and we'll know you were well-intentioned, and if by some chance it's new information to us, we might dig deeper and thank you later. If you never hear a word from us on it, just take that to mean it was something we were already well aware of. It's not that we don't appreciate your desire to help, but sometimes your help just doesn't feel that way.
When you are considering giving health advice to your chronically ill friend, just don't.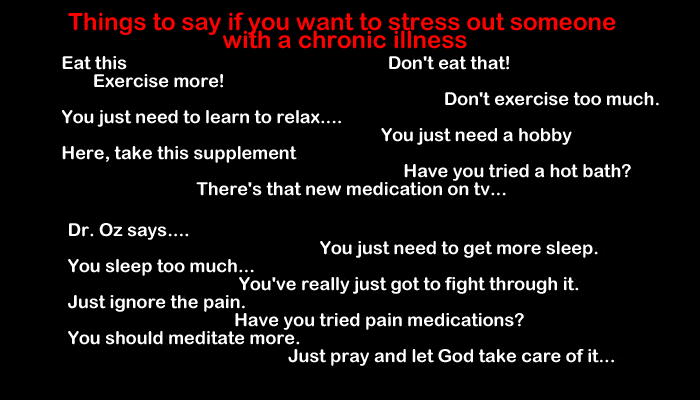 (Visited 1,239 time, 1 visit today)