15 Most Requested Gifts
(for people with chronic illness)
It's that time of year again, when you are searching for that perfect gift for the people you love. It can be difficult enough to find the perfect gift, but throw chronic illness into the mix and it becomes even more tricky.
What do you buy for someone with more sensitivities than the Princess and the Pea? Or, someone who just can't get comfortable no matter what?
Many things you might buy for others would probably be a wasted purchase, but the ideas below come straight from those who live with chronic illnesses. Some are store-bought ideas, others are items you can make yourself and give with little monetary cost – yet would provide so much more value for that person you love.
*some of the links below may be affiliate or sponsored links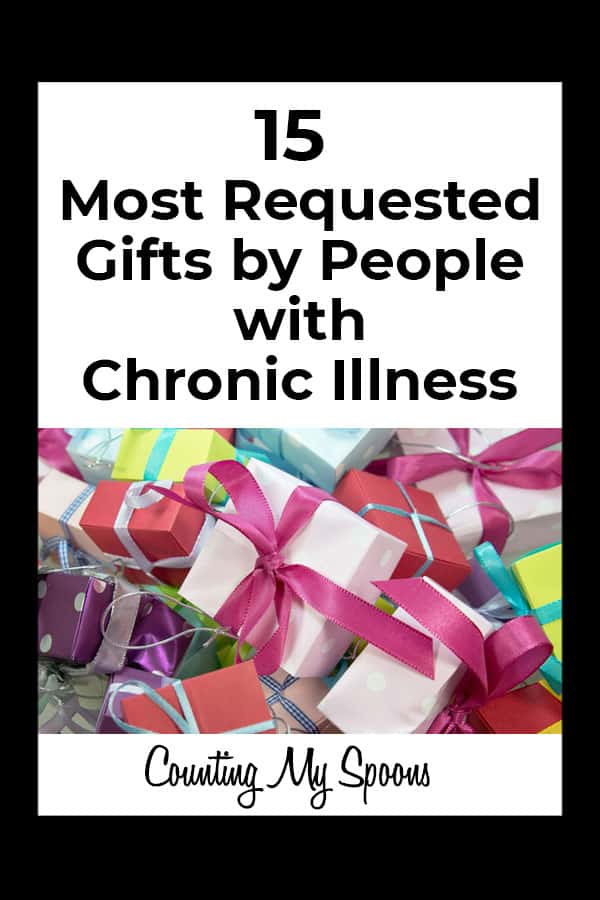 1.Coupon Book
Reader Melissa says that she'd love "A homemade coupon book full of "get out of previously made social commitments free" coupons. Hate being guilty feeling when I make plans and my health requires that I cancel." Guilt is a terrible fiend for those of us with chronic illnesses, and it's nice to know that those who love us really do understand that we aren't just flaky.
Nada adds "I would love it if people would give me booklets where they would offer to come vacuum/dust, prepare a meal, do some laundry. Things that would help me out when I am having hard days."
Mariska expands "A coupon for cleaning the ' heavy ' stuff, like the kitchen cabinets, the refrigerator, oh and a coupon for an hour ironing…I would be the most grateful person."
Sarah also suggested coupons for "rides to appointments."
I'd also add into this coupon book coupons dinner brought to the house, an hour of just hanging out with no expectations, and whatever else your loved one might enjoy. This is probably the most requested item from Spoonies on my Facebook page; that should tell you something.
2. Soothing Teas
You might put together a collection of soothing and relaxing teas for your friend or loved one.
My personal favorite is FibroCane Serenitea – Serenitea is an herbal tea blend that helps calm and relieve stress making it easier to sleep. I drink Serenitea before bedtime every night and it makes a big difference in how well I sleep. Yogi Bedtime tea
and Numi Organics 3 Roots tea
are also favorites of mine.
Don't forget to include an easy to hold mug with your tea gift. My favorite mug is this handwarmer mug
, easy to hold and it warms my cold hands.
3. The Perfect Bath Basket
Many of us with chronic illnesses have found that a nice warm bath does wonders for soothing the aches and pains that come with chronic illness. But, sometimes it can be a chore to put that bath together. I've found a few things that really help make a bath relaxing. First off, most bathtubs aren't deep enough to cover us completely. So, make sure to include a Bottomless Bath Overflow as the first item in your gift basket.
Next add in a bag of Dr. Teal's Epsom Salts. Because many of us with chronic illnesses are sensitive to scents I'd go with unscented epsom salts.
You can let your friend choose/create their own scent by including a set of essential oils in the basket. I would especially enjoy a nice set of essential oil blends like this set from Organic Aromas or even this one from Radha Beauty. Add in a bath pillow
and/ or a bath caddy
for the ultimate in relaxation. Finish this basket off with the aforementioned teas.
Carol also suggested this specialty body polisher towel
to help make scrubbing backs and feet easier. "The Body Shop makes this AMAZING towel I use in the shower. It is long & rectangular. It costs between $3 – 8. It's wide & flat. The most amazing thing is that it's made out of the same material as bath poufs & it is perfect for washing your back if you have arthritis or mobility issues. I go through about 3 or 4 a year. Can't live without them. They feel a bit rough at first but soften up."
4. Comforting Blankets
Whether a heated throw, as mentioned above, or just a soft comfortable blanket, blankets are high on the wish list. If you really want to make your loved one's year though, get them a weighted blanket. They are not only warm but help ease anxiety and many other issues that come with our illnesses.
It's ideal for anyone with chronic pain and has helped so many with so many different issues, everything from urinary incontinence to CRPS/RSD and Fibromyalgia. I know too many people who have been able to reduce or eliminate their dependence on pain relievers thanks to this device. Purchase Oska Pulse using the links in this post and save $55 at check-out.
6. Subscription Boxes 
Subscription boxes are a great way to surprise your loved one with something. There are subscription boxes for just about anything now.  Hope Box curates gifts to uplift your heart, body, and mind. Help them keep their mind focused with Meditation Essentials.
If your loved one has specific diets, there are subscription boxes for that as well. If  they are on the Paleo diet or inflammation is an issue, consider signing them up for the Month to Month – an box full of Paleo AIP goodies. If they are vegan, check out VeganCuts monthly snack box.
 7. IBS/IBD Gifts
If the person you care about lives with IBS/IBD then they'll definitely appreciate a gift basket that includes a Luxe Bidet
(I have one in every bathroom in my house), a Squatty Potty
, and some Poo Pourri
. For the ideal gift combine all three of these. But, even if you just do one of them they'll appreciate you, even if they had no idea they needed these items. You may also want to include some Fresh Assist Spray , a great alternative when you are on-the-go.
8. A Comfort Basket
Lucie suggested a few items for the perfect comfort gift basket. It would start off with a heated throw
– for some reason many of us with chronic illness are often cold, or get cold easily.
It's great to have an electric throw nearby to grab when we need to warm up. Add into that some comfy socks, and a comfy pair of PJs, and some sensitivity-friendly (gluten/dairy free) snacks, and an adult coloring book with markers. You could also add in the teas mentioned earlier.
9. On-the-Go Basket
Chronic illness patients spend a lot of time on-the-go, either at doctors visits or (too often) at the hospital. A gift basket filled with things they will need/ can use when they are on the go would be very thoughtful.
Jennifer suggests "charging cables for my iPhone, because they only last six months, and I always carry a cable in my purse to charge my phone in doctors' offices, the ER, hospital, etc. Purse size lotion for my hands, like Bliss, First Aid, Aveeno, and purse size lip balm from First Aid and Vaseline."
10. Entertainment Subscriptions
Sadly, we spend a lot of time having to entertain ourselves, so a little help with that would go a long way. Subscriptions to services like Netflix, Hulu and Audible are highly requested and appreciated, as would be any sort of book/movie of the month club.
Keep in mind that for many of us holding an actual book can be quite a chore, so many prefer digital books. If your loved one doesn't already have a Kindle
you might want to consider a Kindle or a tablet, as well.
If they already have a Kindle or tablet, then an Amazon gift card for e-books would be ideal, or a subscription to Kindle Unlimited would make a great gift. These are gifts that give throughout the year and keep your loved one thinking of you.
11. No-Stress Social Time
Several readers suggested that they'd love for their friends or loved ones to stop by and bring dinner and just hang out without any requirement from them to cook, clean-up, or be a good host.
12. Gift Certificates
Some of the things that can help us the most are things that are costly and not covered by insurance, so we often forego them. But, they are ideal gifts.
Denise suggests a "gift certificate for massage and for float tank." Siobhan also suggested hydrotherapy. Jackie suggests a "gift certificate to meal prep services like blue apron or gift certificates to delivery food places for when you can't cook for your family."
A couple of people pointed out that even a gift certificate for a haircut would be greatly appreciated, as it's something we all need but often forgo when finances are tight. And, a new haircut goes a long way to making us feel better.
Maid service also made this list (whether you provide the cleaning service yourself, or provide access to a cleaning service this would be highly appreciated).
13. Cash
Being sick is expensive and while gifts are nice, sometimes what we need more than anything is a little help paying for all the prescriptions and doctor co-pays. If you aren't one to just give cash (many people find this really impersonal) you might combine it with something else they'd enjoy.
14. Body Pillow
A few people mentioned that they'd love a body pillow
, especially one of those large u-shaped ones that snuggle you from all sides.
15. Lap Desk or Bed Table
Depending on whether your loved one spends most of their time sitting up or laying down would determine which would be more appropriate. If they spend a lot of time sitting up, a lap desk
would be ideal for time on a laptop, coloring, or any sort of activity they can do in their lap. If they are more likely to spend time in bed then you may want to look at a Laptop Laidback
desk.
The list goes on and on. For more ideas check out the comments on this Facebook post as there is no shortage of suggestions and you'll definitely find something to suit your loved one's needs, interests, and desires.
Need more gift ideas? Check out these lists from my fellow Chronic Illness Bloggers:
Related Posts: