A friend in my local fibro support group asked a fairly common question about how you deal with family who just don't get that your energy level varies, they don't get that you really DO hurt and that you really DON'T have any energy. How do you communicate your needs when you have chronic illness and those around you just don't understand?
They respond with the old "aw, we all get a little tired sometimes…." "we all have aches and pains it's just a part of getting older" attitude.
She asked if she was being selfish, by wanting a little bit more compassion and understanding, even just a "I'm sorry you are hurting" or "here let me help you…" would be nice. We all (including the few spouses present) reminded her that she was not being selfish. That what she wanted was perfectly acceptable and nothing out of the ordinary.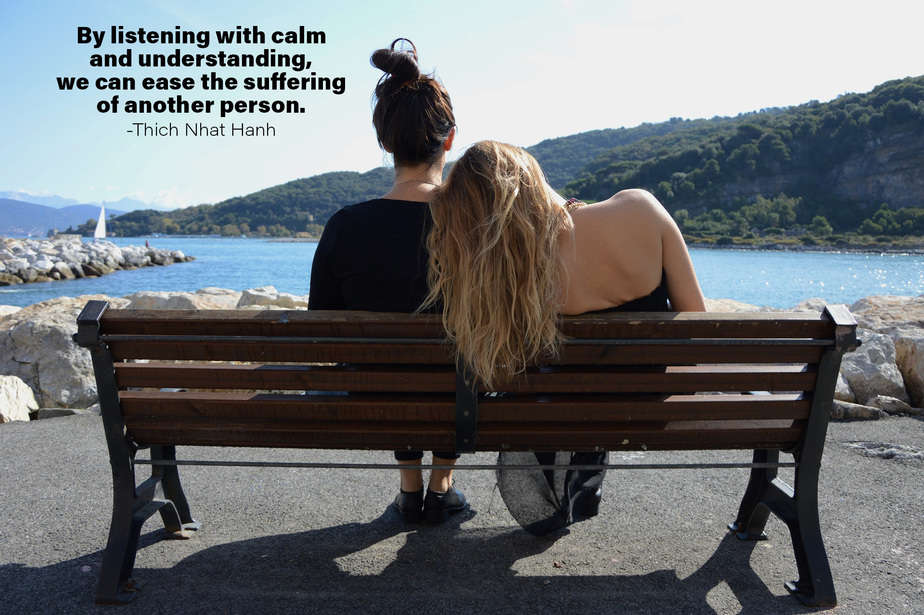 I think we all feel like we are being selfish, sometimes, for wanting something as simple as to be understood rather than dismissed. I know I do. Just those few simple words go a long way to making us feel better. This reminds me a bit of the quote from Thich Nhat Hanh about how "By listening with calm and understanding, we can ease the suffering of another person."
We had a good discussion in our group about this. The obvious answer is simply NO, we aren't being selfish by wanting a little more understanding. But, there's more to it than that. In order for others to give us more understanding we have to do our part.
We have to be willing to speak up, communicate our needs, and be honest about how much energy we have in that moment. We can't just shrug it off and say we feel "OK" and expect them to understand. Because they can only listen with calm and understanding if we communicate with honesty and openness.
We have to work on communicating our needs, if we expect others to understand them.
They can only listen with calm and understanding if we communicate with honesty and openness. We have to work on communicating our needs, if we expect others to understand them.
Click To Tweet
One of the best things that came out of this discussion was Kathleen's method of helping her family really SEE how she's feeling each day. Here's her idea in her words:
Honestly, unless someone is walking in our shoes, they can't understand the kind of pain and fatigue we experience. But, one thing I did that was a take off of the spoon theory was to buy a bag of marbles. I put them in a tea cup and let my family know to look in the cup each day to see how many marbles were there.

If there were lots of marbles, then I was feeling okay and had some energy. If the cup had a few or no marbles at all, it was a really bad day. It was a concrete way to communicate with them that didn't sound like whining to me.
I was amazed at how brilliantly simple the idea is. The spoon theory is a great way to explain in general terms what it's like to live with an energy and pain level that is unpredictable. But, how do you put that in practice so that your family can really see just how many spoons you have that day? Or how many you have left, for that matter?
I struggle (I think most of us do) with answering the simple question of "how are you?" or "how are you feeling today?". Instincts kick in and the default answer of OK tends to pop out before I have even processed the question.
I've had friends ask me "how are your spoons today?" and I've never figured out a concrete way to answer beyond "they are good" or "they are low". I guess you could take Kathleen's idea and have a cup full of spoons on display for an instant visual, but marbles are a little smaller and take up a little less space. This also gives a whole new meaning to the phrases: "Have you lost your marbles?" and "I'm (he/she is) a few marbles short".
I also really loved that she pointed out she could do this and not feel like she was whining. So often, we feel like we are whining when we talk about our health. When I open my mouth to talk about my health, I instantly feel like I'm whining (even though I know I'm really not). Especially, when it's been bad for a while and it feels like you haven't been able to answer in a positive way in forever.
In addition to figuring out how we can communicate our energy levels, it's important to think about how we communicate our specific needs. Just because we've told our partner or children that we aren't feeling well or have no spoons that day, isn't enough for them to really know what we need from them.
We have to be specific. The problem is that sometimes when our energy is low we barely feel like talking, let alone giving someone a list of what we need them to do.
One friend suggested a chart for the refrigerator that had a row of spoons across the top and a list of needs below it. For instance, if your spoons are high you likely won't need as much help, so the list will be shorter. Here's an example that I made. If you'd like a template please comment below or email me and I'll put one together. The chores you list will vary – think about what you tend to need the most help with. You may even want to make your chart editable so that you can list the items that are specific to that day.

These are just a few tips for how you can better communicate your needs with those who care about you. And, how you can ask for the help you need in a way that doesn't drain your energy further.
How do you communicate your varied energy levels and varied needs to your family and friends? I'd love to hear your thoughts in the comments. Do you have a concrete way to let your family know whether today is a good day or a bad day? Or if you've already used up all your spoons and they should probably fix their own dinner?
How do you communicate your varied energy levels to your family? Do you have a visual way you can let them know how you feel and what you need without telling them?
Click To Tweet
Related Posts: