Just about a month ago my guy and I traded in normal life for a life of full-time travel. We've learned a lot in those few weeks, and we're still learning. I'm relearning how to pace myself and we're both learning how to balance work and travel life with chronic illness.
I've learned that traveling in an RV with chronic illness is doable, but it does require a different sort of pacing and planning than I've learned to do over the last ten years with fibromyalgia. I've been doing so well the last few years that sometimes it's easy to forget that I do still have multiple chronic illnesses. Over the last decade or so I've learned how to balance my life, so that the flares are rare and short-lived. But, having it all figured out in a life that you know and are comfortable with is very different than having it figured it out when you get out of your comfort zone.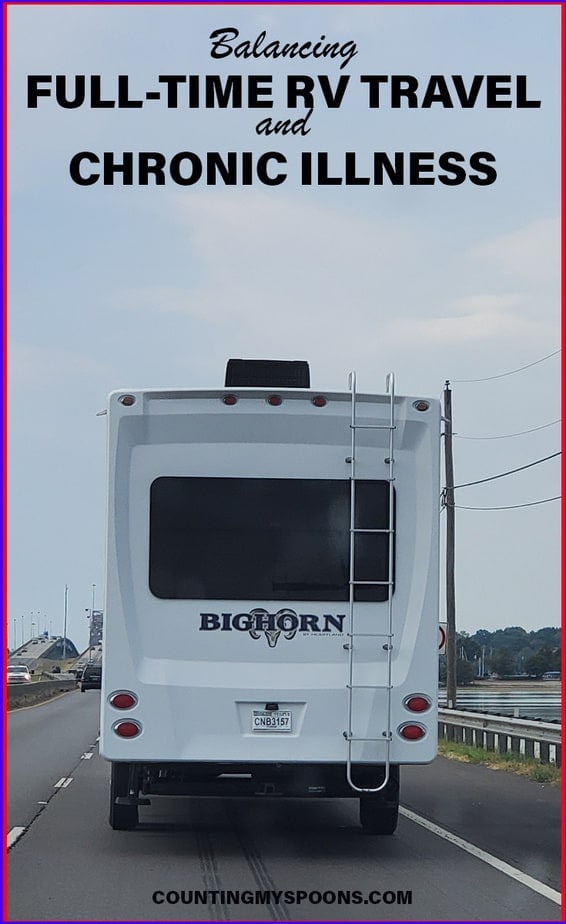 Transitioning to life in an RV
Last summer, I sold my house and bought an RV. Traveling the country in an RV has always been one of my dreams. After getting divorced in 2017, I realized that there was nothing keeping me from acting on that dream. As long as I have internet access, I can work from anywhere.
In the time between getting divorced and selling my house I met an amazing guy who had a similar dream. As soon as I sold my house I started looking for the perfect RV. I knew we'd be mostly stationary for a bit while we got used to living in the RV and tested things out to be sure it was something we'd really enjoy.
In September of 2019 I bought a 5th wheel and moved in. We drove it 900 miles back to North Alabama after purchasing it in Florida and by the time we made it home, I knew there was no going back.
Over the next few months I found that I loved living a more simplified and smaller life in the RV. Even without travel, I felt freer and less stressed.
Transitioning to a full-time travel life
In June, my guy sold his house and that left us free to finally travel. We'd always planned to head up into Michigan for our first trip, but when Covid-19 hit, we decided to re-map and head west where we could enjoy the outdoors and not be so worried about crowded indoor spaces.
We decided that we'd head to Colorado, but we'd take the long way, up and around Nebraska so that we could see South Dakota. There was just one problem, I really didn't think through how many more miles that added to our trip.
On one hand it seems like it's no big deal, we have our house, we can take it slow and get there when we get there. But, on the other hand, we wanted to get there.
When I first bought the RV I'd heard that 300 miles was a good maximum distance to go in a day. It seemed reasonable to me and that's actually the number we used when coming back from Florida after buying the RV. It worked well for us. But, sometime in the nine months since that trip, I forgot. A few people had mentioned 400 miles as their max and I got that number stuck in my head and, unfortunately, used it when planning our trip.
Our first leg of the trip we only went about 200 miles and stayed in Tennessee for a week. No problem. It was when we left Tennessee that we realized my new plan was not going to work.
Setting a new pace
We drove 400 miles into Missouri on our second travel day (thankfully a week after our first travel day), and spent a week in misery after doing so. It was just too far. We were both ready to be done driving at about 250 miles, reinforcing that 300 miles really should be our absolute max.
There was just one problem. The 4th of July was coming up and I'd already booked our travel plans up through the fourth. As it was only about a week away our options were limited.
I'd originally had us planning to drive 400 miles on the third to spend two days in a tiny town for the fourth (in an effort to avoid the crowds but make progress towards our destination), leaving there on the 5th to drive about 150 miles to spend a week in Sioux Falls, SD. With less than a week before the fourth I knew we weren't going to find many (if any) other places that we could book for that night. The best I could hope for was to break the trip in half and do it in two days instead of one. So, that's what we did.
I did what I could to break our already planned trip down. Once we made it to Sioux Falls we were both worn out and spent most of that week just resting.
A week later we continued our journey, driving 300 miles across the state to Wall, SD for a night, then another 60 miles the following day to the Black Hills where we are currently staying until we decide to leave.
The Importance of Pacing
Years ago I learned the importance of pacing. It seems like a huge concept but it's simply about listening to your body and learning your limits. It takes a bit of time initially, to learn what activities are more likely to leave you worn out, to learn how much you can do before you need to rest, and how often you need to take a break so that you don't spend the next several days (or longer) paying for a single activity.
Pacing is about conserving your energy. In the course of normal living, it means that you may take longer to finish cleaning your house (cleaning a bit each day and never having the whole house clean at once).
Pacing is about prioritizing your time. Pacing often means making choices and trading one activity for another. You have to decide what's most important and use your time for that. You may decide that spending time playing with your kids is more important than making sure the dishes are washed and the bed is made.
Pacing is important even if you're healthy, but when we live with chronic illness it is not only more important it's more difficult and it takes time to learn.
I had to learn that I can't just push through and do all the things (as much as may want to). When I was feeling my worst in the early days of fibro, I would often overdo it on my good days because they were so rare that I felt like I had to do all the things. What I learned was that doing all the things was a big part of what would send me right back into a flare.
It took time to learn that I needed to take things slow and just do a little and rest, then do a little more.
I learned to use an activity tracker to help me limit my daily activity, as well as to stop and rest often throughout the day to make sure that I didn't push too hard.
Pacing full-time travel with chronic illness
This trip has been a constant reminder that I still have chronic illness and that pacing is an on-going process. It's not something you learn once and then it's done. It's something that you have to readjust and re-learn every time you add in something new to your life.
When life is routine, maintaining a good pace is easy. You get used to a schedule and you know generally what you will be doing on a given day and what things are more likely to leave you worn out and you plan ahead accordingly.
But, when you change your routine (whether it's adding in travel, or just changing a job), you also have to change your pace to match the new routine. This can take a little time, and it's something that I'm still trying to get a handle on.
Here's what I'm doing to help myself learn a new pace going forward. Because my life will be in constant flux as I travel, I will have to constantly revisit these tools and adjust my pace to match each situation.
Start with the known – There's no other place you can start than with what you already know. In my case, that means continuing to use an activity tracker (Fitbit) to track my activity throughout a day to make sure I don't overdo it. Activity trackers are great if you are out moving around, but we often don't realize just how tiring something as simple as riding in a vehicle can be. Our truck is really comfortable to ride in, but a truck pulling a camper is very different than just riding in a car or even our truck without the camper.
Set realistic limits – With travel that means finding a realistic distance we can go on a travel day. This means that we won't always be stopping in places with great views or things to do. Sometimes we'll just be stopping to stop.
Stop & rest often – Just as when pacing doing any other activity we have to stop often when driving or riding long distances. Even just stopping for a few minutes to get out and stretch makes a difference. We've began to schedule hourly stops into our travel days. It may mean it takes a little longer to get there, but if I don't feel as miserable when we arrive I can enjoy the stay much more.
Learn your limits – I'm still learning my limits and they vary a bit. If the roads are smooth I could easily ride 300 miles without an issue. But, when we are fighting road construction or those graded roads we've been finding in the northern part of the country, it takes a lot less before I'm ready to stop. So, while 300 miles is the possible, we'll aim to go shorter distances.
Stay longer – Because we are traveling full time there is no need for us to rush. We can stay as long as we like. We've decided that we'll stay at each location for at least two weeks to give us time to recover from driving (if needed) and plenty of time to enjoy the area without rushing or feeling the need to go out and do things every day.
Chronic illness doesn't mean we can't travel and enjoy life. It just means we have to do so in a way that works for us. Whether that means road trips instead of flying (or flying instead of driving), stopping more often, or staying longer to allow recovery time along with time to enjoy the stop.
If you'd like to keep up with my travel, follow my travel Instagram and blog.
Related Posts:
(Visited 257 time, 9 visit today)