How to Travel with Chronic Illness
Travelling with Fibromyalgia, or any chronic illness, can be difficult at best. I long for the days when I could jump in the car for a day trip and allow it to turn into an overnight trip without any planning. That's just not reality anymore.
These days if there's any chance that we might not come home (or even the possibility of it) I have to pack a back, pack my meds, grab my pillow, and I better not forget my nightguard. It's a process.
But, I still love to travel and I still do it whenever I can. I thought I would reach out to a few of my blogger friends to see what tips they have for making travel easier, then I'll share a few of my own as well.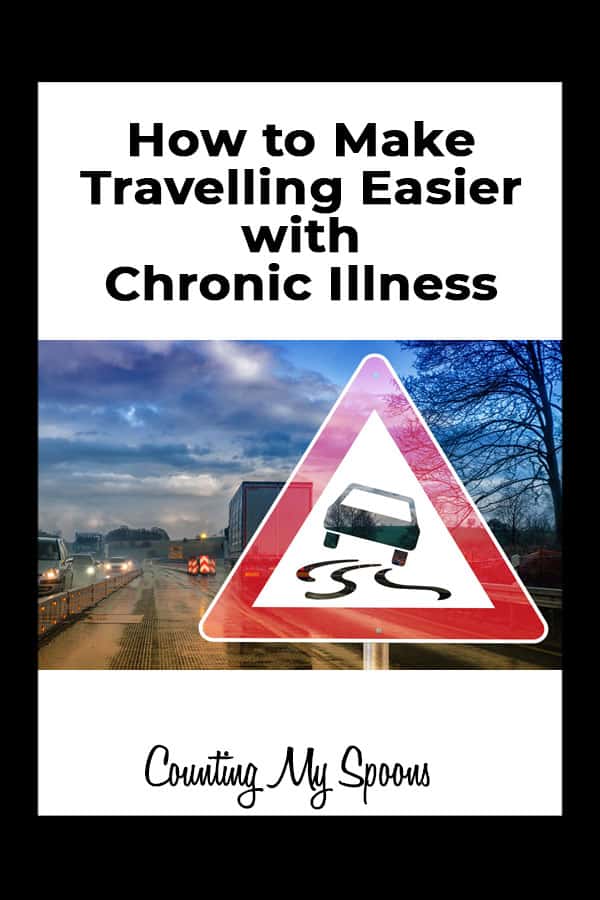 Have realistic expectations.
Whether you are going to Disneyland or a tropical island, be realistic when planning your days.
You may be escaping your everyday life, but you can't escape your illnesses. Don't expect to be able to be on the go every day, be flexible.
Your body isn't going to allow you to walk 5 or more hours a day when on a daily basis the simple task of grocery shopping wears you out.
A wheelchair, walker, or scooter may be what makes excursions possible.Don't expect to end each day with less pain or to be at the same level of pain that you began your day with. Don't let it discourage you, instead be thrilled with the memories made from what you did do.
You have to have realistic expectations of yourself and your body when you are travelling with chronic illness. #travel #chronicillness via @disableddiva
Click To Tweet
Bring extra pain medication.
Whether you're going on a cruise or planning on spending a weekend lying on the beach, you still have to travel to your destination.
Traveling to your destination will increase you pain no matter if you are traveling by plane, train, or car. If you only bring along the amount of medication to treat your pain that you would use normally, you risk one of two things.
The first being that you increase your dosage for those first few days and then run out before your trip is over.
The second is that you only take what you would normally take while at home and are miserable because that dosage is too low for a higher level of pain.
Neither option is ideal. The best way to avoid them is to bring more than you think you would need.
I realized that I had been thinking because I am still able to work that I am not "disabled" or "bad enough" to use the assistance available." – Melissa Swanson
I realized that I had been thinking because I am still able to work that I am not "disabled" or "bad enough" to use the assistance available.
Click To Tweet
Use online check-in.
One thing that has helped me is to use the online check-in feature paying for bags and printing boarding passes the day before travel. I have a wheeled carry-on and a backpack that carries all of my medication, sunglasses, spare tens unit pads and wires.
Get approved as a Trusted Traveler.
At many airports travelers can apply for one of the several Trusted Traveler programs. If approved they are able to move quickly through security clearance. I wear my Tens unit when traveling. I alert everyone at security and all that has changed is that the unit and my hands are swabbed for explosives.
Choose your travel times wisely.
I have learned to travel during the early afternoon so I can sleep as late as possible. Most hotels have an 11:00 check out time. I discovered that you could request a late check out by doing this I was able to sleep in and still have plenty of time to prepare for the trip home.
There are many small things #spoonies can do to make travelling easier.
Click To Tweet
Slow down and focus on fun.
Vacations are supposed to be Fun not Effort: This is a holiday not a Quest for the Holy Grail. You do not need to be busy every single minute.
Basically have some moderate activity and allow for some down time.
Pace yourself and you will enjoy the actual relaxation of the vacation a great deal more.
Choose some specific things you want to do, sure, but account for the down time after that. Never over plan. Avoid the hectic pace of stuffing too much into a short amount of time.
Don't push through the pain.
You are literally on vacation. There is literally nothing you necessarily have to do. Therefore if you have a bad pain peak, you can and should rest. And you should not feel guilty about that because if you are on vacation with others, they can do other activities while you simply chill.
Travel advice from yours truly – Julie at CountingMySpoons…
Plan to Rest.
I find that it's important to plan to rest. I don't mind traveling early so long as I make sure that I have time to rest when I arrive.
I also find it's important to stick with my normal sleep schedule. Although, I often find myself waking up earlier on vacation (especially if we are on the beach). I still try to get to bed around the same time I normally would and get plenty of sleep.
Maintain proper nutrition.
It's also important to stick to my eating routine. If we are traveling by car for just a short trip, I will often take juice with me. Otherwise, I just make sure that I'm still eating healthy whole foods and lots of fruits and veggies.
Don't forget your meds.
I just found this awesome new little device that is going to make the medication thing so much easier. The PillSuite lets me divide up my daily doses and put them in sealed bags. No more worry about my pill container coming over during travel.
Looking for more tips? Check out these related posts:
What are your favorite tips for travel with chronic illness? Share them in the comments below.