I've been on some form of progesterone since 2013 following my second laparoscopy for endometriosis. It helped with the endometriosis symptoms moderately, but I'm realizing now that progesterone likely helped with much more than that, and played a large role in keeping my fibromyalgia symptoms at bay.
Why am I just now realizing this?
Sometimes you don't know what you have until it's gone.
About two years ago I opted to get an IUD. The compounded progesterone I take is not cheap ($70/mo) and isn't covered by insurance. Following my divorce, money was tight so I began looking at how I could cut some costs. The nurses at my local gyno's office convinced me that an IUD was the way to go. It would do the same job as the progesterone, but would also act as birth control and thanks to the ACA it would be completely covered by insurance. My endometriosis specialist was on board with giving it a shot, so that's what I did.
All things are not equal.
After about a year with the IUD I was ready to go back to the progesterone. While it definitely helped with the endometriosis symptoms (probably moreso than the progesterone), making my monthly cycles much easier, I wasn't happy with the side effects. I noticed my sex drive had decreased, I'd gained weight (about 20lbs in 17 months), and I was breaking out like a hormonal teenager. While my menstrual symptoms were decreased my PMS symptoms were increased.
Life on Progesterone
Over the years taking progesterone we'd slowly increased my dosage attempting to hit the right level. 300mg/day was just about right. My endo symptoms were better, my sex drive had returned to pre-illness levels, I felt generally great (high energy, low pain), and my skin looked awesome (something that has rarely occurred in my life), to the point that I'd regularly get compliments on how great it looked.
Did it cure endometriosis? Obviously not, as I still had another surgery 2.5 years ago.
What I didn't really realize until these last few months is that it greatly affected my fibromyalgia symptoms. My energy was greatly increased and pain greatly decreased, rarely encountering a flare day, and when they did occur, they rarely lasted even a whole day.
And the bottom drops out
Back in January, I talked to my endometriosis specialist about the issues I was having and we decided at that point that I might want to try switching to a different IUD.
In March, in the midst of the unexplained headaches and other issues, I decided to have the IUD removed. In addition to the side effects I wasn't enjoying, I'd read that there may be some connection between Mirena and IIH (which it was looking like I had).
My intent was to leave the IUD out for a couple of months to let my body settle and see what would happen. Then have the Skyla or Kyleena put in. However, when I went for the removal, I was told that there was a high likelihood that because I hadn't had it at least three years my insurance wouldn't pay for me to switch. I haven't called to confirm this as I pretty much decided I'd rather go back to progesterone.
What I've experienced over the last few months with no hormonal assistance
The first month without the IUD I was reminded in a very big way just how heavy my periods are naturally. Have you ever looked up the average number of tampons used during a period? I finally did… it's something like 7-10. I use that in the first 1-2 days.
I also crashed in a big way. My sex drive crashed, my energy crashed, my motivation crashed. I know at least some of that had to do with the stress during that time – heavy work load once I finally recovered from the unexplained headaches, plus getting the house ready to sell, then having it sell super fast. It's just been a crazy few months.
Was the crash just the stress? Or was there more to it?
I still can't say for certain. As I type this I'm waiting for the pharmacy to call and let me know that they've filled my order for progesterone. Thankfully, I was able to get my GP to prescribe it as I couldn't get in to see my specialist until October and getting a message to him via his nurses is nigh impossible. But, in the meantime I decided to do a little research.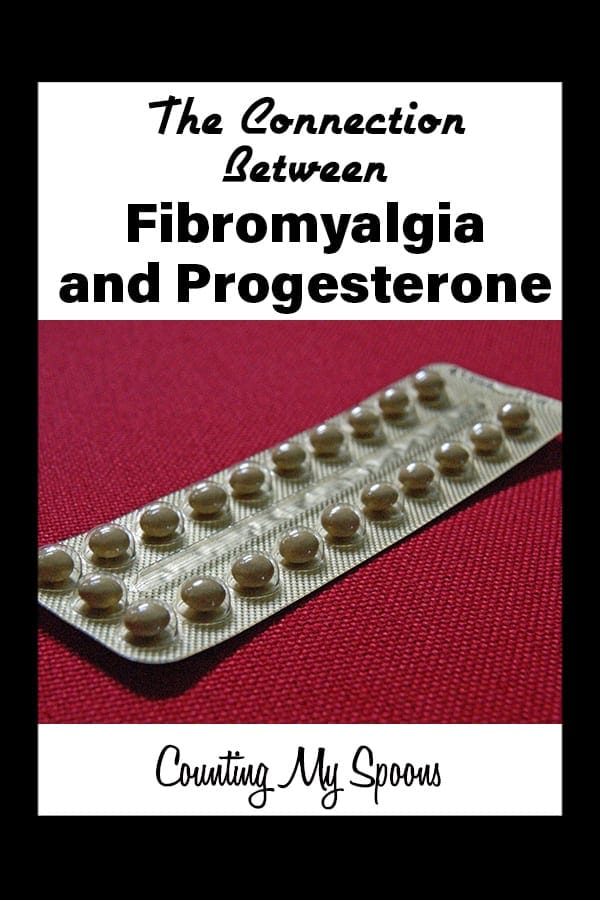 The connection between progesterone and fibromyalgia symptoms
A 2018 study found that progesterone and testosterone levels are associated with fibromyalgia pain severity. Increases in both of these hormones tend to be associated with lower pain levels. In previous studies, progesterone has been shown to have anti-inflammatory and analgesic effects.
This particular study was extremely small, with just 9 participants. All of these women met the clinical definition for fibromyalgia and were not taking any hormones at the time of the study. Researchers took daily samples from the women to measure their various hormone levels.
What they found was the progesterone and testosterone were inversely related to day-to-day changes in pain. Meaning that as progesterone and testosterone increased pain levels decreased.
The researchers also measured cortisol levels and found that the low progesterone was particularly associated with higher pain during times of high cortisol. Cortisol is known as the stress hormone (released when we are under stress).
The researchers suggested that these hormonal affects may explain why the incidence of fibromyalgia is greater in women. And, may also explain the difference in the pain experience of women as a whole.
As I mentioned this study was rather small, which is a problem. But they also didn't compare the fibromyalgia patients against any sort of control group. I wish they would have had the control group as the results of this study did clash with the result from a previous larger study (which found no correlation between hormone and pain levels). However, the larger study did not examine hormone changes over a full cycle.
Fatigue and Progesterone
I did find a larger study that examined the connection between fatigue and progesterone. This study collected daily hormone samples from 122 healthy women, to gauge how hormone differences may affect PMS symptoms. Women with lower scores of fatigue had consistently higher progesterone levels.
I wish that there were more studies that examined this. I wish that the results were more cut and dry, but that's just rarely the case on any of these studies when we look at fibromyalgia. It'll be a bit before I know for sure if progesterone will help me return to my previous levels of energy. We'll see. Trial and error is just what we do when we live with fibromyalgia.
Trial and error: It's just another day in the life with fibromyalgia. What are you trying today?
Click To Tweet
Related Posts: