Review of FibroAid Fibromyalgia Multivitamin
About six months ago I was approached by the makers of FibroAid to try their fibromyalgia multivitamin.
FibroAid is made by LupaVita. They also make a similar product for those with Lupus. To put it simply FibroAid takes several of the vitamins that you need if you have fibromyalgia and puts them into one easy pill.
I take a lot of vitamins and supplements. I'd love it I could just get them all into one pill but that's not going to happen. However, if and when I can find a way to get even a handful of them into a single pill I'm a happy girl, and that's just what FibroAid did for me.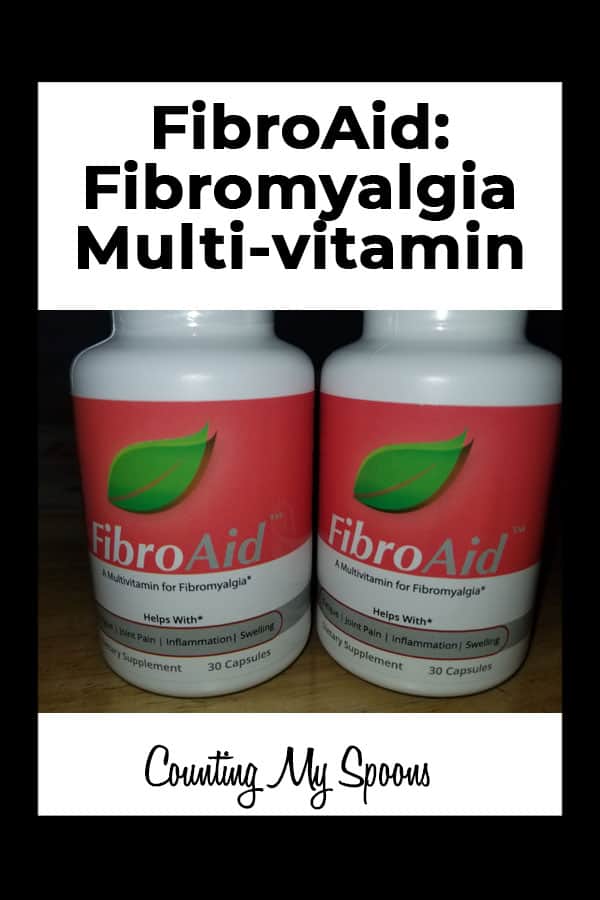 FibroAid included four of the vitamins/supplements I was already taking (replacing 4-6 pills with 1-2).
Vitamin D3 – Vitamin D is another vitamin that not just those with fibromyalgia, but most people are low in. As we spend more and more time indoors we tend to be more and more lacking in vitamin D, which is important for energy.
Vitamin B9 – Vitamin B9 is important for proper brain function.
Vitamin B6 – Vitamin B6 is vital for 100's of enzymatic reactions and functions involved in metabolism. It's important for a healthy brain and nervous system.
Vitamin B12 – Vitamin B12 is important for cell growth, and helps increase energy, reduce depression and provide mental clarity.
Tumeric – Tumeric is a natural anti-inflammatory. Inflammation tends to be high for those with fibromyalgia and over-the-counter anti-inflammatory medications (like advil) are hard on the stomach. Tumeric helps reduce inflammation without the negative side effects.
The amount of magnesium included in FibroAid was rather low for me so I'm still taking additional magnesium supplementation.
The amount of Tumeric is also lower than I was taking, but I haven't noticed any differences in pain since taking FibroAid instead of the other Tumeric supplement I was taking, so I've not felt the need to take more. I attribute this to the inclusion of black pepper which increases the bio-availability of the tumeric (so I don't need as much to get the same result).
FibroAid has completely replaced the B Complex, Vitamin D, and Tumeric that I was taking (3 pills replaced by one FibroAid pill).
In addition, FibroAid has a couple of other things that I wasn't already taking, but probably should have been.
Flaxseed Oil – Flaxseed oil is a source of Omega 3 & 6. While not as good of a source as fish oil it is still helpful. These oils are important for protecting cell membranes, and can help reduce joint pain and improve kidney health.
Black Pepper – Black pepper should be included in any supplement that contains Tumeric (although very few actually do include it) as black pepper helps increase the bio-availability of the Tumeric.
5-HTP – 5-HTP is a precursor to the neurotransmitter serotonin. Many doctors believe an imbalance in serotonin is a contributing factor to fibromyalgia. 5-HTP is a natural way to increase serotonin. The inclusion of 5-HTP does mean that FibroAid should not be taken if you are already taking a medication that contains serotonin (eg. anti-depressants and some migraine medications) without discussing with your doctor first.
Calcium – Calcium supports bone strength and reduces blood pressure.
I'm always skeptical of any product that contacts me and I prefer to give it a good solid try before I review it. I reviewed FibroAid after just a couple of months in this Facebook Live session:
After about 6 months on the product, my opinion hasn't changed. I did find that I needed to add back in more magnesium but otherwise I've continued to feel as good taking it as I did the various vitamins separately.
What's the cost of FibroAid?
Aside from cutting down the number of pills I have to take every day, the cost is one of the best things about FibroAid. Just accounting for the supplements that it replaced the price comes out about the same. I was spending about $25-$30 a month on Vitamin D, B Complex, and Tumeric.
The cost of a single bottle of FibroAid is $44.95; however if you subscribe to have a new bottle sent to you each month, the price drops to $34.95 (just a bit more than what I was paying for the supplements it replaced).
All in all, if you were taking every single thing in FibroAid already you'd be spending about the same amount as you will spend for FibroAid. However, instead of taking 6-8 pills every day, you'll be taking 1. In a world, where you probably take 20 pills a day, any decrease is an improvement. I know it has been for me.
Additionally, these pills aren't huge. They are a standard capsule size.
I've been happy with FibroAid so far and I will continue to use it. It's definitely worth trying. Chances are there's at least one thing in it that you aren't already taking and that may be helpful to you. The vitamins included can help decrease pain, stiffness, inflammation, fatigue, and fibro fog.
You should definitely discuss FibroAid with your doctor before trying it, especially because it contains 5-HTP, so that they can make sure it won't interfere or interact with other medications you are taking.