Stress has long been a major cause for migraines, for me. But, light is often just as guilty. Whether it was the florescent lights I was forced to deal with while in school, or even the bright sun when I don't have on properly tinted glasses.
I'm really happy to say (and I may be jinxing myself in doing so) that my migraines have been much better since I finished school. There are some theories about the building where I spent the bulk of my time during those last few semesters and "building sickness." It's an old building with a lot of issues and it wouldn't surprise me at all if that building (along with the stress of school) was increasing my migraines.
How Wearing Rose Colored Glasses Has Decreased My Migraines

I also believe that light was a huge trigger and in the last few months I've been wearing Theraspecs Rose colored glasses to help block the blue light that can cause migraines.
Light is a huge trigger for me. The migraines increased in intensity and frequency shortly after starting back at school and it was around that time that my eye doctor opted to give me a prescription for glasses.
My vision was just barely off 20/20, not enough that she would normally even prescribe glasses but given the migraines I was having it was worth a shot. They did help, but I really think it was less about that slight decrease in vision and more about the glasses reducing glare and cutting the light.
Last year when I switched to transition lenses things improved more. Transitions are darker by default than normal lenses. Even with the transitions, though, I still had a lot of migraines that last semester of school, and I often wore my sunglasses indoors.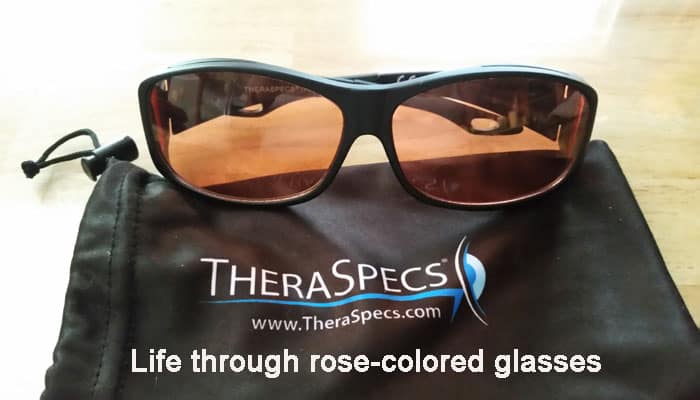 I wish I'd known then what I know now. Heck, I wish Theraspecs had approached me a year earlier to try their glasses. Instead, by the time I finally had the opportunity I was down to only a migraine or two a month. Of course, as timing would have it, they arrived just in time. Stress is definitely a trigger, and mom's surgery was pretty stressful. So, I spent that week with a migraine. Hospital fluorescent lights are, of course, wonderful for migraines as well. Thankfully, the Theraspecs arrived that same week, giving me a really good chance to try them.
What are Theraspecs?
Theraspecs were created by Hart Shaffer, as an answer to his wife's migraines. They'd learned that certain light wavelengths cause migraines (florescents being a huge culprit) and that tints block those wavelengths. After finding the right lenses the next issue became creating a frame that would fully cover the eye. This has been an issue for me, and my current pair of sunglasses are HUGE to block as much light as possible. Believe it or not, the Over-RX Theraspecs are even larger and I can wear them over my sunglasses. The pair they sent me are meant for indoor uses, to block out florescents but they also make outdoor lenses for those who are affected by sunlight. When migraines hit me all light is a problem.
So, yes, my friends made fun of me for wearing "sunglasses" over my sunglasses, but it helped. Indoors I noticed an immediate difference as well. Things just seemed clearer somehow and less glare-y. It doesn't hurt that they kind of give the world a rose-colored tint. Hey, we can all stand to look at the world through some rose-colored lenses on occasion.
Sometimes looking at life through rose-colored glasses is not just a good thing, it's necessary. How rose-colored glasses knocked out my migraines.
Click To Tweet
The point is that they helped. They cut the insane light that was otherwise making the migraine worse, and they actually reduced the pain so that I could deal a little better.
The info on Theraspecs website suggests that you wear your Theraspecs all the time to block the potential trigger for a migraine.
"When worn regularly, TheraSpecs can reduce the frequency of migraines by filtering out the light most likely to trigger an attack. – Theraspecs.com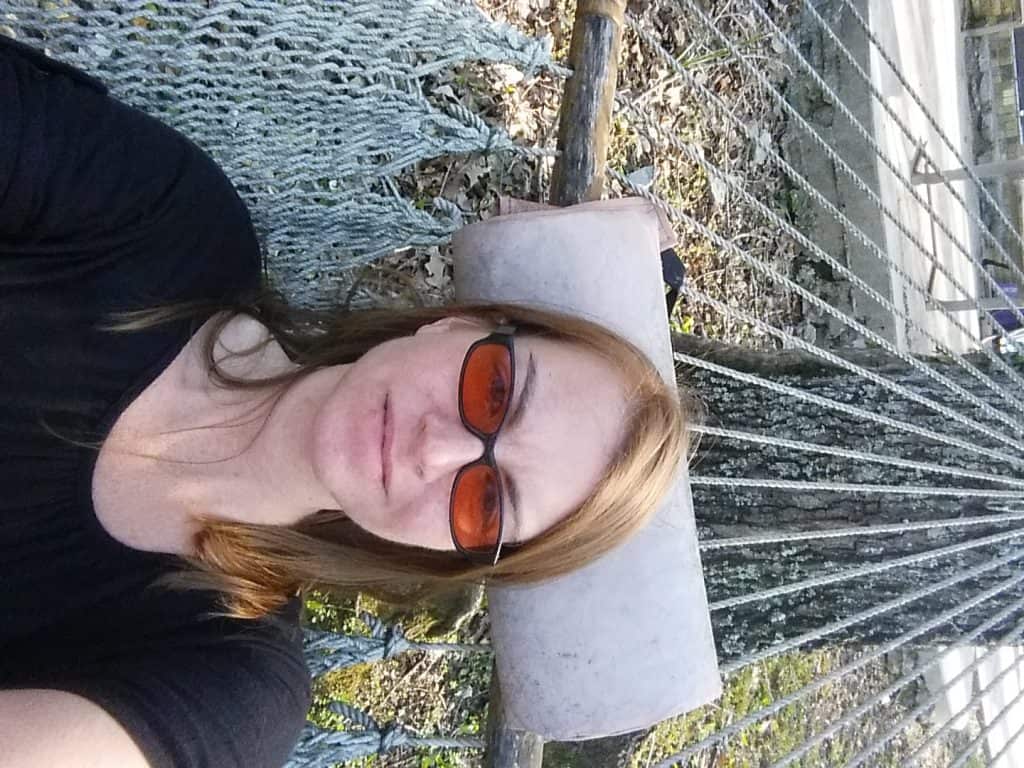 Do Theraspecs Work?
After giving this sample pair a try I was pretty sure that wearing them full time would help me. When my new prescription came in I opted to send it over to Theraspecs to be filled, ordering Theraspecs in my prescription in frames I already had. I ordered both an indoor pair and an outdoor pair.
Since I began wearing these regular (I pretty much always wear Theraspecs now) I've definitely had a reduction in migraines, as well as general eye strain. Wearing Theraspecs is akin to using the blue light blocker on your phone or tablet. I can't do both. So, when I'm laying in bed before I put my glasses on I need the blue light blocker on my phone or I'll end up with a migraine. However, if I have Theraspecs on I can turn off that blue light blocker. So basically wearing Theraspecs is like having a blue light blocker for everything.
Theraspecs are awesome. There are a few places I can't wear them easily… I don't do well in the dark with them. Sometimes I forget to grab my clear glasses and it leads to funny comments. I forgot and wore them when we went through a haunted house last year and several of the characters asked me why I was wearing sunglasses at night. The tint can make it difficult to see well in dark places. The blue light blocker will also mess with 3D movies, so I have to remember to wear my regular glasses for those.
Theraspecs also offers a 100% money-back guarantee. They get that rose-colored glasses aren't for everyone – no really they understand that everyone's migraines are different and we all have different triggers. So, Theraspecs might not help you. But, if light is a trigger for you, or if you are really photosensitive when you are having a migraine attack Theraspecs might help, and they want to do that. So, you can try the product and if it doesn't work you can get your money back. They offer Over-RX frames (like they sent me) if you currently wear glasses but want to give these a try. If they work for you, you can even order Theraspecs in your prescription (something I will likely be doing the next time I order glasses), and they have a pretty large variety of frames to choose from.
Update April 2021: I can honestly and thankfully say that I've experienced very few migraines in the last few years. I attribute this to a few major changes that greatly reduced my stress levels. However, before I was able to reduce migraines by controlling stress, I'd already decreased them with the help of these rose-colored glasses from Theraspecs. As of my last prescription update I've not been wearing Theraspecs. I wish I was, but transitioning to bifocals made getting the proper measurements a bit more difficult. If I could get Theraspecs through a local optometrist I definitely would.