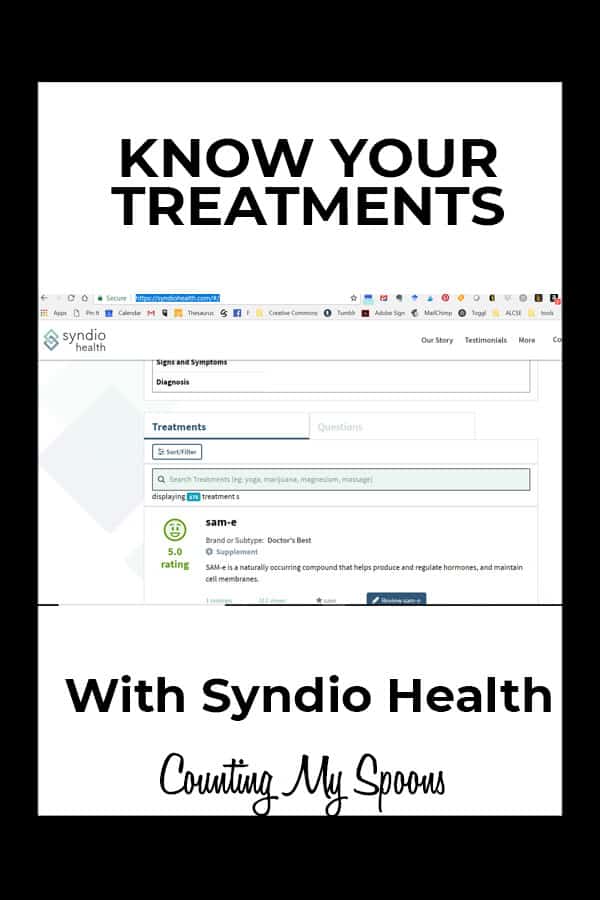 I first told you about Syndio Health back in May, when they were originally supposed to launch. As often happens when something is being created from scratch, their launch got delayed. Syndio Health launched in July and now that the website is finally available I'm even more excited.
I've been working to help develop the Syndio Health website since the beginning of the year. It's something I'm really proud of because I think that there's a need for what we've created. Rob Castellanos, the creator of Syndio Health, is just like any of us. He lives with chronic illness – Ankylosing Spondylitis – and he's gone through the stress of trying to find treatment options that could help him only to hit roadblocks and websites created just to push a drug. In the end, it was through the online communities that he found help, so he wanted to make that process easier.
Syndio Health is a website with one goal – to make it easier for all of us to share and find what has worked. Right now the website is focused exclusively on fibromyalgia, but more illnesses and treatments are coming. Of course, the website is new so there may be glitches here and there as they work all the bugs out, but they are listening they want your feedback.
Check out this video where Rob and I chat about my experience with fibromyalgia and Syndio Health.
Generally, we get info on treatments in one of two ways, either from a doctor, or by word of mouth. The doctors tell us what they think we should try, often focusing only on medications. And with worth of mouth we usually get the experience of one (maybe a couple) of people who have tried a treatment. The goal of Syndio Health is to take the experiences of many patients with fibromyalgia and aggregate their experiences, so that you can see while Susie had a great experience with that medication, the general population doesn't. Or, while Rob had a horrible experience with that treatment, it works for most people who use it.
I've already shared reviews on Syndio Health for about 50 or so different treatments that I've tried over the years. And that's less than a third of the number of treatments that are out there for the various symptoms of fibromyalgia. Everything from acupuncture to zolipidem (that's ambien, btw).
The website is pretty easy to use – something I felt was absolutely necessary as it's already hard enough to find information we seek. To find reviews for treatments all you have to do is visit Syndio Health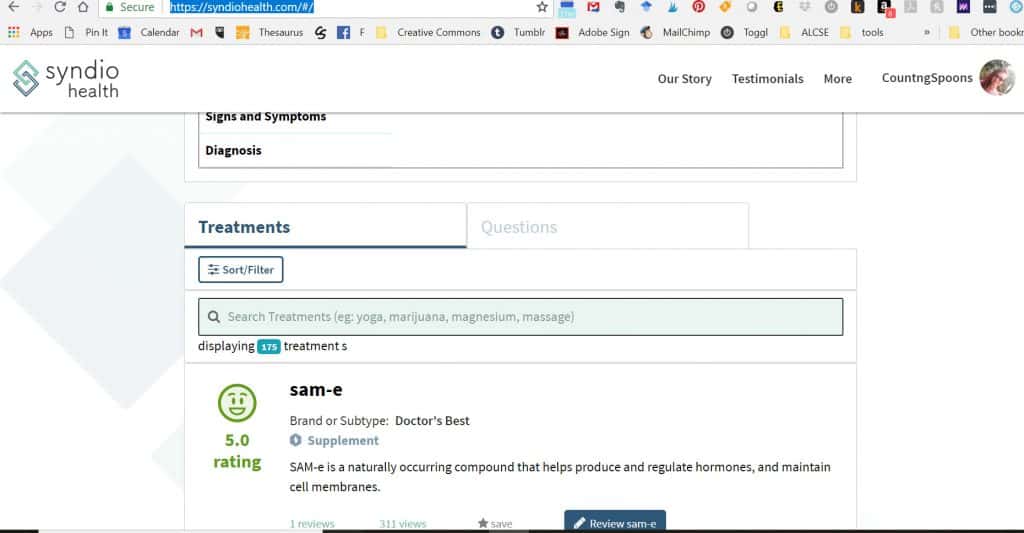 From there you can just scroll through the different treatments, or you can search the treatments. You can search for a specific treatment or a type of treatment (medication, therapy, lifestyle change). You'll be provided with a brief description of the treatment followed by an reviews that have been posted for it.
If you'd like to participate further and share your reviews, you just need to register (top right of the page). You can choose how much of your info to share in your profile. Then, just search out the treatments you've tried and click the button to review the treatment.
You can also  sort and filter the treatment using several options, showing you just the top reviewed treatments, the treatments with the most reviews, and most views, or filter the list to only show you a specific type of treatment (like lifestyle changes or therapies.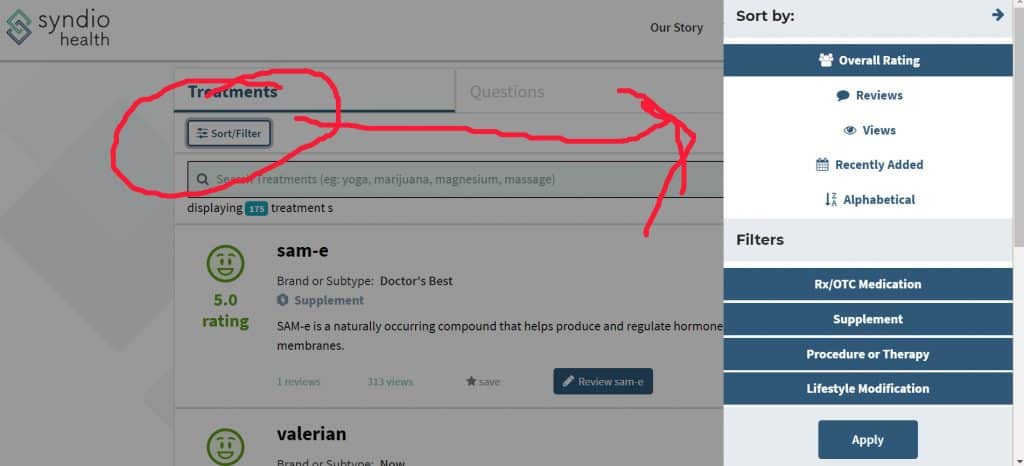 I think you'll find Syndio Health to be an excellent tool in your toolbox to help you know your health. Jump in and share your experiences to improve it even more and to help others who are looking for the experience that you've already gained.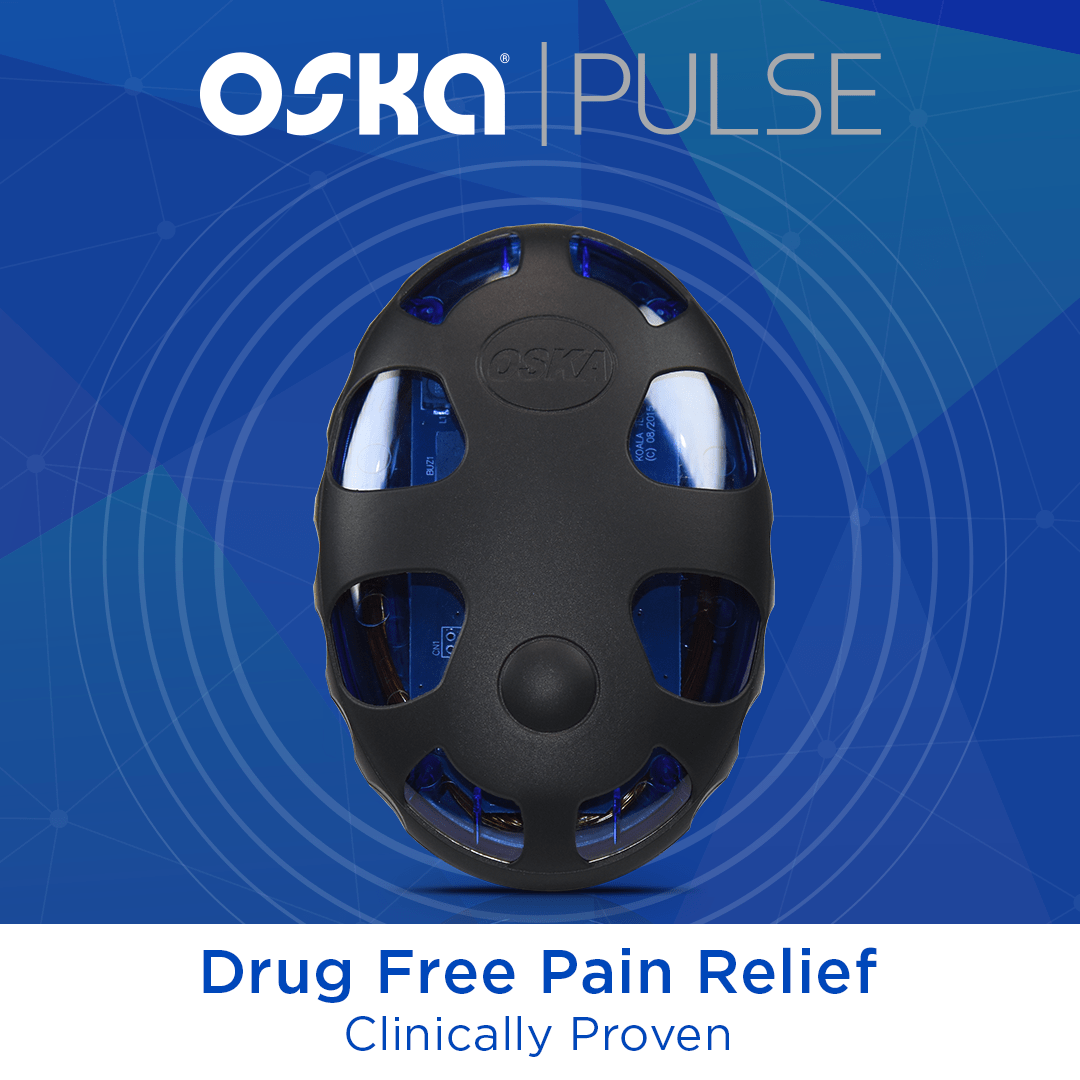 (Visited 212 time, 3 visit today)