I don't know about you but for me life gets overwhelming sometimes. There is so much you want to do and often so much you need to do that it can feel like it will never happen. At least that's how it is for me. This summer I've been feeling overwhelmed a lot, between keeping up with writing, plus taking a class and working an internship so that I can finish my degree. I really over-estimated myself when I committed to my summer plans (or I really underestimated the number of hours I needed to put in on my internship).
These days I often find myself looking at my to-do list and thinking that there's no way I can get it all done. I mean I can eventually, but certainly not today. Then I ask myself why did I put so much on my plate and do I really need to eat it all? No, I don't. I'm the one who made this to-do list so I can unmake it and perhaps that's what I should do.
I think that most of the time we feel overwhelmed it's because we feel out of control, but the truth is that we do have control. We can choose what we are going to do, and what we are going to focus on. And, sometimes that might mean starting over, wiping the slate (or to-do list) clean and starting from scratch.
Life can get overwhelming and sometimes you just really need to start over.
Click To Tweet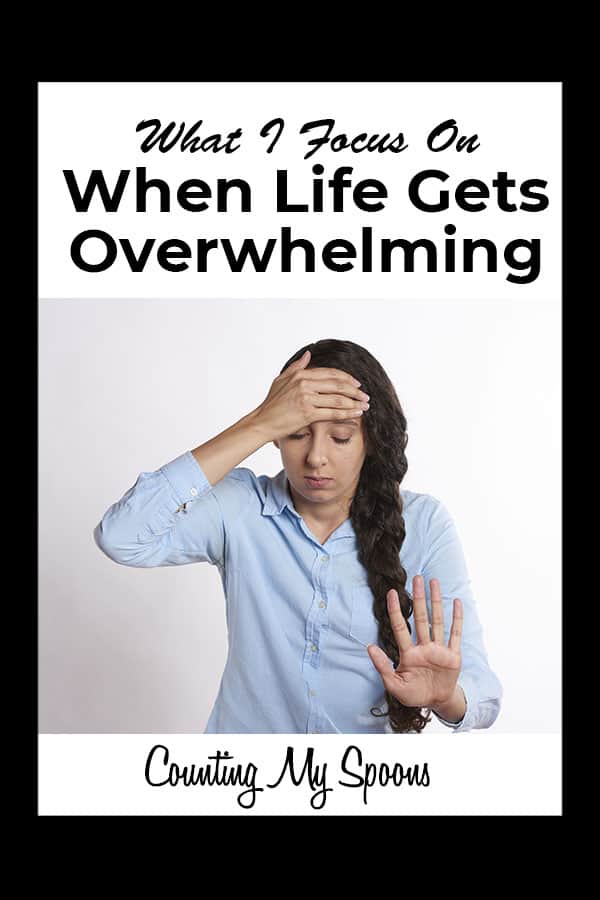 I'm realizing that there are three basics of pacing that I've not been following lately, and I need to get back on track. Here's my plan of attack:
Start Over. For me that means literally deleting everything I can from my daily task list and then asking myself what do I really need to do each day. Often my task list is full of blog post ideas, articles I want to read, and things I want to research that get pushed aside day after day. If I am continuing to push them to the next day it's likely they don't really need to get done at all. As a writer it's good for me to keep a running list of topics but that doesn't mean they need to be on my daily task list, they just need to be accessible.
Having my to-do list filled with things that don't really NEED to get done just leaves me feeling overwhelmed and guilty for not completing the task.
Say no. I used to be pretty good at saying no, but as I've felt better I've started saying yes again –a little too often. This adds tasks to my to-do list that need to get done because I've promised someone else. If I'd just said no in the first place there would be one less task to worry about. It's ok to say yes occasionally, but I need to weigh each new task against what I'm already doing. I also need to be careful not to say yes to more than one thing at a time. Until I know how the latest task is going to affect my energy, I can't say yes to another.
I also need to remember that there should be no guilt attached to saying no and doing what's best for me and my body.
Minimize. I was good at this for a while, too. I'd keep my task list limited to no more than three projects each day. There might be more on my list just because of small tasks that I try to do daily, but I would limit the larger projects. This allowed me to focus my energy better and also to reserve it so that I didn't find myself on the fatigue roller coaster.
It's ok to minimize and prioritize my energy use. It doesn't all have to get done today.
It's ok to minimize and prioritize my energy use. It doesn't all have to get done today.
Click To Tweet
Now that I've written it all out it's time for me to take my own advice and go clean up my task list. All those article ideas can get moved to a file somewhere. I may need to make a call or two and resign from a couple of commitments, but most of all I know I need to minimize and get back on track with proper pacing.
Related Posts: