Being vulnerable (or rather the inability to be) is probably one of my greatest weaknesses. There is a great risk in being vulnerable; one that I've taken in the past with very bad consequences so it makes me shy of taking that risk again.
I'm not very open about myself, even with those I would call my best friends. I don't talk about myself much. I don't share much. I'd rather listen, but there are times when I do want to talk, when I want someone to listen to me. When I want to be heard.
There are voices screaming out in my head "Someone please hear me!". I just want someone to ask the right question because I won't just come out with it. I want someone to really see me and see that I need help, but my mask works too well, even for those who know me best.
At least that's what I have to believe, because if it didn't work so well they'd see that I need help. They'd ask how they could help me. They'd offer to listen. I write this through tears and with the knowledge that even if they offered I'd likely still hold back, because that's what I do. Because I fear being vulnerable.
Being vulnerable (or rather than inability to be) is probably one of my greatest weaknesses.
Click To Tweet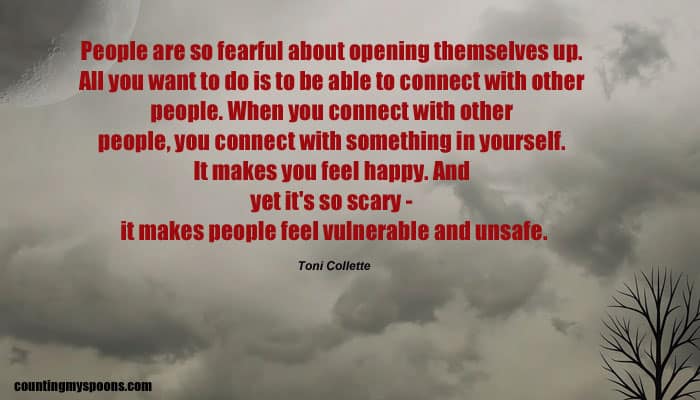 So, why do I have such a hard time opening up to people? Because I've had too many experiences of being burned. Of opening up and sharing my truth only to have it used against me, to have it shared beyond the circle of trust that I thought existed, to have the truth twisted in ways that I still can't imagine. A few examples:
– In 8th grade there were several girls that I thought were my friends. One of those girls got me on the phone one night and started talking negatively about another one to get me to do the same. I fell for it only to find that the girl we were talking about was on the line as well.
– In 10th grade I told the girl that I thought was my best friend that the boy was "going with" and I had almost had sex. I stopped things and sent him home. This was right before Christmas and the boy was going out of town.
When we returned to school he wouldn't speak to me. I thought it was because he was mad I stopped things.
I found out about 4 years later when I ran into him after we'd both graduated and matured a bit that the girl I thought was my best friend had twisted the story and told people that I said he'd tried to rape me. He did not, in fact he'd been a gentlemen even as he left.
I learned later that that was just one of many lies she told about me, many of which are still believed and spread. I heard about one from my now husband who just happened to work with a girl I went to school with.
– Also in high school I told a boy I liked a secret that I didn't want anyone to know. I have no idea why I told him. He used that secret as ammo and held it over my head to get me to have sex with him.
He continued to hold it over my head every time I tried to break up with him. The threat was telling my mother said secret… then the threat was telling my mother that we'd had sex. He eventually did both.
Those are just some of the bigger examples of times when I've allowed myself to be vulnerable and trust in people only to have it thrown in my face. I know those examples were long ago (over 20 years) but they still hold power over me and they are still the reason I don't trust people, the reason I don't allow myself to be vulnerable.
I'm sure we all have a few examples like this. I don't know many people who really allow themselves to be completely vulnerable. But, I do know that holding it in, holding in the truth, holding in the feelings, not talking about things serves no good purpose. It leads to depression, it leads to loneliness, and, in the end, it leaves us alone.
But, how do we break the cycle? How much do you share without stepping over a line? Obviously you don't share everything with everyone? But, how do you know who to share what with? How do you have boundaries and still be vulnerable?
Related Posts: