I posted a couple of months ago about a survey of Fibromyalgia patients regarding which medications worked best. Marijuana was reported to work better than any of the major three approved Fibro medications; this isn't surprising really when you consider how well those three DON'T work. I thought I'd do a little more digging to see if I could find any actual medical studies on the use of marijuana for Fibromyalgia.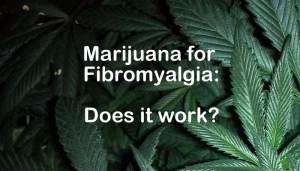 What I found was a Spanish study published in 2011; the study used multiple surveys to evaluate Fibromyalgia patients based on marijuana use and symptoms and compared those who did use to those who did not. The study was fairly small with only 56 patients completing, 28 marijuana users and 29 non-users. There were no statistical differences between the two groups based on demographic or clinical variables (similar levels of co-morbid health issues, and other treatment variables).
Patients were asked to record the amount, form, and frequency of marijuana use. They recorded their past use, as well as treatment changes. Their symptoms, and perceived benefits from cannabis use, were recorded both before use and after 2 hours of use. Three other questionnaires were used to compare quality of life between cannabis and non-cannabis users, the Short-Form Health Survey, the Fibromyalgia Impact Questionnaire, and the Pittsburgh Sleep Quality Index.
Of the 28 cannabis users, 20 had never used marijuana prior to using it medically, and 11 had been using it less than a year. 46% of those using medical marijuana chose to do so only by eating it (rather than smoking it, or a combination). 12 of the patients used it daily, while 11 reported using 2-3 days a week. 19 patients reported a reduction in pharmacological treatment since they began using cannabis. All associated symptoms showed improvement with 2 hours of cannabis use (it's not clear how much they are ingesting in this period, or if this is just 2 hours after dose). 81% reported improvement in sleep issues, 14% reported improvement in headaches; perception of well-being was also much higher after use. The most common side effect reported was …. sleepiness. The questionnaires reporting mental health aspects showed higher mental health scores among those using cannabis, however no difference was shown on the Fibromyalgia Impact Questionnaire.
Obviously, this study has some issues in that it relies on self-selection, and self-reporting; however, the report that few of the cannabis users were using prior to trying it for medical purposes and they found it helpful does lend a bit of validity to the idea that it works. That combined with other reports (like the survey linked at the top of this post) lead me to believe that legalizing marijuana for medical use would be a very good thing for those of us with Fibromyalgia, and many other conditions. I know some have major concerns about the negative impacts of smoking marijuana, the risks of it being around others who should not be using it, etc. There are many ways to take cannabis without smoking it, avoiding any negative effects on the lungs. As far as having it around children or others that should not have it, that's not different than any other medication that should be kept safe. Medication safety is an issue, and should be a concern, for all types of medications, especially if you have children in the house.
References
Fiz, J., Durán, M., Capellà, D., Carbonell, J., & Farré, M. (2011). Cannabis use in patients with fibromyalgia: effect on symptoms relief and health-related quality of life. Plos One, 6(4), e18440. doi:10.1371/journal.pone.0018440
Related articles across the web
(Visited 3,957 time, 2 visit today)