CBD Oil for Sleep
Despite all of the improvements I've made over the last few years sleep continues to be an issue. I've tried a lot of things and some of them worked a little, helping me fall asleep easier for a time. But, they never seemed to last. Usually within a few weeks my body grew accustomed to the new supplement and my sleep issues were right back where they started.
In the end I was relying on muscle relaxers to help me fall asleep, and even then staying asleep was often an issue.
As I've tracked my sleep patterns over the years, I have found a few things I can "blame" (but only in part) for my sleep issues. Food is one. Eating highly acidic or spicy foods at dinner time will often keep me up at night. Something as simple as pasta with tomato sauce, or just a glass of wine, can have me waking up throughout the night. On the other hand, those same foods might not bother me on a different night. It seems to do with combinations of foods and the timing (how close to bedtime). However, I think I've finally found an answer…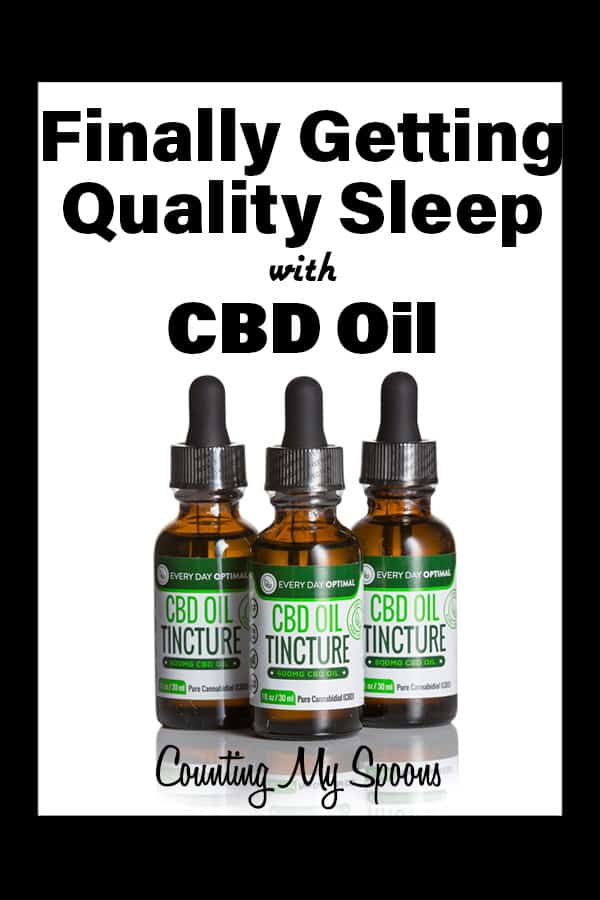 CBD oil is the best thing I've found for sleep.
Cannibinoid oil (CBD) has undergone both a lot of research and a lot of scrutiny. CBD is one of two main chemicals in marijuana. CBD is the chemical that provides both stress and pain relief benefits of marijuana (basically all the good stuff) and THC is what creates the high feeling.
The legality of CBD oil varies from state to state (and even county to county within states). The 2018 Farm Bill legalized CBD oil from Hemp at a nationwide level in the US. However, some municipalities have continued to forbid sales. Here in Alabama I know we have two counties that don't allow CBD sales. That said, everywhere else CBD stores are popping up like Dollar Generals on every corner.
It's important to understand that CBD oil from hemp is not the same as marijuana. Hemp is a very close "cousin" of the marijuana plant, bred to remove the THC. Marijuana-based CBD oil is still illegal anywhere that marijuana isn't legal. So, it's important to know what you are buying and make sure you are getting CBD oil from hemp, if you are not in an area where marijuana is legal.
Big Pharma has been working to create synthetic cannibinoid medications as well. A study by Ware, Fitzcharles, Joseph, & Shir (2010) compared the effects of a synthetic CBD medications to amitryptiline on sleep among fibromyalgia patients. (Amitryptiline is a common antidepressant used to help improve sleep in fibro patients.) The synthetic CBD medication outperformed amitryptiline on sleep improvement.
Another study by Chagas et al (2014) looked at the effects of CBD oil on REM sleep disorder. REM sleep disorder is associated with night terrors and active behavior during dreaming (brings to mind night terrors).
While this study was small they found that the patients had "prompt and substantial reduction" in REM sleep disorder events. Unfortunately, there hasn't been a ton of research on this, but personal experiences seem to indicate that what these two studies show is true.
With most CBD oils on the market there are very small trace amounts of THC still in the oil. This is a result of the extraction process. Even CBD oil from hemp may have tiny traces of THC, but it is low enough that it shouldn't register. Again, know the source of your CBD oil, if you are at all concerned.
CBD oil for improved sleep!
I first tried CBD oil about three years ago and saw the effect almost instantly. Within just a few nights of taking a single dose of CBD tincture before bedtime I was falling asleep within minutes (instead of hours) and sleeping through the night. The best part is that it didn't stop. Three years later and I continue to sleep well as long as I'm using a high-quality CBD oil.
I specify high-quality because I've tried a few that are anything but. When that happens I know it within about two nights because suddenly I'm not sleeping well again.
My current preferred brand of CBD oil is the 1000mg tincture from Every Day Optimal. I've been using this one primarily for about two years now. I worked my way up to 1000mg starting with 500mg a few years ago. If you are new to CBD oil you may want to start with a lower dosage and increase slowly until you find the point that provides you the most benefit.
The first product I tried suggested what would have been the equivalent to about twice what I'm currently taking. I never needed that much, and still don't. But, your needs may vary.
Understanding CBD oil tincture dosing
CBD dosing is weird. I didn't really understand it until the owner of a local health food store explained it to me. Tinctures are usually labeled in mg, but to understand what the actual amount of CBD oil is that you are getting in a dose you have to divide the mg by the size of the dose. So, if a dropper is 1ml, the dose you are getting is 33mg of CBD oil. If it's a 1000mg tincture with the same size dropper then you are getting 66mg of CBD oil per dose.
You can increase the dosage by taking more. So, if it's listed as a 500mg tincture you could technically double the dose and it would give you twice as much, you'd just go through the bottle faster.
Pricing also tends to increase with the higher mg tinctures. If you are just starting out, I'd suggest starting with a lower mg tincture and just increasing the dosage until you see where you need to be. This way if you need less you can buy the cheaper tincture. However, if you find you are needing to take more it's probably worth it to buy the higher dose. This is one of the main reasons I prefer Every Day Optimal, because they have more options on tincture dosage. They also tend to have really great sales that are just hard to pass up.
During the last year I've also tried a few other brands that I found work equally well:
Frida Bontanicals offers a 15ml bottle and a 30ml bottle. Both are listed as 500mg tinctures. When I tried the product they only had the 15ml bottle, which meant I needed to to take two droppers to get the dose I was used to. This is a newer product created by Dr. Ginevra Liptan, a doctor who not only focuses on treating fibromyalgia patients, but also has fibromyalgia.
Vital Plan Select also offers two options. They offer both a 500mg and a 1000mg tincture, both in a 1oz (30ml) size. My favorite CBD product from Vital Plan Select, though, is their muscle rub, which they provide in an awesome convenient stick, making it easy to apply without getting your hands greasy.
FibroAid CBD currently only offers a 600mg tincture in a 30ml bottle. What sets their product apart is two things. One, they've added 100mg of Tumeric oil to the product providing added anti-inflammatory relief. Second, while most CBD oils are flavored with peppermint (because straight CBD oil doesn't taste great), FibroAid CBD is vanilla flavored. (FYI: You can save 30% on your order of FibroAid CBD with code – julie)
I don't mind the peppermint flavor, but I know a lot of people who really hate it. That said I really like the vanilla flavor of the FibroAid CBD and it's almost like a little dessert before bed.
I know these aren't the only great products out there, and several of you have reached out to tell me about the products that are in love with. I will continue to take chances and try different CBD products and report back to let you know which ones I love.
Related Posts:
References:
Chagas, M. H. N., Eckeli, A. L., Zuardi, A. W., Pena‐Pereira, M. A., Sobreira‐Neto, M. A., Sobreira, E. T., … & Tumas, V. (2014). Cannabidiol can improve complex sleep‐related behaviours associated with rapid eye movement sleep behaviour disorder in Parkinson's disease patients: a case series. Journal of clinical pharmacy and therapeutics, 39(5), 564-566.
Ware, M. A., Fitzcharles, M. A., Joseph, L., & Shir, Y. (2010). The effects of nabilone on sleep in fibromyalgia: results of a randomized controlled trial. Anesthesia & Analgesia, 110(2), 604-610.
(Visited 862 time, 9 visit today)