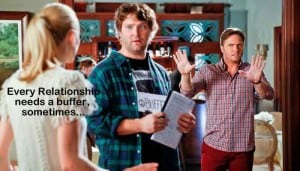 Relationship issues have been in the foreground of my mind lately, so today's Sunday Inspiration post has been inspired by three posts on handling relationship conflicts. We've been in counseling for several months now and if there's one thing I've learned it's that I can't focus on what I'd want him to change, all I can focus on is changing myself, how I respond, the words I use, and how I listen, and hopefully in doing so we'll communicate better. Yes, we both have to work at it, but I can only control what I can control. The three posts that inspired me today all deal with this subject of resolving conflicts when dealing with chronic illness.
In Resolving Conflicts When a Partner is Chronically Ill, Toni Bernhard wrote:
"Couples may benefit from counseling, one of the principal reasons being that the presence of a neutral party in the room can facilitate more calm and constructive communication."
She goes on to share several techniques that a counselor would teach us to help us better resolve conflicts. "I versus You" messages is one that I've really been working on.
Use "I" statements instead of "You" – Making "you" statements like "You didn't do the dishes.." or "You make me feel…" place blame and create an environment of anger, where the other party is instantly on the defensive. Using "I" statements like "I feel hurt when you don't do the dishes like you promised." or "I feel guilty when the dishes don't get done, will you help me…" avoid putting your partner on the defensive and allow them to want to help you.
Along the same lines, Helena at ChronicMarriage.com posted How You Respond Makes all the Difference.
"Why then do we so often make our spouse the target?

Because it's easier than owning up to our real feelings.

We don't speak lovingly or honestly because we fear being vulnerable.

We don't have enough courage to disclose our deepest struggles and fears; things like I've lost control over my body, I'm afraid of the future, I'm afraid you'll leave me, I can't live with this pain, I see no hope in sight, I'm afraid I'll never get better, I'm angry you're healthy and I'm not, I'm scared we'll go broke, I dread the future or fill in the blank…"
This one hit me pretty hard and pretty close to home. I think it's true for most of us that we take out our pain the most on the people closest to us, the ones who spend the most time with us. They are the ones who suffer our jabs, our anger. Even though it's not them we are really mad at, it's the pain, they are the easy targets. And, they shouldn't be. These are the people we love the most. So, we need to try to remember to put ourselves in their shoes occasionally. Be honest about our pain with them, but don't take it out on them. By being honest with them and openly discussing what we are going through they can help us more. However, attacking them because they are the closest target only hurts them and our relationship.
Last, but not least, Helena shared Time to See a Counselor?
"My husband and I found ourselves in one of these dark places about three years into our marriage. My illness was progressing and I couldn't bring myself to face it let alone do anything proactive to manage it. Anytime Jeff would offer a suggestion, I would dissolve into a puddle of shame and denial. It was clear we needed intervention.

Being a counselor myself, I know firsthand the benefits that come from having a competent professional speak truth and grace into a life. Unfortunately, it's not always a clean or easy process. Sometimes it takes digging deep and wading through some pretty murky waters before experiencing a breakthrough."
It's nice to know that even a counselor occasionally needs a counselor to get them through some dark times. Sometimes a third-party is the only way to communicate. Sometimes, you just need a buffer. Sometimes a third-party who is listening without being involved can interpret and help you both communicate. I know that's been the case for us. In Helena's post she shares some great tips on choosing a good counselor and the various options available from your pastor to a Psychiatrist, and what questions to ask them. We are on our second counselor now and I'm hopeful that once we all get used to each other he will be able to really help us avoid some serious pitfalls.
[Tweet "Caution: Chronic Illness May Cause Relationship Conflicts!"]
Related articles across the web