Watsu for Fibromyalgia pain relief!
When I was diagnosed with Fibromyalgia, my doctor recommended water-based physical therapy. I had no idea what that meant and assumed it was just water aerobics. Luckily, I was wrong. Shortly after beginning physical therapy I was introduced to Watsu, a type of massage that is quite different.
Performed in a pool of warm water, this massage was often the only thing that gave me any relief during my worst days of Fibromyalgia. Most people are aware that a warm bath can help ease many aches and pains.
While cold water may cause you to tighten up your muscles and add tension, a warm (or hot) bath can help you relax muscles and decrease tension. Watsu takes the idea of a relaxing warm bath up a couple of notches.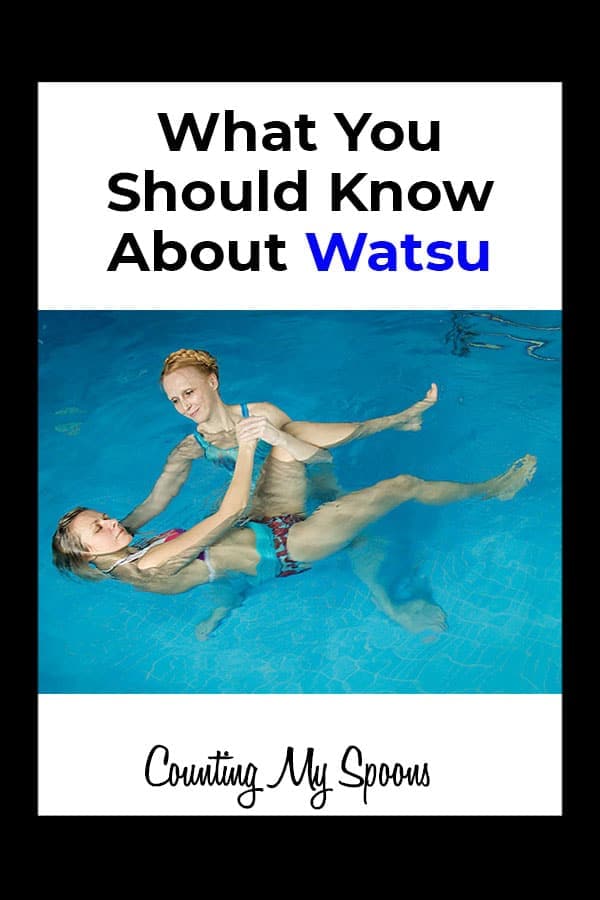 What is Watsu?
Watsu is a type of massage given while floating in a pool of warm water.
The water is typically at body temperature so that you as you float you can actually "melt" into the water in a way that makes it at times hard to tell where the water ends and you begin.
The term Watsu comes from the combination of the words "Water" and "Shiatsu". Shiatsu is a type of massage where the massage therapist applies pressure to various pressure points throughout the body to help relieve stress.
Watsu takes the basic idea of Shiatsu (pressure points) and takes things a step or two further by taking you off the massage table and putting you in water.
What Should You Expect?
During the session, the massage therapist will support you while allowing you to float. They may use floatation devices at your knees or back, or they may simply support your neck in the cradle of their arm while you float naturally. The natural movement of the water and the quiet environment aid in relaxation.
Typically, the massage therapist will start by gently moving you back and forth in the water, allowing your body to gently and naturally release tension, and allowing your spin to elongate and stretch. Your joints will also loosen and be able to move more freely.
Unlike other types of massage there is no set routine that the therapist works through. There are close to 400 different movements and positions that can be used to guide the body through a form of gentle relaxation.
The therapist works with each client individually and focuses on their body's specific needs. Taking into account the clients own verbal description of how they are feeling that day, as well as the body's non-verbal feedback given throughout the session.
On a particularly bad day the massage therapist may only be able to hold you, while allowing you to gently float back and forth with the natural rhythm of the water. While other days they may be able to use more pressure, or a combination of pressure and specific movements to work different areas of the body.
Pro tip! Wear earplugs to avoid the feeling of water going in and out of your ears.
Does Watsu Help Relieve Pain?
Definitely.
If there is one type of treatment I'd recommend to anyone who is dealing with chronic pain of any kind, and especially the pain related to Fibromyalgia, it would be Watsu.
On my worst days it was the only thing that helped. In addition to being relaxing, Watsu increases flexibility and circulation, and opens neuropathways.
Watsu loosens your tight muscles and joints and allows you to move more easily, and can decrease the typical aches and pains that come with Fibromyalgia and other disorders.
Where Can You Find Watsu?
While the use of Watsu is spreading, the availability is still slim in some areas. If you have a spa with a pool you may find that someone there offers he service.
Also, many pool-based physical therapists offer Watsu as part of their therapy services. If provided by a licensed physical therapist it will likely be covered by your insurance as physical therapy.
However, if you receive the service at a spa or in some way that is not covered by your insurance you can expect to pay typical massage prices or higher; an hour of Watsu may run you about $150.
Watsu is a unique type of therapy that many are unfamiliar with. However, if you can find a provider you will likely agree that it is worth the money and the time.
For those of us with Fibromyalgia, we need every option we can find to help us learn how to better relax our bodies and release tension. Check your local spas and physical therapy providers to see if you can find a Watsu practitioner near you.
Related Posts: