Fibro Fog is otherwise known as "mental fog" or "brain fog" since it is not confined strictly to Fibromyalgia. It is common to almost every chronic condition. It comes in a variety of forms, but the key symptom is that your memory isn't working like it should, and your focus and attention are just "off." You live your life feeling like your brain is has a fog surrounding it. Some days it may be a light fog, and other days it is a very heavy, dense fog.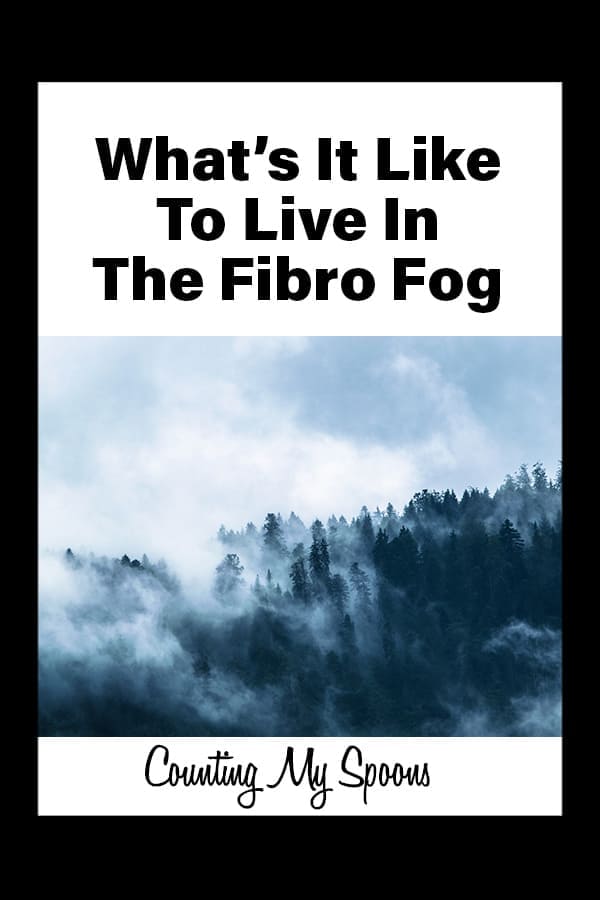 What does Fibro Fog look like?
On a good day: Fibro fog gets in the way of remembering basic words. I could be in the middle of speaking or typing something out and not be able to remember a word as simple as bed. I'll end up going to Google and typing in the full description for it (or asking someone nearby -) "what's that thing that you sleep in?", just to get the basic word.
I still remember explaining this symptom to my husband when I realized it was going on. He thought I was joking with him when we were having a conversation and I asked him "What is that room that we sleep in called?"
Every day brings a new game of Password, and I only hope I have the right partner when I need them. Those closest to me have gotten pretty good at this game. My best friend and I can have an entire conversation without ever using the word we really mean. Others just look at me like I'm an idiot.
Most everyone has those occasional moments where you have a word on the tip of your tongue. This feels a lot like that. You know you know the word, but you can't recall it.
Fibromyalgia: Every day is a new game of Password. That room where you sleep. You mean bedroom? Yes! What's the simplest word you've forgotten?
Click To Tweet
When I'm working with someone new or on any group project, I try to explain this symptom pretty early on because it shows up the most when I'm having to speak "off the cuff." It makes me look stupid as I stand there trying to recall basic things.
As we worked on our group project for my senior Psychology seminar, I wrote the majority of our paper and my partner often commented on how they didn't understand how I couldn't remember words but I wrote so well. Thesaurus is my friend. I keep the link to Thesaurus.com on my browser bar as one of my most used links, because quite honestly if it wasn't right in front of me, I doubt I'd remember what it was called.
Other times it may be worse and you may completely lose the meaning of a word that is in front of you or forget some information that you knew just a few minutes before, even something you've known your whole life (like your parents address or phone number).
I've had times where I've had my toothbrush in my hand and had to think long and hard about what I was supposed to put on it, staring at the items on the vanity wondering which one to use. Or, I've stood in the kitchen with a coffee cup and no clue what went in it. Things that used to come instantly, now leave me grasping at straws.
On a bad day: It's like my brain doesn't even turn on. I'm too tired to think. Even processing a silly tv show is too much trouble. I could stare at paint dry on those days and be entertained, and perfectly happy.
When the pain is bad I'd actually rather be in this kind of fog because then I can't really think about how bad it hurts. On the other hand, on days like this I'm completely useless, whether or not I'm in pain. There may be times when I have to continue about my business, leaving the house, going to school, etc.
It's scary to think about someone who can barely focus driving a car. These are the days where you might hear about a friend who suffers from mental fog doing things like putting their phone in the refrigerator. Or worse, they found themselves somewhere with no idea how they got there. It can feel like you are sleep walking, or waking up from sleep walking at times. It's not just frustrating, it's scary.
Ken McKim put together the video below explaining what it's like to deal with Fibro Fog and he did an excellent job of displaying exactly what we go through.
So what's your
Fibro Fog
story? Have you embarrassed yourself? Found yourself in a place with no idea how you got there? Found your phone (toothbrush, milk, etc) right where you left it (in exactly the wrong place)?
I'd love for you to share your thoughts in the comments below.
Related Posts: