Like many with Fibromyalgia, I also live with IBS (irritable bowel syndrome). I tend to swing between IBS-C and IBS-D. At least that was always the case until I finally found a probiotic that really worked.
For months I would wake up every morning with watery stool, and often repeated occurrences throughout the day. I doubt there's much that a person with IBS envies more than a perfect stool. Unfortunately, for me they rarely happened. They happened so rarely that they were memorable when they did occur. For instance, that one time after a BBQ festival when all I'd had to eat all day was meat. Later that evening a perfect stool. It made me wonder should I just stop eating fruits and vegetables and become a meatitarian? Maybe not.
In an effort to create a healthy gut, to get my stomach to behave, to poop right, to not be bloated, or gassy, I tried so MANY products, including quite a few different probiotics. I found that most probiotics were the same – meaning that they had no perceivable effect on my body. I've run across one or two that seem to calm my stomach down a bit more than others. And, I've run across one or two that seems to make my stomach worse. So, when I was given the opportunity to try Visbiome I was cautiously hopeful. I won't even say fully optimistic but because this product is targeted specifically to those who do suffer from pretty extreme stomach issues including ulcerative colitis and pouchitis I figured it was bound to help IBS as well.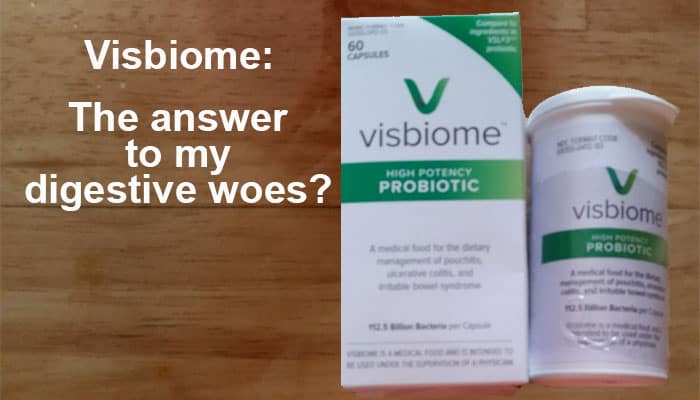 This is not your typical probiotic that you can pick up at the drugstore. In fact they advise that it be taken under the watch of your doctor. They don't even provide standard dosing instructions to patients, but rather hide those away on a page specifically for doctors.
The first huge surprise with this product came on arrival when I found a small cooler sitting on my doorstep. What's this? I'm used to buying probiotics out of a cooler yes, but I've also ordered a few online that were definitely not shipped in a cooler. The product was well packaged and it had definitely been kept at temperature. There was even a temperature reactive card inside to let me know if somehow my cooler had gotten too warm.
I took the bottle to my GI doctor to get his opinion. He took a look and shrugged. His exact words were:
well you know there's no studies that have shown that one probiotic is really better than another. As far as I'm concerned you aren't where you want to be so let's try it."
Well, OK then. I have to give him credit he's used to my preference for non-pharmaceutical options and I think he knows that at no point do I hold out hope that he will find anything more wrong with me than IBS.
So, try it I did. (she says in her best Yoda voice).
The dosing guidelines suggest 2-4 capsules per day for IBS, so I started with two capsules and found that as often happens with larger amounts of probiotics I was a gassy antelope. It didn't feel good. So, I cut back to just one capsule a day. While I had no problems at 1 per day I also had no real benefits (so about the same as the other probiotics in my fridge). So, I decided to try splitting the dosage and taking one in the morning and one at night.
The next morning all I could say was WOW! Look at that s____! It was an impressive perfectly 4 on the Bristol stool scale. But, one time could just be random. So, I tried it again and again it happened.
I wish I could say that it happened every day but that would just be dreaming. It did happen often enough though that I knew it wasn't random. There were still occasions while taking 2 a day that I experienced gas and bloating but about equally often (if not moreso) I experienced gastric calming and perfect poops like I've rarely seen before – and certainly have never seen so often in such a short amount of time.
I've continued to use Visbiome regularly for the last five years now, and have continued to see great results. The longer I took it the more regular I became. These days it's more a rarity for me to experience digestive issues of either type (and I can usually tie it to specific foods, when it does happen).
While there may not be studies to show that one probiotic works better overall than another, I think there's an easy answer for that. We each have a unique microbiome which means we need different probiotic supplementation. The strains that one person needs may not be the strains that I need, or while one person may need massive amounts of a specific strain to keep things in balance I may need massive amounts of a different strain. We are all unique and therefore the way that our bodies react to a specific probiotic is likely unique as well.
If you live with a major digestive issue I can't say that Visbiome will be the THE answer to all your woes but I would definitely say it's worth a try. If you live with digestive issues caused by IBS, IBD, pouchitis, or ulcerative colitis then you should definitely talk to your doctor about trying Visbiome.