We all have people around us that give both positive and negative energy. Some take any energy they can find and absorb it into themselves. These relationships can become toxic, especially when you are already dealing with limited energy.
Thankfully, while there are several types of negative relationships that can drain your energy, there are also ways to deal with those relationships to help you save your energy.
Four relationships that drain your energy
Do you have a friend that you reach out but they never reach back? You are always the one calling and asking them out for coffee or lunch. Do you wonder if maybe they only say yes to be nice?
Is it really worth the time and effort you are putting into a relationship when you are obviously getting nothing in return? It's not.
They may have no ill intentions, they may just not know how to reach out. But, the reality is that type of relationship is draining on the person always reaching out. Relationships need to be two-way streets, with both parties exerting effort into the relationship.
Relationships need to be two-way streets, with both parties exerting effort into the relationship.
Click To Tweet
The Fair-Weathered Friend
Do you have a friend who expects you to be there when they need someone, but never returns the favor.
You listen to their drama day after day, but the second you start talking they pick up their phone or look away like they are bored. Or, they interrupt you in attempts to return the conversation to their topics. These people are toxic to your health.
While you are able to stand being around them occasionally. They may even be fun at times, it's best to limit your involvement with this type of toxic person. Or, better yet, cut them out of your life completely.
If your friend picks up their phone every time you start to talk... they aren't much of a friend at all.
Click To Tweet
The "What About Me" Friend
These friends disregard your needs completely, focusing everything on them. If you don't feel up to getting out they will make you feel guilty about how your illness is affecting them negatively.
Often, these guilt trips will be enough to make you do more than you can physically or mentally handle. When you are chronically ill you have to put your own needs first.
If someone constantly insists that you set your needs aside for their benefit, they are not a good friend. Doing this repeatedly, will make you sicker.
If someone constantly insists that you set your needs aside for their benefit, they are not a good friend.
Click To Tweet
Do you know someone who can walk into a room and instantly suck all the fun and life out of it? Everyone was fine and having fun before they got there, and suddenly there is no energy left in the room.
Often, there will be someone in your life that spending just a few minutes with will make you feel like you've spent hours with them. These are emotional vampires. They feed off the energy of others, leaving you completely depleted and worn out.
Emotional vampires are the absolute worst friends to have when you are chronically ill. If you have someone like this in your life, do your best to avoid them.
If you must spend time with them, prepare for it in advance. Build your energy reserves so that you can survive the time you need to spend with them. Avoid spending time with them alone, the more people who are present the more the energy drain will be distributed, and you won't have to take it all.
Do you struggle with energy draining toxic people in your life?
Click To Tweet
Every one of us has at least one of the above characters in our life. Identifying the people is the easy part. The hard part is figuring out what to do with them once you have.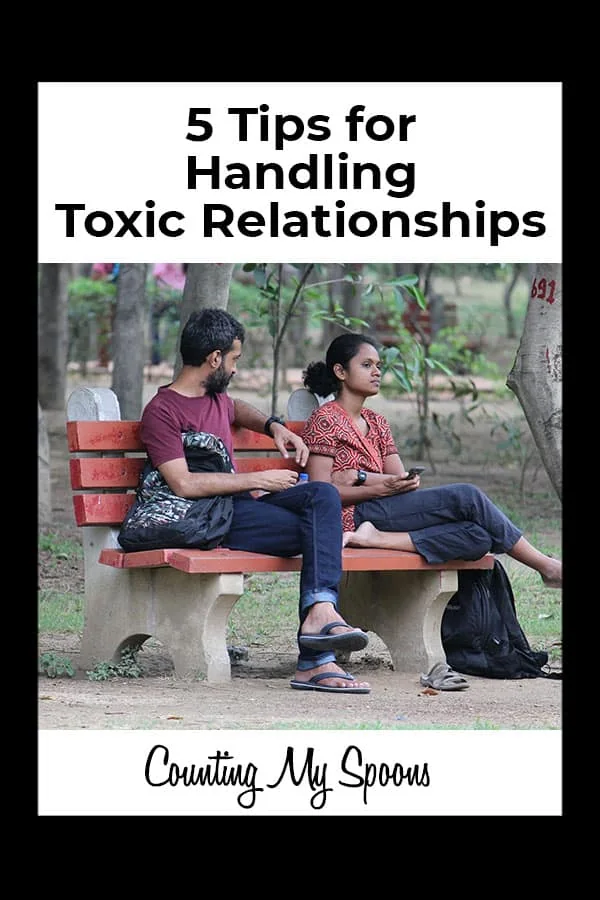 Avoid Them, when possible.
Completely cut them out of your life, if you can. Unfortunately, sometimes these relationships are with family members that can't be completely avoided. However, you can still cut the time you spend with them. If you can to say no to time with them, then say no.
The longer you allow someone to do what they want, the more they will do it. Sit down and write out a list of the boundaries you want with that person, the things they do that drain you. Then talk to them about it, present your boundary list and explain to them that this is what you need to keep a healthy life and relationship.
If you must spend time around one of these energy sucking people, then bring a buffer. Always make sure there is someone else around that can cut the drain on you. Always keep someone else with you, when you spend time with these people, bring along someone who doesn't drain you, but rather gives you joy.
Have an emergency plan in place, a few "outs" ready at hand for those times when you are stuck with an energy vampire. Have something that you suddenly remember you have to do, even if it's just going to the bathroom. Anything that will let you get away from them, even to the other side of the room.
Feel free to vent about these people to someone who will listen. Share your struggles and let them absorb some of your pain. Often, just talking about negative things can make you feel better. And, if you are venting to someone who gives you energy instead of taking it, you get a double boost.
What ways have you found to deal with these draining relationships? What has worked well for you? Please share your thoughts in the comments section below.
5 Tips for dealing with people who are making you feel worse. #energyvampires
Click To Tweet
Related Posts: