23 Best Apps for People with Chronic Illnesses
(guest post by Brenda Kimble)
There's more to your smartphone than leveling up and scrolling through social media. In fact, medical research studies have shown that if you're living with a chronic illness, smartphone apps designed especially with you in mind can help you achieve remission, maintain your overall wellness and cope with your disease.
It's a new tech wave called "mHealth"—that's "mobile health" if you, like us, don't speak medical jargon—and it's only going to keep growing. To get you started on this new digital frontier, here are our picks for the 23 must-download apps for people with chronic illnesses.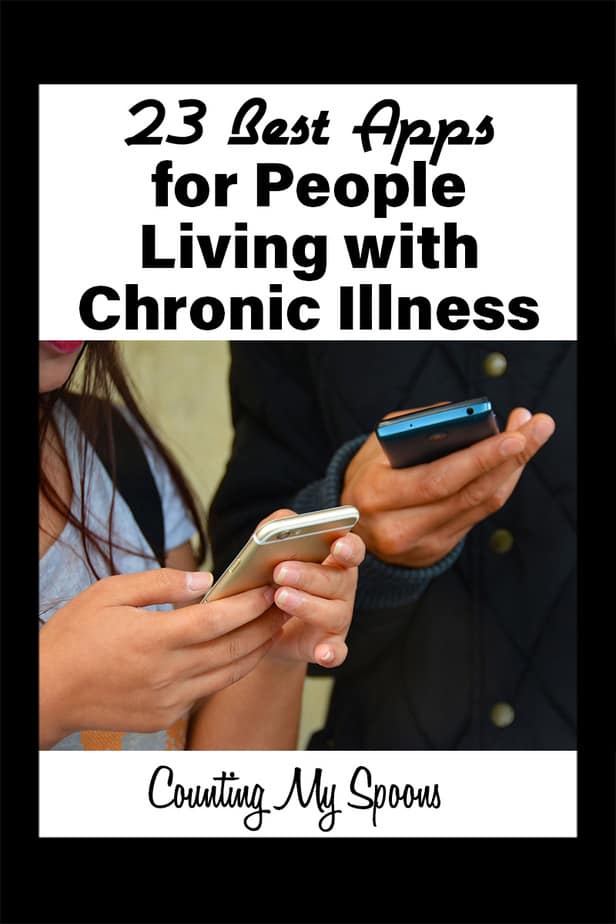 What's your favorite app to help you deal with your chronic illness? In what way does it help you? Click to Tweet
To manage your chronic illness, try apps designed for the disease you're dealing with
Facebook? It's for everyone. These apps, however, are built for niche users with unique needs. Here is a small sampling of the hyper-focused apps designed to help you live with specific chronic illnesses and the symptoms they cause.
To track your symptoms, try Flaredown
This forever-free app lets you keep everything you need in one place. Flaredown tracks unlimited conditions, symptoms and treatments. Charts and graphs allow you to compare your treatments and isolate triggers. It also features built-in weather tracking, for correlating weather conditions with symptoms, as well as a USDA food database for pinpointing food allergies and sensitivities. It's a true best-in-class favorite app for people with chronic illnesses.
Available free for iOS, Android and the web
To get a handle on your mental health, try Moodnotes
Individuals with chronic illnesses experience anxiety, depression and other mental health problems more frequently than the general population. Moodnotes helps you keep tabs on your mental health through a thought journal and mood diary. The app analyzes your thoughts and feelings and gives suggestions to help you correct negative thought patterns using methods from cognitive behavioral therapy.
Available for $3.99 for iOS only
Also try: Pacifica (free for iOS and Android)
To learn how to cope with your chronic illness, try SuperBetter
This app turns improving mental health into a game. In a controlled trial out of the University of Pennsylvania, research indicates that SuperBetter's gamified focus on increasing resiliency and optimism notably improves anxiety and depression symptoms. It's also been shown to help users feel more positively about themselves and their ability to achieve personal goals. Its mission to build grit makes it an ideal app for people with chronic illnesses.
Available free for iOS and Android
Also try: Reachout (free for iOS and Android)
To improve anxiety and sleep better, try Calm
This Apple App of the Year is well-named. Its goal is to help its users feel less anxious, sleep better and live happier lives. Within the app, you'll find guided exercises in four different areas: meditation, breathing, sleep and relaxation. Using all four can help you handle stress better. Decreasing stress levels in your life will bolster your immune system, decrease the impact of certain symptoms on your life and help you handle your illness's twists and turns with a level head.
Available free for iOS and Android
Also try: Sleep Cycle (free for iOS and Android)
To speak with a licensed therapist, try Talkspace
If you, your family or your caregivers are struggling to deal with your chronic illness, talking it out with a licensed therapist might help. Talkspace can connect you with more than 2,000 therapists who specialize in everything from depression and phobias to relationships and eating disorders. It's secure, encrypted, convenient and affordable. Most users report that Talkspace is less expensive than a traditional health insurance copay. Plus, people can give you the gift of Talkspace, making it a perfect present any time of the year.
Available free for iOS and Android, although users must pay for appointments
Also try: 7 Cups (free for iOS and Android)
To keep up with taking and refilling your meds, try Medisafe
For chronic disease patients, taking medications on time—and remembering when to call your pharmacy or your doctor for a refill—is essential to staying well. Medisafe is an app that helps you do exactly that. Plus, caregivers can create drug profiles for multiple patients (or family members), making it easier to keep track of everyone's needs in one place.
Available free for iOS and Android
Also try: MyTherapy (free for iOS and Android)
To make life more accessible, try apps that can help you navigate the world better
There are all sorts of literal and metaphorical road bumps that can make moving through the world (and interacting with it) impossible. Whether you need a little bit of help every once in a while or a lot of help regularly, this selection of accessible apps is a user-friendly place to start.
All our suggestions for apps for people with chronic illnesses are based on recommendations from individuals just like you. They are real app users and people living and thriving with diseases, thanks to these technical innovations. Whether you're working towards diagnosis, seeking to find the right treatment or looking to maintain your current level of wellness, these are all excellent tools to help you get healthy and stay healthy.
About the author:
Brenda Kimble is a writer and caregiver based in Austin, TX. In her spare time, she enjoys blogging to support local causes and connecting with others in her field. Outside of her work, Brenda loves doing yoga, completing new DIY projects around her home, as well as spending time with her husband and three children.
Related Posts: