Gluten-free Keto Belgian Waffles
I had forgotten that I like to cook. I think I go in phases with it and after switching to gluten-free I moved away from cooking quite a bit. Most gluten-free recipes seem to involve endless lists of ingredients and are just complicated. However, my best friends gave me a waffle iron when they moved and well… I like waffles.
I've made a few batches using gluten-free mixes and they were quite good. I was even able to freeze the leftovers and enjoy them later. Unfortunately, gluten-free waffle mixes are still REALLY high in carbs and sugars, enter this recipe for Gluten-free, Keto Belgian Waffles.
I've been playing with cooking more and more lately, and I've also been playing with the Keto diet a bit. I can't do it 100% because my stomach just can't handle the high levels of fat required. I've looked into doing Keto without a gallbladder and even bought some enzymes, but so far I've just not managed to pull it off. However, that doesn't keep me from at least trying to lower my carb intake.
So, when I saw this pretty easy recipe for keto pancakes the thought crossed my mind that I could probably modify it into waffles pretty easily (and I did).
It took me a couple of tries and to be fair the first couple of waffles from this batch were not all that. So, I modified further as I went, and turned up the cook time. In the end I had some waffles that I was proud of and that I felt rivaled the boxed mixes in taste.
These waffles can be modified further by adding chocolate chips, nuts, or berries to the mix prior to cooking. I'm a big fan of chocolate chip waffles (and yes I know this will up the carb count). Also, if you really want to get naughty and you have some gluten-free "oreos" on hand, crush those up and add them to the batter. I'll be shocked if you can handle more than a half a waffle at that point.
As it was with this recipe, they were so good that as I ate mine I thought for sure I'd be going back for another. However, they were so rich and filling that I actually ended up leaving a few bites of my waffle (oh the humanity!)
So, if you've got a waffle maker, definitely give these a try. If you don't have a waffle maker and are now craving pancakes, give this recipe a try (it's the original recipe I modified – to be fair I never actually tried the pancake recipe).
Gluten-free Keto Belgian Waffles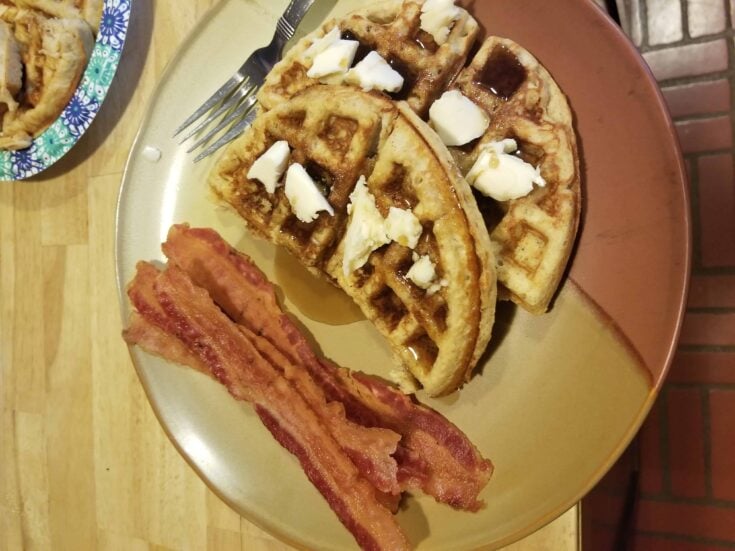 I modified a keto pancake recipe to create these Belgian waffles… and they are so good!
Ingredients
1.25 cups almond milk (I use unsweetened vanilla)
1/2 tsp vanilla extract (optional)
4 lg eggs
1/2 cup almond flour
1/4 cup coconut flour
1 tsp baking powder
1 tbsp Stevia (or low-carb sweetener of choice)
4 tbsp coconut oil (melted)
1/4 cup peanut butter (optional, can also sub almond butter (if preferred))
dash salt
2 tbsp cinnamon
Instructions
Place all ingredients in a blender or food processor and mix until batter is smooth and all lumps have been removed. You can do this by hand, but it it'll take longer and muscle.
Pour onto waffle iron (I use a measuring cup and just add batter until the bottom of the waffle iron is fully covered – about 1.5 cups). Waffle irons vary in size so the amount you'll need to use may vary.
Set waffle iron to high cook (or whatever the longest cook setting is) and cook until done.
Remove from waffle iron and repeat until you've made all the waffles.
Add toppings of choice (I like maple syrup and butter substitute). If you are doing low-carb there are some great 0 carb syrups out there.
Please let me know if you enjoy posts like this. I know this isn't a recipe blog but I wanted to share this and I do have a few others that I will most likely share (unless I hear a mass "please no" from you.
A couple of recipes that are now routine in my house – Keto, dairy-free, gluten-free sausage balls; gluten-free, dairy-free sausage gravy (with a keto version); and keto, gluten-free chicken fingers.
Please comment and let me know if you'd like me to share these recipes or if you'd prefer that I never share another recipe here… or whatever… just comment.
Related: