Why is it So Hard to Ask For Help?
I'm currently reading The Art of Asking by Amanda Palmer. I'm about 50% through and it's an amazing read. I can't recommend it enough, especially for those of us who need a little help learning to ask for help.
This book has really made me think about the whole idea of asking for help and why we don't do it.
So, why don't we ask for help?
I was thinking about this question as I read and a few reasons popped into my head for why I've had a difficult time asking for help at times.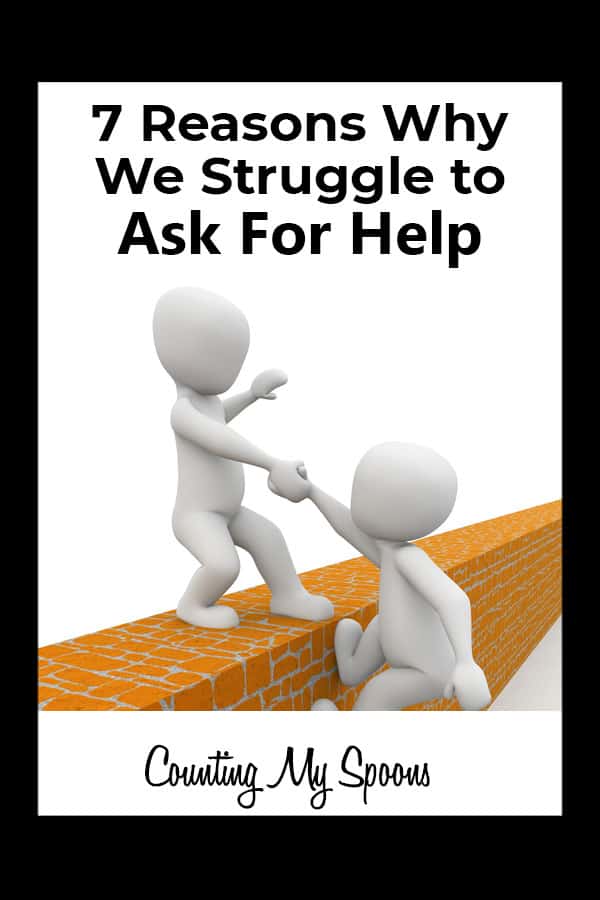 1. We don't want to feel dependent on someone else
I admit it. My husband used to get so frustrated at me in the early days of my illness because I wouldn't ask for help when I so obviously needed it.
I'd do anything to avoid asking for help if I could. I hated that I'd become so dependent on him, because I've always been a very independent person.
It took a lot for me to learn that it was OK to depend on someone else, and more importantly that I could depend on him. That he wouldn't get upset when I asked him to make me a meal or empty the dishwasher, or whatever, because I couldn't.
2. We are afraid they will say no
We've all been there. We've asked the wrong person for help or asked at the wrong time and they've said no.
Perhaps they thought we really didn't need help. Or, perhaps they just weren't able to give the help we needed at the time we asked.
I've honestly had to learn to say no when others ask for help because I can't provide for myself if I'm always giving to others (whether it be time or money or anything).
We have to learn that it's OK if they say no. That we can ask someone else (maybe) or perhaps we just move on and let it go. It all depends on the situation.
But, we can't let one No stop us from asking.
3. We are afraid they will say yes
I've noticed that those of us who are more inclined to help others are also slower to accept help (or ask for it) from others. Even though we don't expect anything in return for the help that we give we often think that others will.
We are scared to ask them for help out of fear that they we will feel guilty about taking their help, that we will feel like (whether it's true or not) they will expect something in return. And, because we don't know what that something might be we are hesitant to ask.
I try to remind myself that when I ask for help I am giving a gift. Just as I enjoy helping other and expect nothing in return, so do others.
I enjoy helping others. I get something out of doing that (a good feeling), so when I feel bad that someone is helping me and getting nothing in return I need to remember that… they are getting something.
Related: 6 Things to Do Before You Say Yes
4. We are ashamed of our need
This shame is related to not wanting to feel dependent on others. Basically, we have convinced ourselves that we are so independent that we don't need anyone else for anything. So, we feel shameful when we do need someone else.We feel that we shouldn't.
So, to avoid this feeling of shame we will simply not ask because it allows us to feel like we are still in control.
Hmm. In Control.
Perhaps that's a key issue here, we are afraid to release control because if we ask for help someone else is doing it, they may not do it the way that we want it… they may not provide for us exactly the way that we'd provide our own needs.
But, they will do their best.
Related: When Chronic Illness Causes Shame, Practice Self-Compassion
5. We don't know what to ask for
I think that often when we are dealing with major illness or loss, we just don't know what to ask for.
So often, when we go through situations like this we need so much that we just don't know where to start. We don't know what help someone could provide.
I was talking to my mom the other day (I get my inability to ask for help from her) and she mentioned how so many people had been offering help lately but she just doesn't know what she could ask for.
If this is the case, hold onto those offers and when you do think of something you call them. Or, better yet, keep a list. What are the things you struggle with? When you find yourself doing them, write them down and then when that friend calls and asks, you tell them.
6. We think we shouldn't have to ask
We assume that the other person should just be able to see our need and meet it.
Can't you see I'm sick here?
Obviously, I need…..
In our minds, if they were in our shoes their needs would be the exact same so they should be able to put themselves in our shoes and see our need. On the surface it makes sense but the truth is much more complex.
First, they have to be able to put themselves in our shoes, which if they've never been in that situation isn't likely. But, a bigger issue is that we assume that their needs would be the same in our situation.
When I'm sick I prefer to be left alone. So, if I'm taking care of someone else I'm likely to give them what I need. I'm likely to leave them alone. I'll try to make sure they can reach me if they need something (give them a bell or make sure their cellphone is nearby) but I won't hover.
Unfortunately, that person might want someone to hover. They might want someone who is there constantly for their every need, or just so that they aren't alone.
I can't see their need because I'm looking through my own lens and they can't understand why I can't see their needs that are so obvious to them. So, they don't ask for what they need.
Others can't see our needs because they are looking through their own lens of experience and what they would want/need in that situation. What they would want may be very different than what you want.
Click To Tweet
7. We don't know who to trust with our vulnerability.
Often we've stopped asking for help because we asked the wrong person one too many times.
When you ask for help you are taking off your mask and exposing yourself and all of your weakness in that moment. You have to be very careful who you trust with your vulnerability.
At some point when you are feeling good, think about the people in your life. Who is there that you can trust. Prioritize that list and then when you have a need pull it out and start at the top of the list with the most trusted person.
Can they help you with that need? If so, call them.
You have to be very careful who you trust with your vulnerability.
Click To Tweet
If you've not seen Amanda Palmer's TED Talk on The Art of Asking, watch it now.
It's one thing to get to the point where you can ask the people you know love you for help. I mean they love you so of course they'll help.
It's a whole different thing to ask others for help, to reach out into the void and not even be sure who is hearing your pleas let alone who might respond.
Yet, in a way we do it everyday. At least those of us who are on social media do.
We do it on twitter every time we create a post. Sure there are tweets that I put out that get not a single response, like, or retweet. Is anyone hearing me? Then I realize that I've sent out a message into a huge universe filled with many other pleas and mine may or may not be seen.
It's important to learn to ask for help in the right places at the right time.
If I need something right now Twitter (or even Facebook) probably isn't the best place to ask. There's too good of a chance that no one will see my plea.
I remember years ago, before I got sick, I'd had some oral surgery and I wanted a shake.
This was back in the day of LiveJournal. The universe was much smaller then. We only followed our friends and a few select others, usually, so if we sent out a message to that universe there was a good chance someone would see it.
I posted on LiveJournal about how much I'd really like a shake and asked if someone would be awesome enough to bring me one. Within 2 hours, two  different friends showed up my house with the shake I'd requested.
There are awesome people in the universe. They just need to hear us ask for help.
There are awesome people in the universe, who will help. They just need to hear us ask. It's a matter of asking at the right time and place so that your request is heard and received.
Click To Tweet
I've watched the internet change how we connect with people over the last couple of decades. Too often we don't think to pick up the phone anymore, even to text our best friend.
Rather, when we need something we send that request into the void and hope that it lands on someone who can help.
Perhaps it's time to consider not just why we don't ask for help, but who we should be asking and how. Don't throw your request into the wind and hope it hits someone, direct it to someone who can help.
Related: 
(Visited 1,495 time, 1 visit today)