Guys, skip this post… just keep moving alone. In fact, go read this post.
I've run across these period panties in a few places. They promise to absorb a bit so that maybe you won't need a liner and you can feel a little more comfortable and confident during that time of the month. As I read more about them I couldn't help but wonder if they would also leave me feeling more confident throughout the month when I have slight little bladder incidents. I often wear liners just in case and I really never know when my bladder will just decide not to hold whatever is in it until I can make it to the bathroom.
When I ran across Thinx Period Panties, I really wanted to try them. I reached out to the company and they actually offered to let me try a couple of pairs in exchange for a review. The timing was perfect as they arrived the same day as Aunt Flo. Speaking of Flo, she's been visiting me more and more and often lately and it's getting really old. We've gone from 30 days to 28 days now to 26 days (all in the last 6 months). Thankfully, I have a visit with my Endo doctor next week so we can talk about this. Anyway, back to the panties….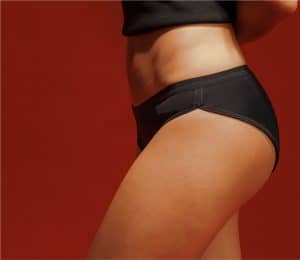 They gave me my choice of colors and styles. I opted for black, because quite honestly the idea of seeing red on my panties just grosses me out and I knew if I chose black I'd be able to deal with actually wearing them as intended. I like something with a little coverage so I opted for the Sport and the HipHugger. The HipHugger holds more fluid so it's good for a heavier flow day, and the Sport is more for lighter days.
Both pairs of panties fit perfectly, which is always a plus. I hate it when I buy what should be my size and they are too small or too large (…that's what I get for buying underwear at TJ Maxx).
I wore the HipHuggers first since they arrived in time for my heaviest day. I have to say they feel great. The HipHugger has a panel that goes up the butt a bit for extra protection. I found that quite nice but not bulky (unlike most pads). It felt secure. I did wear them with a tampon but chose to skip the liner (just to see). I felt comfortable and I did "need" the panties as there was a little leakage from the tampon. But, nothing leaked from the panties.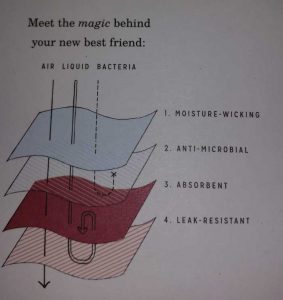 The panties are handwash only, and line dry. This is probably the only negative thing about them as I hate having to handwash anything. But, I've been doing it with these. When I take them off at night I just wash them right away and hang them to dry. They do wash out really easily. There is that part of me that wonders how what gets absorbed really gets washed out. Is there "stuff" accumulating in the inner lining? I don't know and I'd rather not think about it. I'm going to just go with… it's magic and be happy….
I've also tried wearing these on regular (non-period) days to see how they would do in other absorbency issues. And, yes I needed some absorbency. I am happy to report that unlike the times when I've not made it to the potty when wearing a liner (or nothing at all) I didn't have to change my pants. The panties absorbed enough to keep me dry. They actually absorbed enough that I could have continued wearing them (I didn't – I changed as soon as I could), but it was nice to know that they are that absorbent.
After trying these two pairs I'm really considering buying more of the heavy flow ones to wear on a regular basis to help prevent accidents.
If you buy using this link they will give us both $10 off a pair. I'm all for sharing some love.