How do you keep working when you have chronic illness?
The question of how to keep working when you have chronic illness comes up quite often. It was a common topic around my house as I approached the end of my degree and considered what was next.
Fellow spoonies, how on earth do you earn money to survive when your body isn't reliable enough to go out to work?#spoonie #mecfs

— Sarah ✨ (@sarahs_chapter) February 6, 2016
When I first began my journey to finish a degree (in 2009) I wasn't really sick. It was pre-Fibro, and while I'd been sick with other issues, I was doing better. By two semesters into my attempt at a dual-degree I was sick and fighting fibromyalgia. I had to drop a class just to finish that semester. Then for the next two years school wasn't even on my radar.
In 2013, after reversing a lot of my symptoms with diet and lifestyle changes I returned to school with a new plan. My goal was simply to finish a single degree. For me, returning to school in 2013 was much more about hope than about what might I planned to do after. It was about creating hope that there was still more for me, that my life wasn't over.
Then something unexpected happened during that first semester back. I was approached by Answers.com to write for them. I'd never really considered freelance writing and I really didn't think I was up to the challenge. But, my husband pushed me to pursue it and I ended up being really glad that I did because doing so opened up a whole new world for me.
To be fair, I've basically been self-employed for the last 20 years. I stumbled into internet marketing when the internet was brand new to me. I ran online forums and communities, I did a lot of great things. Then I sold real estate for several years before I got sick in 2008. The idea of working for someone else was never really something that appealed to me.
Writing is now a part of my life. It's not something I ever thought about before Answers came around. Sure, I blogged and I wrote articles for various sites that I ran over the years. But, I never thought that would be something I would do for a living. Yet, now it's one of several things I am doing to create an income.
I finished school in December and throughout that last semester it was clear that my husband thought I would "get a real job." But, that wasn't really my focus and the reason is one that most anyone with a chronic illness will understand. I didn't think that working on someone else's schedule was something that I could do on a regular basis. School was difficult enough and I still had some control over my schedule. I also missed quite a few classes during that last semester.
So, how do people with chronic illness make a living?
My answer is freelance.
The key is looking at your skills, at your experience, and finding ways to translate those into something that you can do on your own, from home, at your schedule.
Do you write? Do you have a huge social media following? Do you enjoy talking on the phone? Do you draw? Do you craft? Are you artistic? What do you do to fill your hours (besides watching Netflix)? Are you great with Excel? Great with numbers? Do you love animals?
Those are all questions that can help you find ways to create an income.

Here are a few questions to help get you thinking about how you might be able to make money freelancing.
Here are a few ideas of how you can create income from home, and some places to help you do it. Pretty much anything that you were good at before, or that you enjoyed doing before can still be a marketable skill as a freelancer.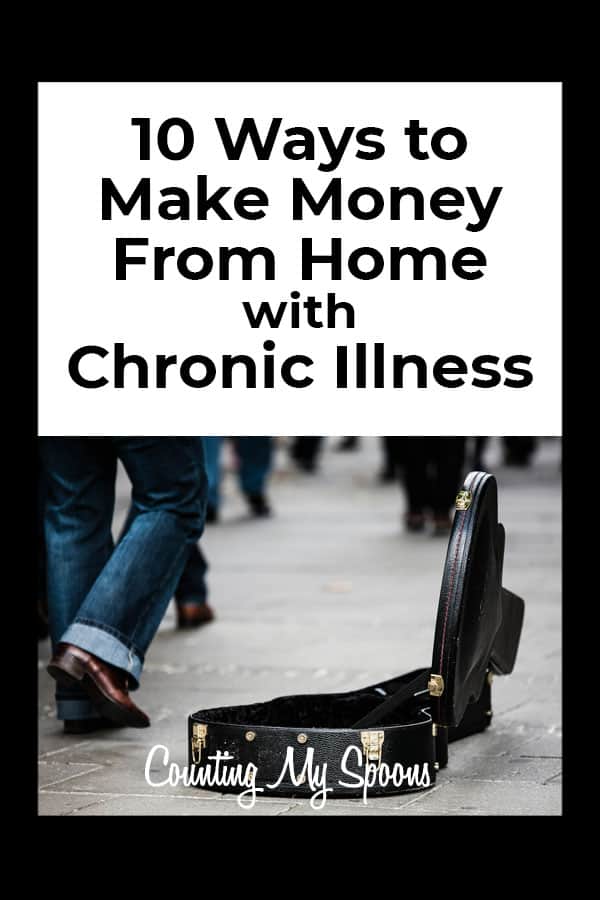 If you enjoy writing, editing, have an interesting voice, or draw you can freelance. Actually, you can freelance pretty much any skill that you can get a job using and then some. On websites like Fiverr, you can offer to do anything.
I've seen some pretty crazy things offered, but I guess it's not crazy as long as someone is paying you. There are people offering voice-over work, custom drawing, research, vacation planning, creative writing, writing, editing, translating, and even horoscopes.
I've used Fiverr to supplement my income. It took a little bit to figure out how to base my rates so that I could offer something starting at $5 but once I figured it out I've found that I can make a nice little side income there.
More places for freelance writers:
If you are good with numbers or Excel you can also offer those services on sites like Fiverr, Upworks, IFreelance and many of the other freelance sites mentioned here.
If you are good at sales, marketing, management, programming, or IT check out all of the sites already listed, as well as:
If you are good at graphic design work then you can definitely sell your skills online as a freelance designer. You can also skip the freelancing and sell your designs directly by uploading them to sites like Zazzle, where customers can order our designs printed on products from t-shirts to phone covers.
For freelance opportunities, check out:
If you are a bit of a jack-of-all-trades you would probably make a great Virtual Assistant. Do you like research, preparing documents, making calls, scheduling, a little bit of everything?
Virtual Assistants are hot right now. They allow others with small and large businesses to focus on what they do best, while out-sourcing the tedious tasks that they neither have the time or skill to handle. You can find listings (or create your own) for Virtual Assistant jobs on most of the sites already listed.
If you have a background in programming, customer support, or IT and enjoy talking with others on the phone there are lots of jobs available where you can provide customer support from your home. Requirements will vary and not require any special skills, or they may require that you have a background in IT or some other specialized field.
If you like to research you might want to check out ChaCha. They pay people to answer questions on their website. You login when you have some free time and answer questions as you are able.
If you love to bake or cook you might consider making up meals or deserts and taking them to local farmers markets and businesses to sell.
If you enjoy filling out surveys and spending time on social media you can make some extra cash by doing just that through websites like SheKnows.com, Swagbucks where you earn points for each action you take and those points can be traded in for gift cards at your favorite merchants.
If you enjoy helping others and talking on the phone you might want to consider personal or health coaching. You can talk with others on the phone and help them work through their problems. While a counseling degree isn't necessary you typically will need an accreditation of some sort.
After working with a health coach in 2009 to overcome her own Fibromyalgia symptoms, Tami Stacklehouse decided to become a health coach herself. From the beginning, her focus has been Fibromyalgia.
In fact, she is the Fibromyalgia Coach, and after finding her schedule filled with clients she began training new Fibro Coaches so that they could help all of the Fibro Warriors who continually reach out.
Being a coach and working from home allows me the flexibility to design my work day around what my body needs to feel her best. I can take breaks when I need to, choose who I work with, and how I work. I have total control." – Tami Stacklehouse
If you are interested in coaching, you may want to check out the International Fibromyalgia Coach Certificate program.
There are as many ways to create an income as there are ideas in your head. Often it's just a matter of translating those ideas into something, and sometimes all you need to do is bounce them off of someone to help get you started. Whatever the idea is, don't be afraid to take a step.
Related Posts: